The Offering drops anti-Boomer anthem, "Flower Children"; new album, 'Seeing the Elephant', to be released November 4th via Century Media Records
On November 4th, The Offering will release their sophomore album, Seeing the Elephant , via Century Media Records. For a preview of the record, the new single, "Flower Children" - a controversial anthem for the youth, packed with pun-infused tongue-in-cheek lyrics - can be heard at:
The Offering comments: "'Flower Children' is a declaration of distrust and loathing for an entire generation of sociopathic narcissists. Art, literature, the economy, politics, and American cultural war issues - all resolved with the emergence to power of a new generation. Inspired by Bruce Cannon Gibney's 'A Generation of Sociopaths: How the Baby Boomers Betrayed America', 'Flower Children' echoes his thesis - condemning the mentally defunct characteristics of an aging generation, and the irrationality of its longevity in power. Undeniably, the systemic operation of the country would be better off without their rusting grip. I hope this song offends their delicate sensibilities. And if it does...Good riddance!"
The previously released singles - "WASP" and "Tiny Disappointments" - can be streamed here: https://TheOffering.lnk.to/ SeeingTheElephant  - where Seeing the Elephant  can also be pre-ordered in the following formats:
-- Transp. red LP available at CM Distro Wholesale EU and cmdistro.de (limited to 300 copies)
--Black LP
--Standard CD Jewelcase
--Digital album
On Seeing the Elephant , The Offering weave together a collection of 10 tracks that are rich, adventurous, and heartfelt. Conceived during the chaos of the 2020 protests and the ensuing warzone of cultural upheaval,  Seeing the Elephant   is a challenging (but ultimately rewarding) record for extreme times. The band kicks off the album in a politically charged high gear with the frenetic, 7-minute opener "WASP", and only ups the ante and sonic dynamic, twisting and turning through electronic-infused tracks like "With Consent", the driving "Rose Fire", arriving at something beautiful and sublime with the epic closing track, "Esther Weeps". Vocalist Alex Richichi and guitarist Nishad George construct a new framework from past work with the help of mixer Zach Weeks ( Kvelertak, The Armed ) at Salem, Massachusetts' renowned God City Studios, proving  The Offering  as a band that not only challenges the norm, but one that also refines and redefines it.
Seeing the Elephant   track-listing:
1. WASP        
2. Ghost Mother        
3. Tipless       
4. Rose Fire   
5. Seeing the Elephant           
6. My Heroine
7. Flower Children    
8. Tiny Disappointments       
9. With Consent         
10. Esther Weeps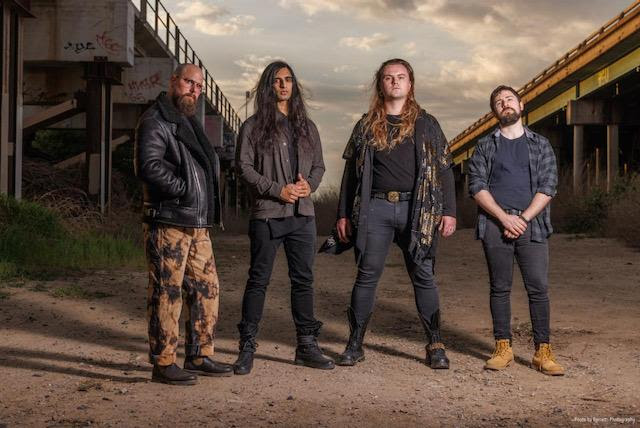 Photo credit: Rossetti Photography
The Offering are (left to right):
Alexander Richichi - vocals
Nishad George - guitar
Spencer Metela - bass
Steve Finn - drums
The Offering online:
https://www.theofferingmusic.com/
https://www.facebook.com/theofferingmusic
https://www.instagram.com/theofferingbandofficial/
https://twitter.com/theofferingUS