Elf Queen - Breathe Out Fire - Reviewed By Metal Digest ! Check it out here at this link: https://metal-digest.com/2022/03/26/elf-queen-breathe-out-fire-ep/
Elf Queen are a Californian quartet that have just self-released their latest EP 'Breathe Out Fire' which follows up their debut album 'Glory to the Brave' released last year with the band having all the flavours of Flyleaf and Avren.
Comprised of Kelsey on vocals and Uncle Hauk playing guitars and song writing, there is love, loss, fire, and death as well as thaumaturgy, life and war written within the parameters of these songs. Elf Queen may not really have any social media presence yet; these songs are raw and unpolished that are coupled with simple lyrics which makes 'Breathe Out Fire' quite enjoyable. Everyone must start somewhere, right?
Elf Queen have talent in heaps and if this music became polished, I feel a lot of the natural fireball and grit would be lost. Furthermore, the vocals of Kelsey are not of this world; they are notable and distinguished and are at the forefront of the mix being the focal point for the whole EP. Tracks like 'Seven Tears In The Ocean' fully show everyone's potential expertise, particularly the drums who anchors the whole thing in place, keeping the pace and is the heartbeat of the whole operation whilst the guitars bring the full range of dynamic textures to these five songs.

'Breathe Out Fire' is not a static EP, it has its own swirl within the rock pool. Yes, this is a basic recording, it is little rough around the edge, but it is a refreshing change for a piece of work in this genre not to be so polished in a pop sheen. Elf Queen are a tiny little diamond and long may they continue. - Metal Digest
Release Date: February 14, 2022
FFO: Amberian Dawn, Arven, Nightwish, Sirenia, Evanescence, Halestorm, Flyleaf
Location:
On a dark, dusty, desert highway on the road to Hel stands a Tavern, called the Orcs Head. Inside you hear the searing sounds of siren song- the voice of Kelsey, the queen of the Elves in exile. Next to her stands her chief advisor and the only surviving member of her court, kindly Uncle Hauk. Together they play the songs of their people, the songs of love, of loss, of fire and death and magic and life and war. Kingdoms may fall, but the songs always remain…
Check out this video!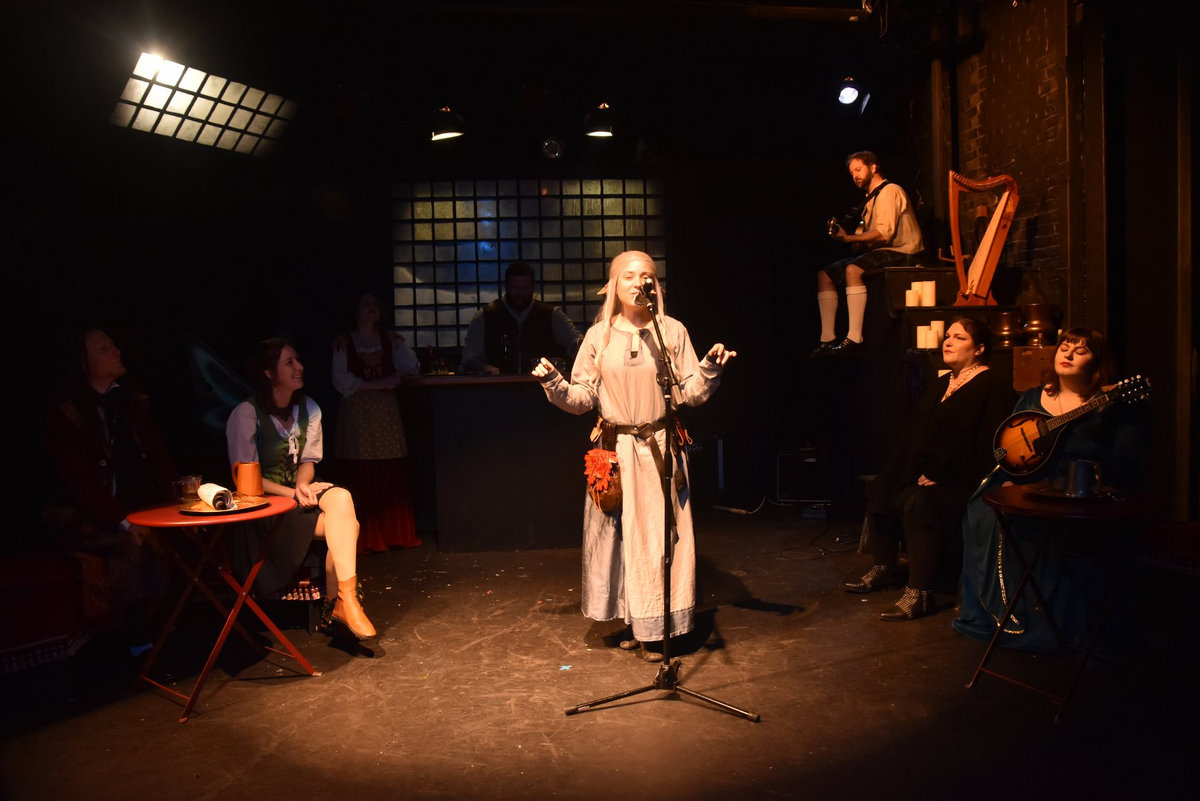 Line up

Kelsey - vocals
Uncle Hauk - guitars, backing vocals, keys and programming

Those loyal to the Queen:
Chuck Peterson -drums (also plays with Thaddeus Black, Elliot Lewis, and Live from Daryl's House)
Dylan Cronin - bass (Pervade, the Pirates Charles, Black Hat Society)
Recording Info:
All songs written and produced by Hauk, published Baldur Rising Music SESAC
Recorded at Cave Studios Encino, California 
Vocals recorded at Steady Studios Burbank, California engineered by Gavin Ross
Drums recorded by Jaeme Starchild at The Artist Collective, Hartford Connecticut 
Mixed and Mastered by Hauk

Hauk uses Optima Strings, StrumNComfort thumbpicks, G7th Capos, Cryotone Guitars, Wathen Audiophile Monitors, Gold Tone Musical Instruments, and Zero Glide Nuts
Follow the band at these links:
https://elfqueen.bandcamp.com/
https://www.instagram.com/elf_queen_band/
https://www.facebook.com/ElfQueenBand
https://www.youtube.com/channel/UC9UHqR8MMWpaKemIb7p5yOw/featured