At The Gates announces return of founding member and guitarist Anders Björler; set to tour across Europe with In Flames next month!
Photo credit: Ester Segarra
While Swedish melodic death metal pioneers At The Gates continue to promote their acclaimed latest studio album, The Nightmare Of Being, they have now checked in after a North American tour, as well as an intense run of summer festivals across Europe and in Japan, with the news that founding member and guitarist Anders Björler is returning to the band's line-up after a handful of years of absence.
At The Gates vocalist Tomas Lindberg Redant comments on the news as follows: "It is with great pleasure we welcome Anders Björler, one of the founding members, back into the band. We are excited to tell you that we are already starting the work on the follow up to 'The Nightmare of Being', with the same line up that wrote 'Terminal Spirit Disease', 'Slaughter of the Soul' and 'At War with Reality'. Anders' first show back in the band will be Damnation Fest in the UK, and he will join us on the European tour together with In Flames later this year. Great times! It really feels like a second rebirth of the band, and we are looking forward to this new chapter!"
Anders Björler added the following comment: "It feels like coming home for sure. I have been missing the guys of course, but also playing the guitar, writing music and the artistic creativity in general. I've been watching from the sidelines for a number of years, and I've been very proud of what they have created in my absence. I am really looking forward to writing a new album and getting back to playing live shows again..."
Next up, At The Gates will appear at UK's Damnation festival before embarking on a massive tour across Europe featuring In Flames, Imminence and Orbit Culture between November 12th and December 17th, 2022. See below for all dates!
At The Gates - live 2022:
Nov. 5, 2022 - Manchester (UK) - Damnation Festival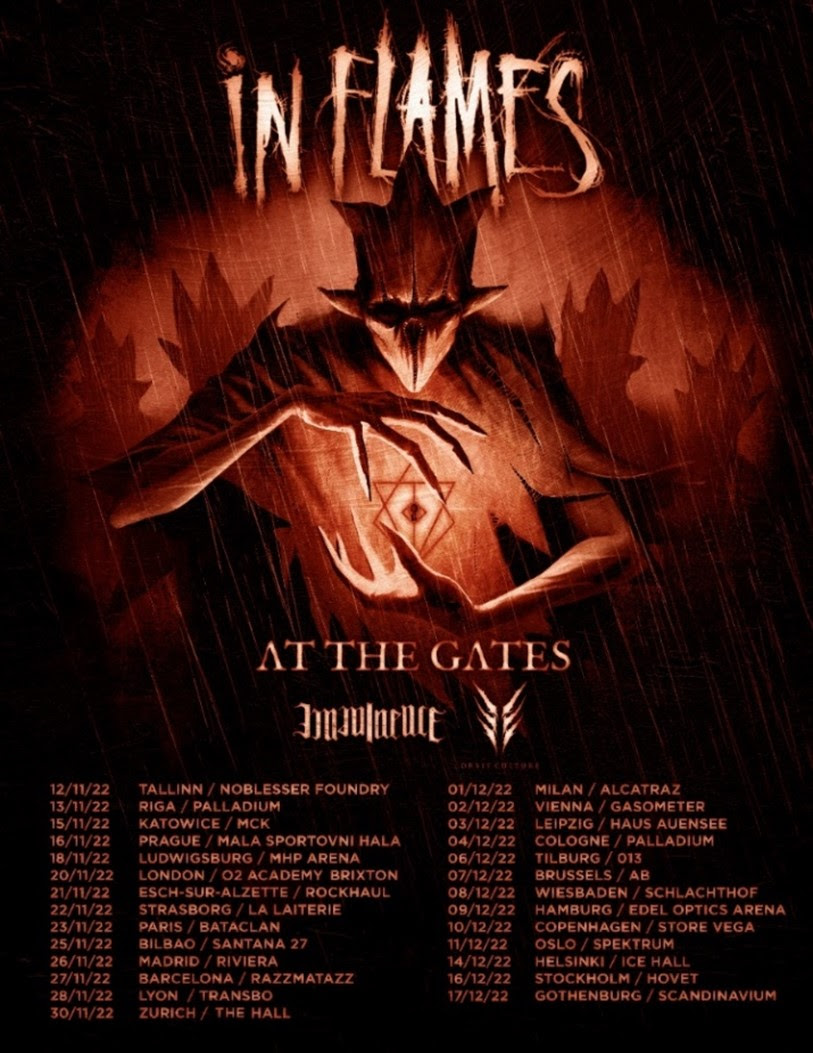 At The Gates European tour dates
w/ In Flames, Imminence, Orbit Culture
Nov. 12, 2022 - Tallinn (Estonia) - Noblesser Foundry
Nov. 13, 2022 - Riga Latvia) - Palladium 
Nov. 15, 2022 - Katowice (Poland) - MCK 
Nov. 16, 2022 - Prague (Czech Republic) - Mala Sportovni Hala 
Nov. 18, 2022 - Ludwigsburg (Germany) - MHP Arena
Nov. 20, 2022 - London (UK) - O2 Academy Brixton 
Nov. 21, 2022 - Esch-Sur-Alzette (Luxembourg) - Rockhal 
Nov. 22, 2022 - Strasbourg (France) - La Laiterie 
Nov. 23, 2022 - Paris (France) - Bataclan 
Nov. 25, 2022 - Bilbao (Spain) - Santana 27 
Nov. 26, 2022 - Madrid (Spain) - Riviera 
Nov. 27, 2022 - Barcelona (Spain) - Razzmatazz 
Nov. 28, 2022 - Lyon (France) - Le Transbordeur
Nov. 30, 2022 - Zurich (Switzerland) - Samsung Hall 
Dec. 1, 2022 - Milan (Italy) - Alcatraz 
Dec. 2, 2022 - Vienna (Austria) - Gasometer 
Dec. 3, 2022 - Leipzig (Germany) - Haus Auensee 
Dec. 4, 2022 - Cologne (Germany) - Palladium 
Dec. 6, 2022 - Tilburg (The Netherlands) - 013 
Dec. 7, 2022 - Brussels (Belgium) - AB 
Dec. 8, 2022 - Wiesbaden (Germany) - Schlachthof 
Dec. 9, 2022 - Hamburg (Germany) - Edel Optics Arena 
Dec. 10, 2022 - Copenhagen (Denmark) - Store Vega 
Dec. 11, 2022 - Oslo (Norway) - Spektrum 
Dec. 14, 2022 - Helsinki (Finland) - Ice Hall 
Dec. 16, 2022 - Stockholm (Sweden) - Hovet 
Dec. 17, 2022 - Gothenburg (Sweden) - Scandinavium 
Tour video trailer: https://www.facebook.com/inflames/videos/821868755691123/ 

Tomas Lindberg Redant added the following comment about the upcoming tour with In Flames: "We are very excited about finally, being able to play in front of our European fans in support of our latest album 'The Nightmare Of Being'. This time we will hit the road with our long-time friends In Flames. It's such a weird fact that we have actually never toured together, although we are from the same town! So this will be a great opportunity to experience 'The Gothenburg sound', and it is awesome to be part of such a strong package. We can't wait to get out there again!"
At The Gates' latest studio album, The Nightmare Of Being, was released last summer worldwide via Century Media Records and scored impressing chart entries worldwide upon initial release in July as follows: Germany: #8, Austria: #18, Switzerland: #12, Sweden: #20, Sweden (Physical): #1, Sweden (Vinyl): #1, Sweden (Hardrock/Metal): #2, The Netherlands: #77, Belgium: #84, Finland: #21, Finland (Physical): #5, UK (Rock): #3, USA (Current Hard Music Albums): #1, USA (Current Rock Albums): #4, USA (Current Album Sales): #14, USA (Album Sales): #28.
Check out At The Gates' previously released videos/singles for The Nightmare Of Being here:
--"Spectre of Extinction":
--"The Paradox":
--"The Fall Into Time":
--"The Nightmare Of Being":
--"Cosmic Pessimism":
--"Garden Of Cyrus": https://youtu.be/CwRpaxd_DWw 

Or stream The Nightmare Of Being in its entirety in a visualizer clip showing the album's artwork - which was developed by artist Eva Nahon - here: https://youtu.be/1W3avpbtmM0 

At The Gates also launched a four-part lyrical talk "track-by-track" video series with Decibel Magazine, where vocalist/lyricist Tomas Lindberg Redant expands upon the literature and philosophy that underpin The Nightmare of Being. Watch it here:
--Episode 1/4:
--Episode 2/4:
--Episode 3/4:
--Episode 4/4: https://youtu.be/e5sa_FUm0aQ 

The Nightmare Of Being is still available in the following formats:
--Ltd. Deluxe Transparent Blood Red 2LP+3CD Artbook
--Ltd. 2CD Mediabook
--Standard CD Jewelcase
--Standard LP (Several vinyl variants!)
--Digital Album
The album's limited deluxe 2LP+3CD Artbook contains an exclusive transparent blood red vinyl on 180g. and includes a 9-track Live LP & CD, as well as an exclusive instrumental version of the entire The Nightmare Of Being album as bonus CD. It furthermore comes with an extended 32-page booklet, a double-sided A2 poster and 4 art prints. The album's limited 2CD Mediabook comes with an extended 32-page booklet and a 9-track Live CD as bonus.
You can still order the various album formats here: https://atthegates.lnk.to/TheNightmareOfBeingID
Stay tuned for more news about At The Gates coming soon!
At The Gates line-up:
(From left to right on above photo by Ester Segarra)
Adrian Erlandsson - Drums
Jonas Björler - Bass
Anders Björler - Guitars
Tomas Lindberg Redant - Vocals
Martin Larsson - Guitars

At The Gates online:
https://www.facebook.com/AtTheGatesOfficial
https://twitter.com/AtthegatesGBG