Death's Eminence - In A Hideous Dream Made True - Reviewed By Metal Digest ! Check it out here at this link: https://metal-digest.com/2022/08/06/deaths-eminence-in-a-hideous-dream-made-true/
Black metal storytellers, that's what we get from Death's Eminence on their third album 'In a Hideous Dream Made True'. Inside the sonic wrapping of a progressive blackened death metal package, we are gifted a story equal parts Lovecraft and Thomas Harris. The main character discards a dagger only for an otherworldly force to cause the blade to fly back and stab him. Afterward, he is possessed by the will of the unknown entity and begins a rampage of serial killing and madness.  You'll have to listen to the rest of the album to learn how the story ends, but the very first track 'Omens of Chaos on the Battlefield of Sacred Duty' will prepare you for exactly the kind of music you should expect.

The album begins with standard death metal fare but quickly becomes unnerving. It's clear that this unease is a deliberate choice made by the two members. The rhythm guitars are the only instruments vamping while the drums, vocals, and lead guitars often meander into countering rhythms of each other. This forces the listener to focus their attention only for it to be snatched in another direction. There are passages throughout the album, especially the clean sections, where one could be lulled into a groove, only for the band to suddenly pivot back into their eldritch noise soundscapes. This isn't an easy album to listen to and should be reserved for listeners with refined black metal palettes. This is an album for fans who want to be challenged.  If you fall into that niche accept the challenge and give this record a spin. - Metal Digest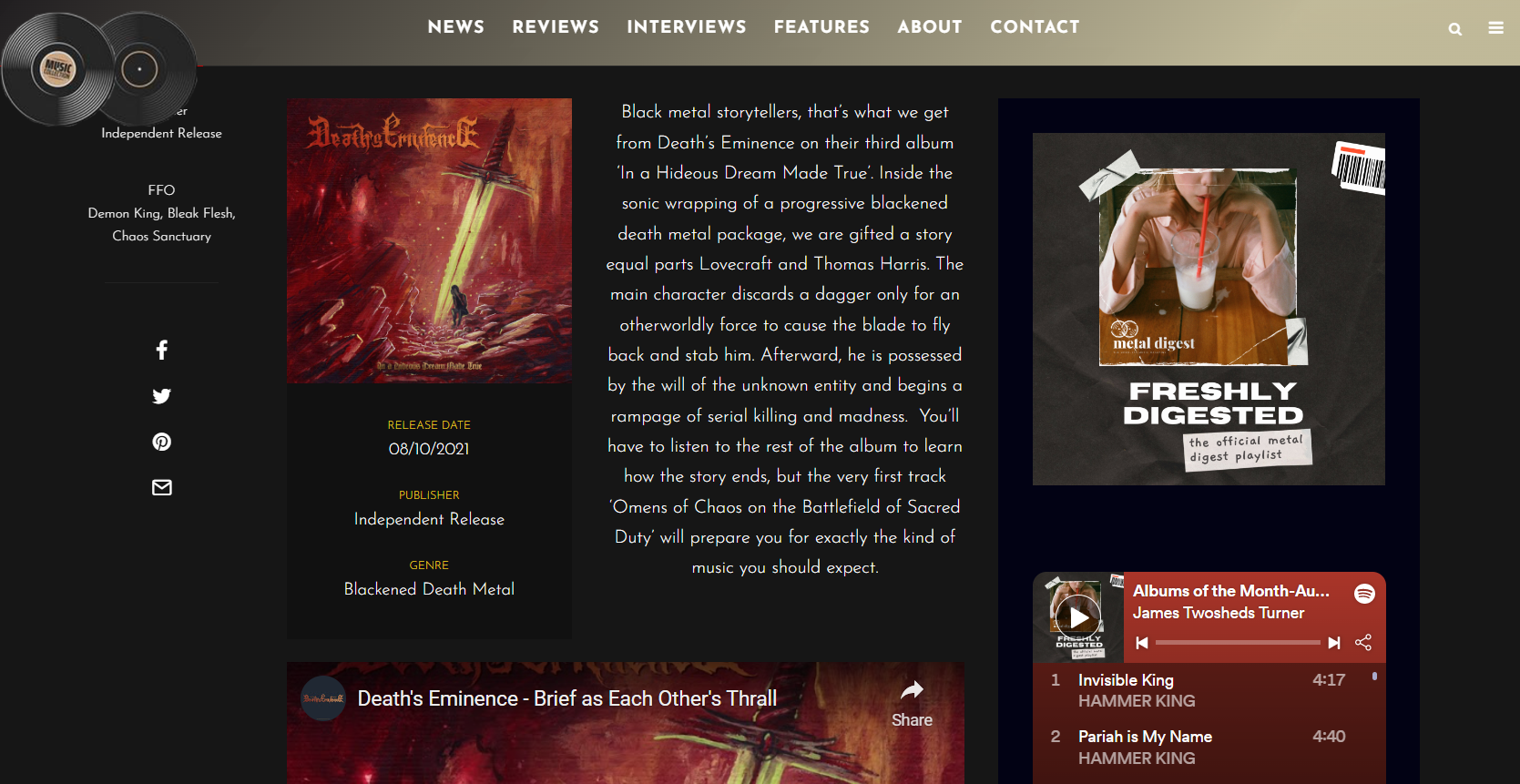 Release Date: October 8, 2021
FFO: Demon King, Bleak Flesh, Chaos Sanctuary
Formed in 2006, Death's Eminence has been on a journey to push the bounds of blackened technical death metal with a heavy progressive dose. The debut album, "Of Blood and Sacrifice," was released in 2015 and expressed the early blueprints of the musical madness that lived in the cranial caverns of the members.
In a Hideous Dream Made True, the third Death's Eminence album, was recorded by James Knoerl and Chris Carlin, respectively tracking their own performances in 2020 and 2021.
It was mixed by Greg Wilkinson at Earhammer Studios in Oakland, California; and mastered by Brad Boatright at Audiosiege in Portland, Oregon.
All music and lyrics composed and written by Chris Carlin.
Guitars, bass, vocals - Chris Carlin
Drums - James Knoerl
Cover artwork by Moonroot.
Check out the video!
Check them out on Spotify and add them to your playlists!
Follow the band at these links:
https://www.instagram.com/deathseminence/
https://deathseminence.bandcamp.com/music
https://www.metal-archives.com/bands/Death%27s_Eminence/3540401501
https://open.spotify.com/artist/36rmnwRGj9uR568R89HMG4
https://www.youtube.com/channel/UCjtY8NQ_pvAW_0JubG5zr0A
https://music.apple.com/us/artist/deaths-eminence/1529390747