We are super proud to announce Epic Power Doom metal legends
SPILLAGE
from Chicago, IL are confirmed to play
Tennessee Metal Devastation Music Fest
2022! They have shared the stage with
Trouble
,
sHEAVY
,
Scars Of Armageddon
,
Carbellion
,
The Skull
,
Apostle of Solitude
,
Righteous Bloom
/Beezlefuzz,
FIERCE ATMOSPHERES
,
Sacred Dawn
,
WRATH
,
Brimstone Coven
,
Witchcryer
,
Hell Camino
and
Convoy
! They have played at
The †maryland DOOM† Fest
,
Milwaukee Psych Fest
, and
Midwest Metal Anthem
! They are endorsed by
Scorpion Percussion
and signed with
Qumran Records
.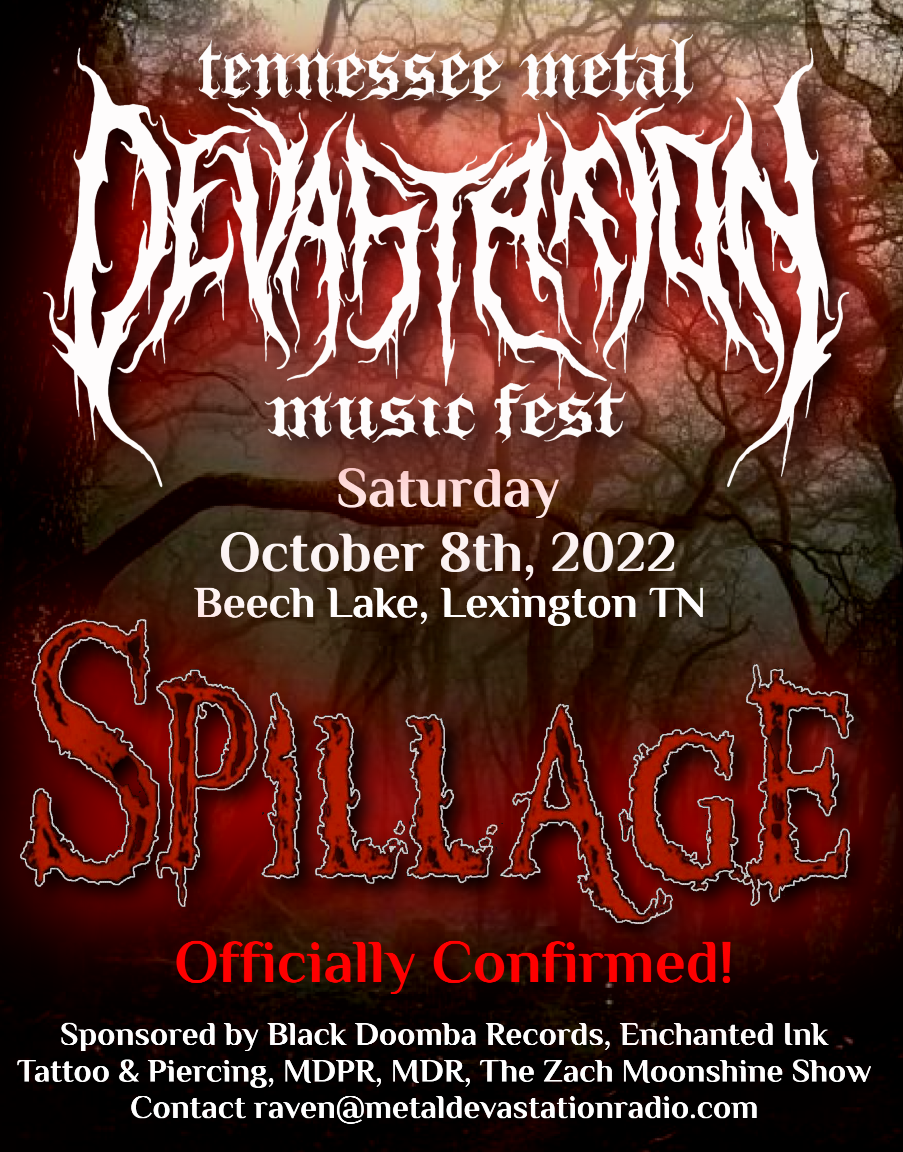 SPILLAGE tends to categorize themselves as a "riff-rock" band, leaning toward the traditional hard rock/heavy metal genre. The assorted members have known each other for the most part, since childhood playing in various bands in the Chicago suburbs for nearly 40 years.
Tony Spillman
had been touring with
Earthen Grave
for 5 years, when Earthen Grave disbanded in 2015. Not one to sit by and watch the world go by, Tony decided to pursue a vision of his own band, creating SPILLAGE with drummer Chris Martins in late 2015. Drawing from songs written by Tony in his younger days, SPILLAGE released their debut album "Spillage" featuring Lothar Keller (
The Skull
,
Sacred Dawn
) on vocals, Nick Bozidarevic on guitar, Willie Max (
Mudfish
) on bass and featured guest musician Bruce Franklin (
Trouble
) on guitar and backing vocals on several tracks on the 2015 release. Paul Rau played keyboards on the album, but did not tour with the band at that time.
Lothar and Willie left SPILLAGE in 2015 to pursue other musical projects, and Billy McGuffey who was friends with several band members, joined on bass. SPILLAGE was scheduled to play the Maryland Doomfest in 2016, and through connected circles, Tony offered Elvin Rodriguez (a singer from the Philadelphia area) an opportunity to learn their songs and audition for the band. Elvin basically had his audition during the Doomfest, quickly learning their songs prior to taking the stage, and effortlessly performed to a thrilled audience! Needless to say, Elvin became the new singer for SPILLAGE and the band lineup remains unchanged. In January 2019, SPILLAGE released their 2nd album, "Blood of Angels", which was well-received world-wide.
All of the band members have varied taste in music genres, which allows each of them to bring something different to their mix. Each member contributes musically to the songs on Electric Exorcist, allowing their diverse backgrounds to create the unique sound that is SPILLAGE. SPILLAGE writes songs based on real life situations in a poetic manner that evokes imagery and feeling, and Elvin Rodriguez brings them to life with his emotional, gutsy vocal style! Paul Rau's keyboard melodies fill out the songs, giving each song a unique vibe that makes sense for the song. The dual guitar attack of Tony Spillman and Nick Bozidarevic not only crunch heavy riffs that will knock you to the ground, but also contribute some tasty melodies showcasing some technical expertise in an effortless manner! All this, cemented by the heavy grounded bass lines of Billy McGuffey and the brilliant drumming transitions of Chris Martins that solidify the SPILLAGE style and bring each song together with purpose. SPILLAGE manages to create brilliant, original music that stands well on its own in today's heavy scene. We are absolutely stoked to see them doom the stage this year at this festival! 
Check out these videos!
Follow the band at these links: