Eldprov – Rift - Reviewed By Metal Rules ! Check it out here at this link: https://www.metal-rules.com/2022/08/01/eldprov-rift/
Don't know a whole lot about these guys other than that Rift is their full-length debut and, according to their Bandcamp bio, Eldprov offer up "melodic death/black metal from Sweden." Also, Eldprov is Swedish for baptism/trial by fire. So there you have it.
However, I suspect we might be hearing quite a bit more about Eldprov in fairly short order. After offering up teasers with the singles "Until Nightfall" in 2020 and "Hunt" last year – accompanied by a pretty awesome animated lyric video the recalls Metalocalypse or Samurai Jack – the trio deliver their first full-length with Rift. And it is a very impressive debut that builds off the singles with its combination of death metal heft, black metal velocity and menace and a power/folk/symphonic metal grandiosity that makes it all quite palatable.
The band's sound recalls the epic, melodically inclined but always turbulent bluster of Borknagar, IX Equilibrium-era Emperor or, especially, Keep Of Kalessin. Rift storms out of the gate with "Affliction," a tangle of trem guitars, galloping drums and dogfight vocals. But its soaring riffs and rousing gang-sung chorus give it an anthemic quality that makes it catchy as hell, something that is true to varying degrees with the other six tracks here.
"Vex" is straight ahead and chunky, with a big, headbangable lead break, as are the black metallier "Silhouettes" and "Until Nightfall," which again offers a sing-along group chorus – shrieky Dark Funeral/Grá frontman Heljarmadr lends a hand on these as a guest vocalist. Also chipping in on the album are Kvaen guitarist Jacob Björnfot and ex-Wolf axeman, umm, Johannes Axeman, who back up band guitarist Jonas Backe with some nifty solos.
At just over seven minutes, "Third Crow" is the album's epic centerpiece. After an almost Iron Maiden-like harmony guitar intro, it settles into a trudge-and-sprint groove that delivers the album heavier moments. Lena Roolf provides some unusually grim female vocal accompaniment over an acoustic segment near the end, so even that feels heavy.
"We, The Unclean" and "Hunt" close things out in fittingly bracing fashion, with plenty of double-bass thunder from Simon Henell, Backe's surging riffs and Andreas Zoergel's authoritative bellow. "Hunt" recalls Amon Amarth with the nimble trem guitars that dance along the periphery, providing a melodic flourish to its otherwise beefy delivery.
Backe has played with a variety of underground bands (among them, Septic Grave, Soul Collector and Amoteph) since the mid-90s, and much of Eldprov's material and aesthetic can trace their origins back 20-some years. And given all that time to refine and hone things, it's perhaps no wonder the Rift sounds as determined and accomplished as it does. It's a great first album, to be sure. - Metal Rules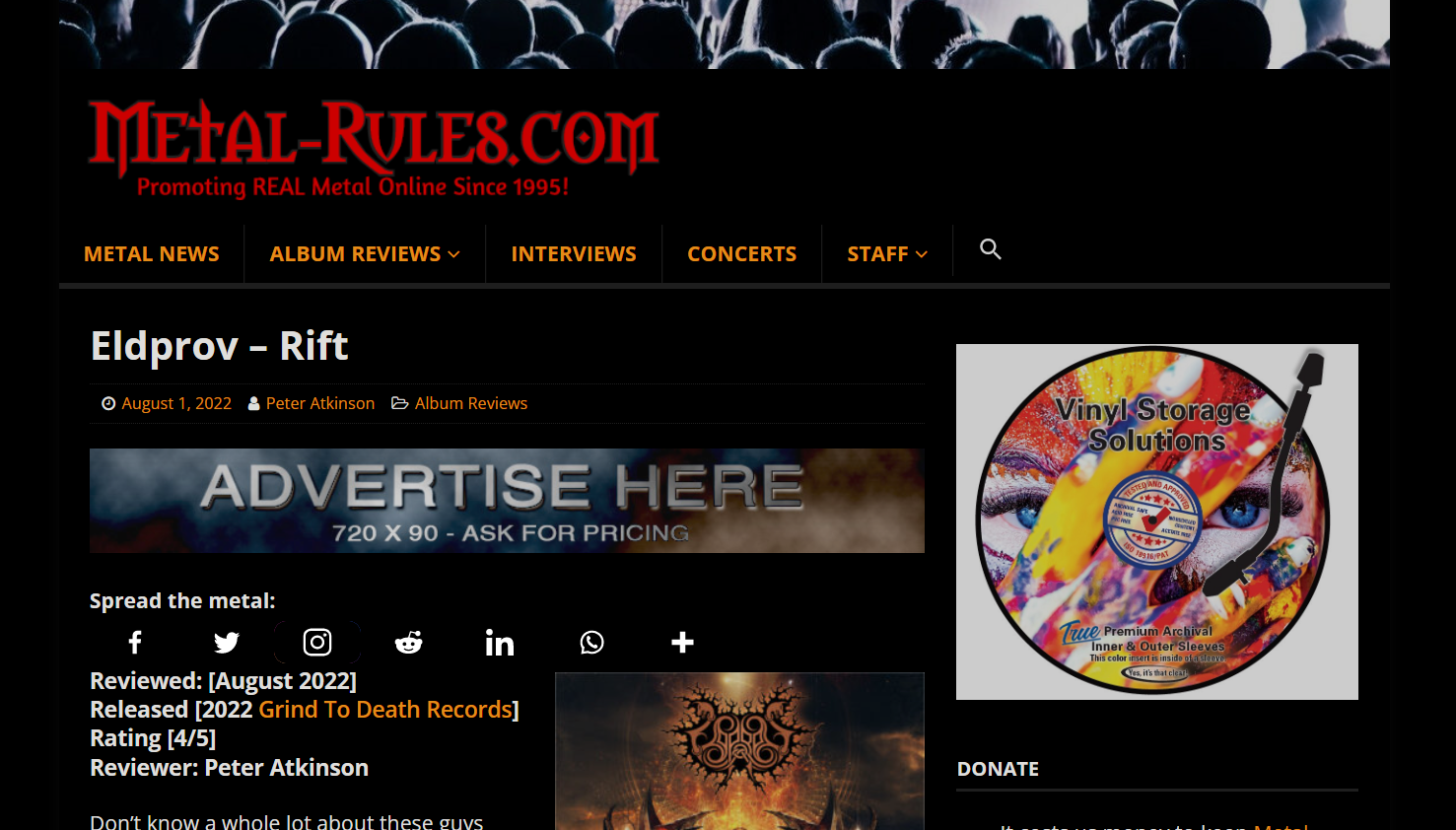 Release Date: September 16th, 2022
FFO: Dissection, Unanimated, Sacramentum
Location: Sweden
Eldprov (literally: fire test) is Swedish for ordeal or baptism of fire/trial by fire. The name perfectly symbolizes Sweden's new melodic death metal band. What makes Eldprov stand out from the rest is that they aren't scared to infuse elements from many genres. You can hear both thrash and black metal influences throughout the album, all closely following the golden era of the 90's! Adding high profile guest artists to Rift such as Heljarmadr (Dark Funeral and Grá), Jacob Björnfot (Kvaen) and Johannes Axeman (ex-Wolf, Decameron) only validates the waves this debut album will do. Eldprov have released two singles already, both getting a lot of listens and have already created a fanbase waiting for the debut to be unleashed. The single "Until Nightfall" even got a physical self-release which sold out quickly, as well as patches and t-shirts selling out. All this before having a full album out testifies there are fans out there craving Eldprov music.
Check out the video!
Follow them on Spotify!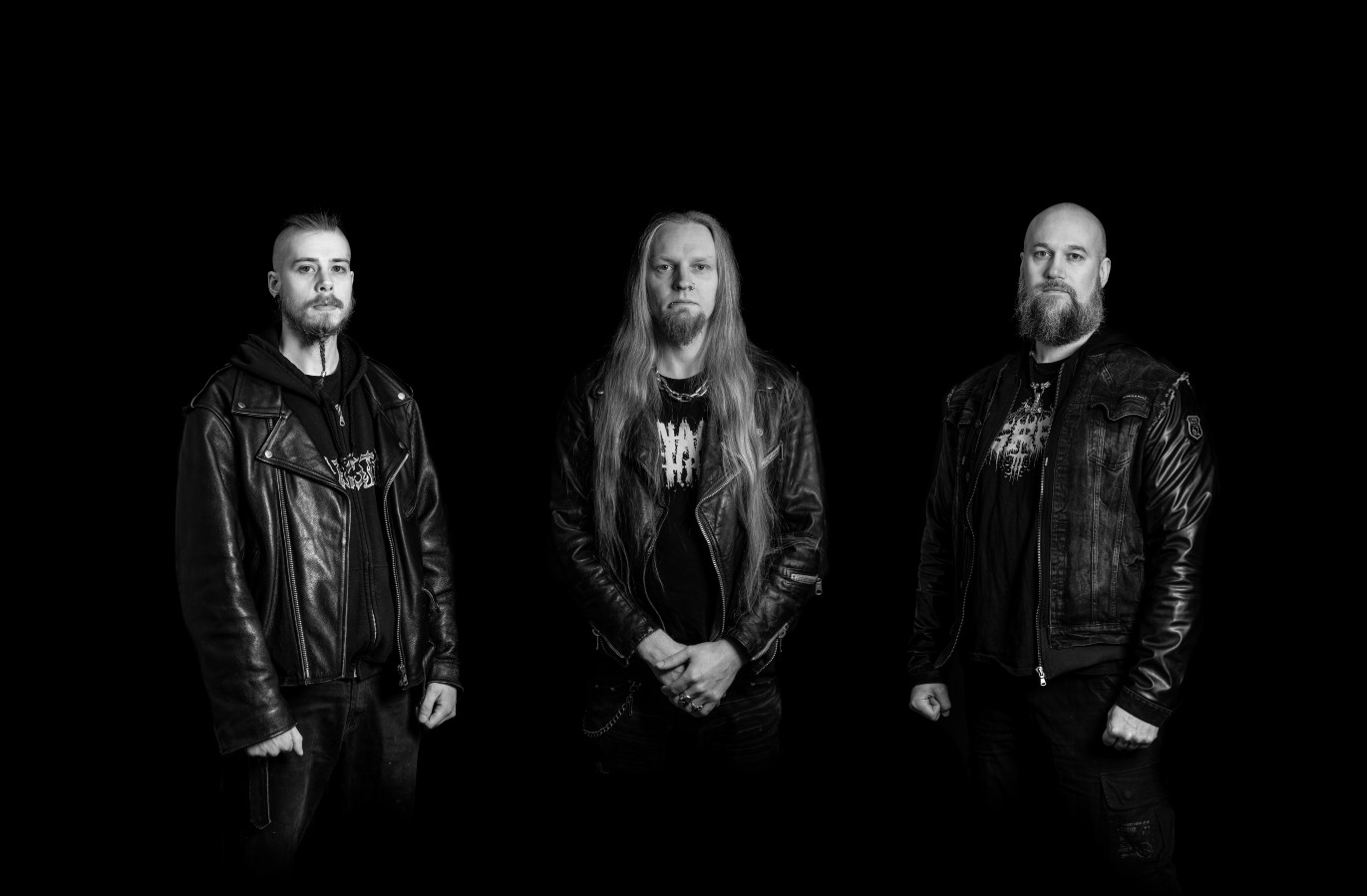 Follow the band at these links:
https://www.facebook.com/eldprovofficial
https://www.instagram.com/eldprov
https://www.youtube.com/c/JonasBacke
https://open.spotify.com/artist/6u7P8mHbubi7pEixe0UpQo
Grind to Death Records:
https://www.facebook.com/GrindtoDeathRecords
https://twitter.com/GrindtoDeath
https://www.instagram.com/grindtodeath
https://grindtodeathrecords.bigcartel.com/
https://grindtodeathrecords.bandcamp.com/