Idol Throne (USA) - The Sibylline Age - Reviewed by RockMuZine Reviews ! check it out here at this link: https://rockmuzine.nl/2022/07/28/idol-throne-the-sybilline-age/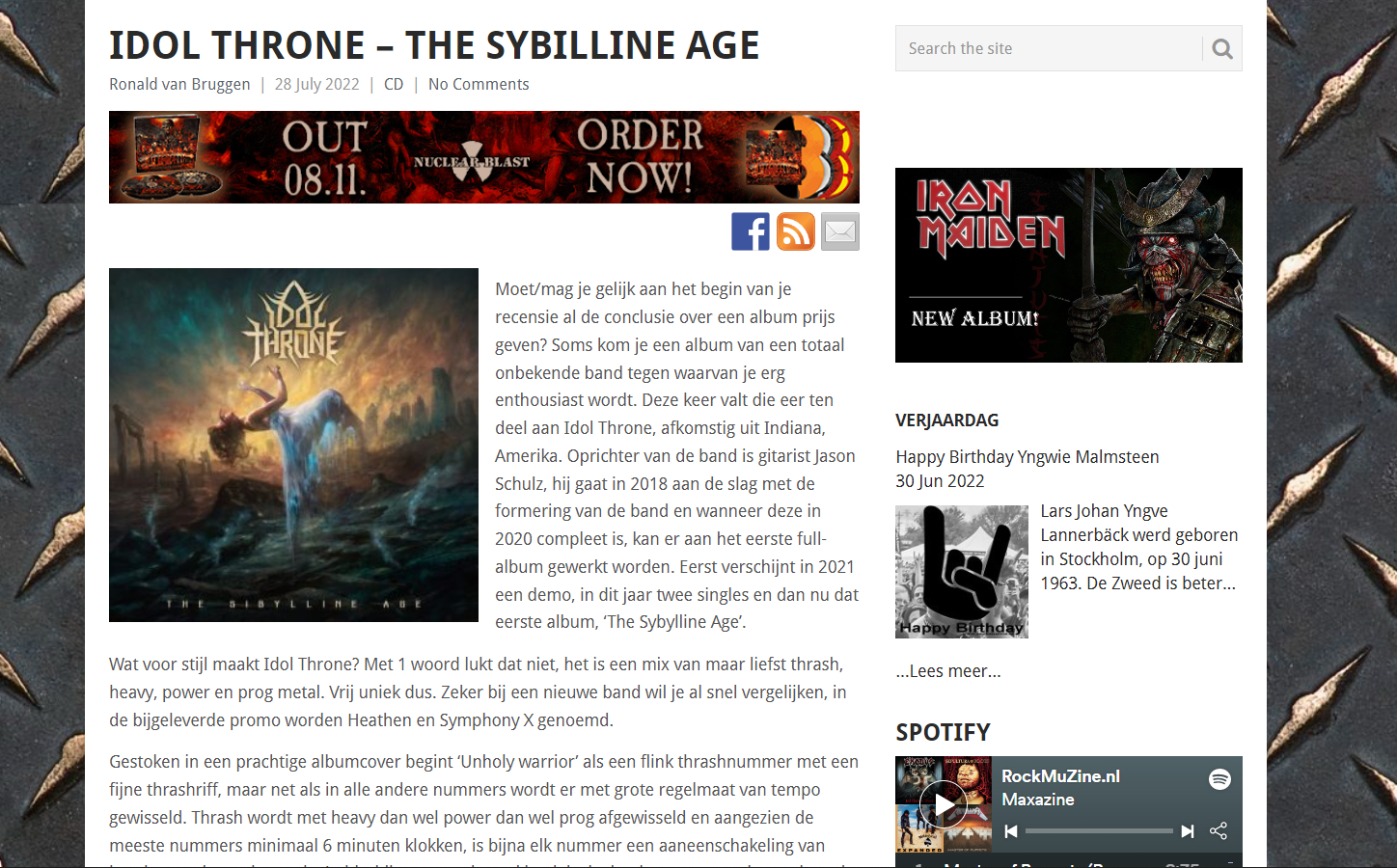 Moet/mag je gelijk aan het begin van je recensie al de conclusie over een album prijs geven? Soms kom je een album van een totaal onbekende band tegen waarvan je erg enthousiast wordt. Deze keer valt die eer ten deel aan Idol Throne, afkomstig uit Indiana, Amerika. Oprichter van de band is gitarist Jason Schulz, hij gaat in 2018 aan de slag met de formering van de band en wanneer deze in 2020 compleet is, kan er aan het eerste full-album gewerkt worden. Eerst verschijnt in 2021 een demo, in dit jaar twee singles en dan nu dat eerste album, 'The Sybylline Age'.
Wat voor stijl maakt Idol Throne? Met 1 woord lukt dat niet, het is een mix van maar liefst thrash, heavy, power en prog metal. Vrij uniek dus. Zeker bij een nieuwe band wil je al snel vergelijken, in de bijgeleverde promo worden Heathen en Symphony X genoemd.
Gestoken in een prachtige albumcover begint 'Unholy warrior' als een flink thrashnummer met een fijne thrashriff, maar net als in alle andere nummers wordt er met grote regelmaat van tempo gewisseld. Thrash wordt met heavy dan wel power dan wel prog afgewisseld en aangezien de meeste nummers minimaal 6 minuten klokken, is bijna elk nummer een aaneenschakeling van breaks en tal van gitaarsolos's, hierbij meermaals neoklassieke invloeden waarneembaar, alsmede veelvuldig afwijkende zanglijnen te horen zijn.  'Labyrinth' is met zijn iets meer dan 4 minuten het kortste nummer, maar ook hierin wordt deze afwisseling niet geschuwd. Met eigenlijk alleen maar nummers van hoge kwaliteit valt het niet mee om hoogtepunten te noemen, maar het instrumentale 'Last full measure', 'Raven's blade' met zijn heerlijk pompende ritme en het afsluitende lange titelnummer zijn nog grotere parels dan de andere nummers. Door de grote variatie in de nummers heb je wel meerdere luisterbeurten nodig om het album te doorgronden. Om het hierboven genoemde vergelijken nog eens te benoemen, zelf moet ik meermaals denken aan de legendarische US metalband Hades.
Met zulke kwalitatief hoogstaande nummers is het logisch, dat de muzikanten ook allen een erg hoog niveau hebben, beide gitaristen schuwen in hun solo's ook meermalen het neoklassieke niet, maar ook de ritmesectie klinkt geweldig. Ook productioneel klinkt het album als een klok.
Idol Throne levert een fantastisch en indrukwekkend debuutalbum af. Hou je van de hierboven beschreven mix van stijlen dan is dit album een absolute aanrader. Voor mij absoluut jaarlijstmateriaal. (92/100) ( Stormspell Records ) - RockMuZine Reviews
Release Date: July 12th, 2022
FFO: Heathen, Symphony X, Paladin
Location: Northwest Indiana, U.S.A.
Formed in late 2018 by guitarists Jason Schultz (Wraith, Mind's Horizon) and Martin Bowman (Farwatch), Idol Throne is a band with a sonic mission and vision; the blending of elements from U.S. Power, Bay-Area Thrash, Neoclassical and Traditional Heavy Metal, combined with a progressive sense of songwriting and a strong focus on melody. 
 
Joined by drummer/percussionist Aaron Grove (Axxios) in early 2019, and vocalist Jake Quintanilla (Mind's Horizon, Berith) in 2020, the band made the most of the extended downtime caused by the global pandemic and recorded demo "Proof of Life" in the Fall of 2020, which saw release on streaming platforms January 1st, 2021. The 3-song recording serves as an introduction to the band's sound, and as a small taste of what to expect on the upcoming debut LP "The Sibylline Age" to be released on July 12th 2022.
 
With the addition of bassist Trevor Kuta (Xenopredator) in the Winter of 2022, and a full docket of live performances scheduled throughout the Midwest, Idol Throne is poised to become a name to know in the modern heavy metal scene. 
Check out the video!
Check them out on Spotify and add them to your playlists!
Support the band on Bandcamp and check out the track 'Unholy Warrior' that originally premiered on Decibel !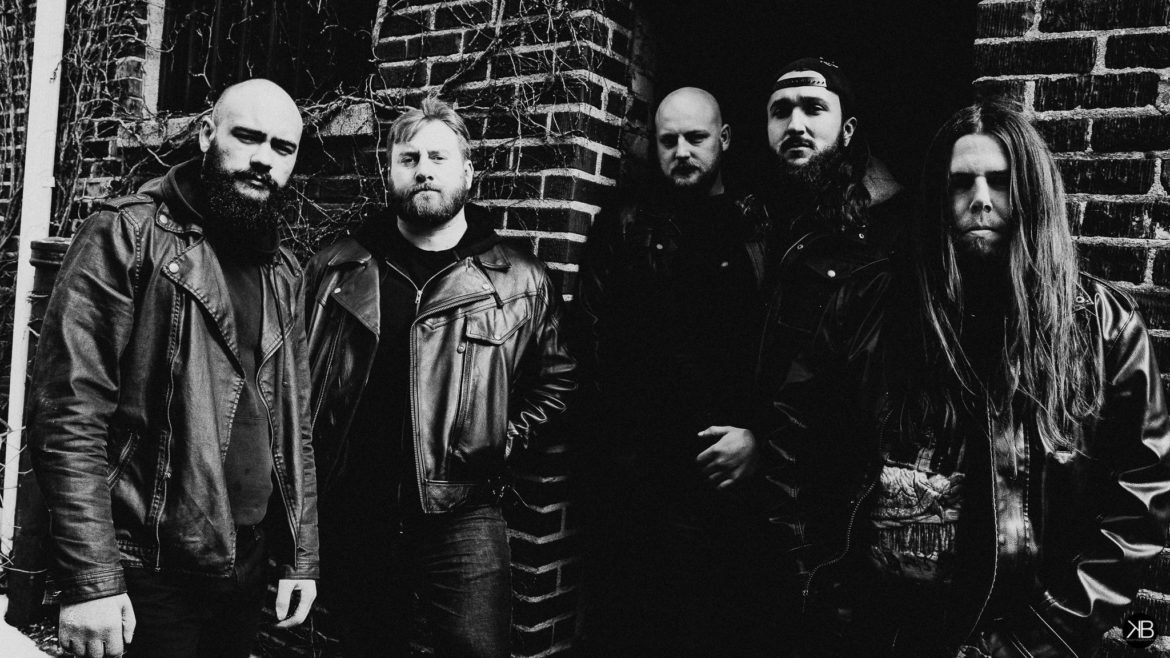 Idol Throne photo by Kyle Bergfors
Follow Stormspell Records to pre-order Idol Throne's

 

The Sibylline Age

 

HERE
Follow the band at these links:
https://www.facebook.com/idolthrone
https://www.instagram.com/idol_throne/
https://idolthrone.bandcamp.com/
https://open.spotify.com/artist/1mLlJ81tpqGFC4y48hi5c0
https://stormspell.bandcamp.com/
idolthrone@gmail.com