Grace Solero (UK) - Metamorphosis - Reviewed By Soundmagnet ! Check it out here at this link: https://www.soundmagnet.eu/grace-solero-metamorphosis-album-review/
Do you remember all the rock bands with female vocals that caused a stir in the 1990s and 2000s? For example , Guano Apes ,  Skunk Anansie  or  Exilia ? These bands were something new at the time and their mix of rock, alternative and grunge found many fans at the time.

Why is this important? Because this kind of music is no longer hyped, but it is also impossible to get down. On the contrary, there are still combos that follow the path defined at that time and develop their own style. One of these bands is   Grace Solero   from London. The rockers around the singer of the same name present us with   Metamorphosis   an album that seems to have fallen out of time, but that's exactly why it fits so well into modern times. Sounds strange – it is. But everything in order.
Best of Alternative & Grunge
On the disc there are nine songs, all of which are based on the straightforward sound of the already mentioned bands. But the Londoners also mix a good portion of grunge in the style of   Soundgarden , melancholic sounds such as the   Smashing Pumpkins   as well as hypnotic-psychedelic passages a la   Muse   into their sound image.
The focus of the songs is clearly the vocals of frontwoman and band founder   Grace Solero . The lady moves mainly in medium pitches, whereby she occasionally undertakes excursions into higher realms. She is accompanied by straight guitar riffs, delicate melodies and a solid, unobtrusive rhythm fraction.
Between quiet and rocking
Overall,   Metamorphosis   offers a good mix between rocking and quiet sounds, which keeps the disc exciting throughout the entire season.   Awake   is a good example of the more atmospheric side of the band through its sweeping chorus and crisp guitar solo, which you can find   HERE .
If you like it rockier and straighter, you should listen to the title track   HERE . The number is reminiscent of the early days of the   Guano Apes , but   Grace Solero   combines this sound with snotty pop-punk atmosphere and dirty grunge borrowings.
The past becomes the future
After nine songs and about 40 minutes of playing time, you don't know exactly whether you have just listened to a new release or a kind of best-of of the rock music of the late 1990s. But this is not a criticism, but a great praise. Because nowadays getting such a sound without acting like a decal is anything but easy. And   Grace Solero   mastered this challenge bravely.
Only a better production would have done the disc good, but hey – this is a self-release. With a strong label and the associated change, this band would certainly cause much more attention in the scene.
---
Conclusion
Metamorphosis   is aimed at all fans of honest and authentic rock music.   Grace Solero   show on this album her potential to revive the sound of yesteryear and yet to be much more than a retro band.   8 / 10
Release Date: July 15, 2022
FFO: Skunk Anansie, Soundgarden, Guano Apes, Jane's Addiction
Location: London, UK
London rocker Grace Solero will release her 'Metamorphosis' album on July 15, unleashing 9 tracks of raw, grungy, dreamy and atmospheric rock. Having just released the lead track 'Metamorphosis', she recently released the singles 'Orange Sky', 'Awake' and 'Lucid Dream'.
You can purchase here at these links:
'Metamorphosis' (current single) order https://orcd.co/gracesolerometamorphosissingle
CD pre-order https://bit.ly/3Q3vbJ1 
Bandcamp pre-order https://gracesolero.bandcamp.com/album/metamorphosis

This long-player record was was mixed by Chris Brown (Radiohead, Muse, Ride, INXS, Gary Moore, The Waterboys) and mastered by Andy 'Hippy' Baldwin (The Who, Interpol, Oasis, Blur, UB40, Stormzy) at London's Metropolis Studio. Recorded and engineered by Jon Clayton (The Monochrome Set, Vic Godard And Subway Sect) at One Cat Studio in London, these songs were arranged and produced by the band members themselves.
Grace Solero explains: "The album's title track 'Metamorphosis' was initially a guitar riff played by our drummer and multi-instrumentalist Dave. The whole band joined in and I added melody and lyrics. The verses are more introspective with the choruses turning into anthem-like explosive energy. It's about being bold in order to move forward," says 
Solero's performances are highly dynamic and energetic, both sonically and visually. They've performed everywhere from intimate clubs to large stages in Europe, USA and Canada, supporting the likes of Motorhead's Phil Campbell, Alan Merrill (famed songwriter of the Joan Jett hit 'I Love Rock 'n' Roll') , Bernie Torme and Arthur Brown. Previous albums 'New Moon' (2009), 'Hundred Years Apart' (2013) and 'Awake' (2018), have received BBC Radio 6, XFM and BBC London support and has been featured in Classic Rock, Guitar Techniques, Powerplay Magazine, Sonic Shocks and Sonic Cathedral Webzine.
Currently collaborating on The Twilight Zone, a new project with Dan Beaulaurier and legendary pedal steel player BJ Cole (Elton John, Cat Stevens, Bjork, R.E.M), she also co-writes and performs with The Vibrators' Knox and Mariangela Demurtas (Tristania) and has performed alongside Slade's Noddy Holder.
While the lead track is out now, the full 'Metamorphosis' album is out on July 15. Her release show at The Dublin Castle in Camden, London happens on July 13 with tickets available at https://bit.ly/3aa5RAH 
Check out these videos!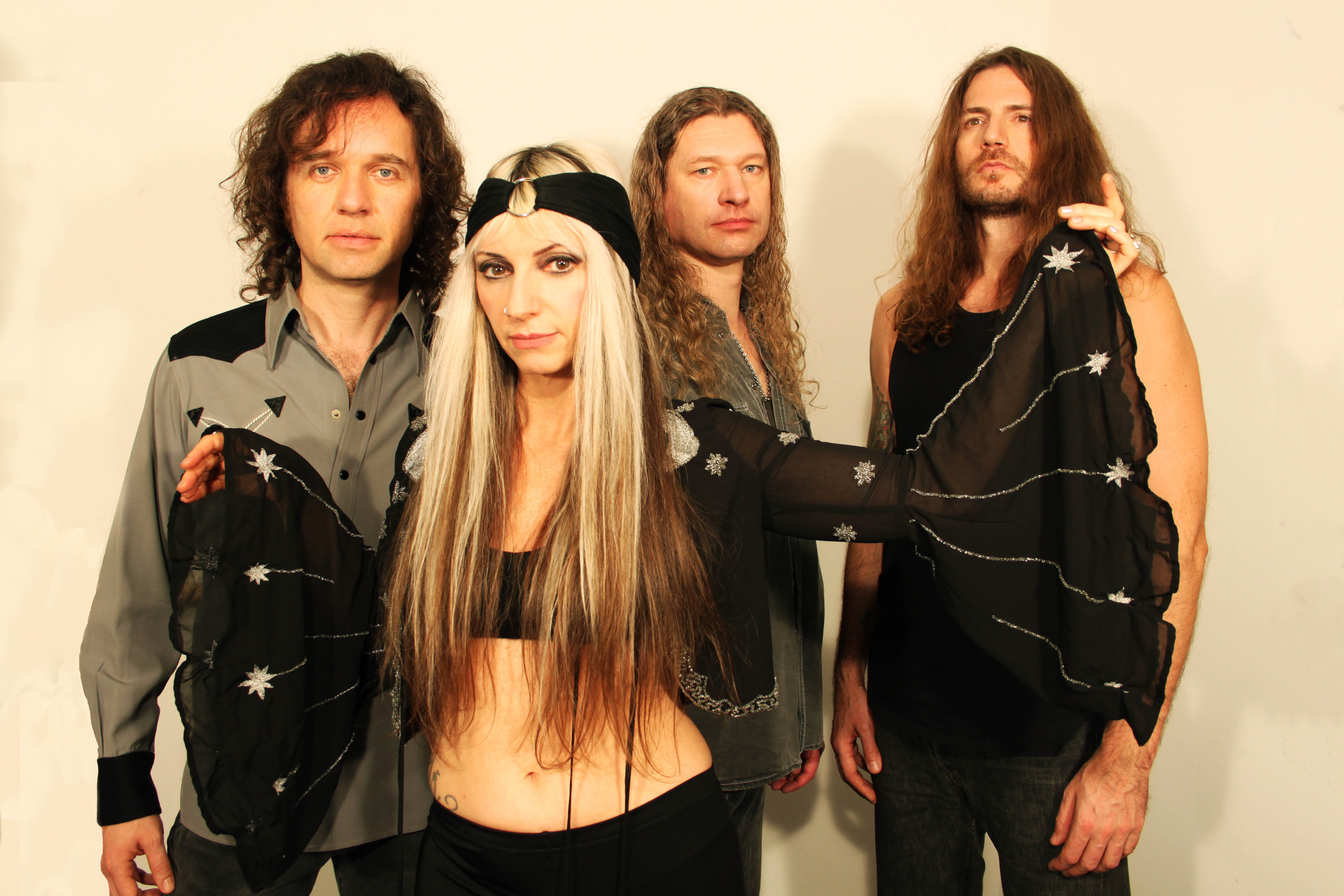 Follow the band at these links
http://gracesolero.com/wordpress/
https://www.facebook.com/GraceSolero
https://twitter.com/GraceSolero
https://www.instagram.com/gracesolero/
https://soundcloud.com/grace-solero
https://www.youtube.com/user/gracesolero
https://gracesolero.bandcamp.com/album/metamorphosis
https://open.spotify.com/artist/76XgQHV9F2kPotwu0gbhZr
https://music.apple.com/us/artist/grace-solero/253835352