REZET (Germany) - NEW WORLD MURDER - Reviewed By Zwaremetalen ! Check it out here at this link: https://zwaremetalen.com/albumrecensies/rezet-new-world-murder
New World Murder, a new EP by the German thrash band Rezet, has four songs. The band around frontman Ricky Wagner made a lasting impression on me in 2012, when I saw them at Pooierfest in the Frontline in Ghent. Those were fun times, without shame I go through the report again. The album Civic Nightmares was subsequently snubbed by colleague Kris and indeed, at home it all sounded just a little less. However, that didn't stop me from reviewing the new EP with a 75% new line-up ten years later. Three new songs and a cover, we're off.

The Devil's Bride, the opener of New World Murder, immediately shows that frontman Ricky is still at the forefront of the mix. The thrash continues to rock heavy and has meanwhile received a slightly fuller sound, even though it remains an old school happening without modern production techniques. The solos sound a lot better finished, the drums a little better dosed, the guitar work has more body. On Alien Noise, one Schmier (Destruction) contributes, also the most solid and solid song on this clearly German-grounded pioneer therash record.
Dead End Walking shows the rock urge that the band possesses, with grooves and swing, and here and there uptempo thrash tempo accelerations. The vocals of frontman Ricky are the most remarkable element in this song (and by extension the whole picture), vocals that have a certain old school acidity and do not always come out of your speakers during the lashing out. Unfortunately, the latter is very much expressed during the closing Deep Purple cover Fireball with which the band completely misses the proverbial fireball. Annoyingly annoyingly sung, nonchalant and unstracked, I still keep it neat. Rezet has overestimated himself here. So stick to the first two songs if you want to go through them. - Zwaremetalen
Release Date: 27th May 2022
FFO: Annihilator, Traitor, Overkill
Location: Schleswig, Germany
When Rezet´s most recent album Truth in Between effectively turned out to be a commercial nonstarter due to a certain virus, northern Germany´s finest in thrash quickly had to separate the wheat from the chaff… albeit not so much voluntarily as out of necessity. After amicably separating from guitarist Heiko Musolf and bass player Bjarne Otto, main composer, guitarist and singer Ricky Wagner shortly wondered whether he should put the band to rest but then decided differently. Contrarily, he set out to leave nothing to coincidence anymore, opting for a "no compromise" and do-it-yourself approach by continuing Rezet without label-support for the time being. This resolve triggered a burst of creativity, resulting in New World Murder, a four-track EP both revisiting the group´s roots as well as hinting towards a brighter future. Wagner and drummer Bastian "attt" Santen recruited four-stringer Lorenz Kandolf and second guitarist Jan-Erik Fischer to self-record three new songs as well as a flamboyant cover of Deep Purple´s proto metal classic ´Fireball´.
The material was then mixed and mastered by the band´s trusted sound engineer Eike Freese (amongst others Heaven Shall Burn, Helloween and, indeed, Deep Purple), with ´The Devil´s Bride´ being a perfect opener, blending acute Motörhead vibes with Ricky´s charismatic snarl and an almost Annihilator-esque playfulness, highlight the razor-sharp precision of Rezet´s new line-up. The rhythmically diverse, subtly melodic ´Dead End Walking´ is barbed with one of the catchiest riffs you may hear in 2022 and topped of by an atmospheric instrumental bridge whereas staccato earworm ´Alien Noises´ – featuring guest vocals by none other than German thrash pioneers Destruction´s front man Schmier – hits home even faster and will grace the soundtrack of the movie "Total Thrash".
So there you have it: four smashers that sounds unpredictable and familiar alike, reflecting Ricky´s hands-on attitude. "In a way," he concludes, "I see New World Murder in the spirit of Metallica, who also keep setting new goals for themselves, shedding their skin on a constant basis. Eventually, we reclaimed our joy in what we do simply by doing what we love without fulfilling expectations." Old is the new New – so watch out and perk your ears for "The Great Rezet"!
Check out this video!
Check them out on Spotify and add them to your playlists!
Also available on Apple!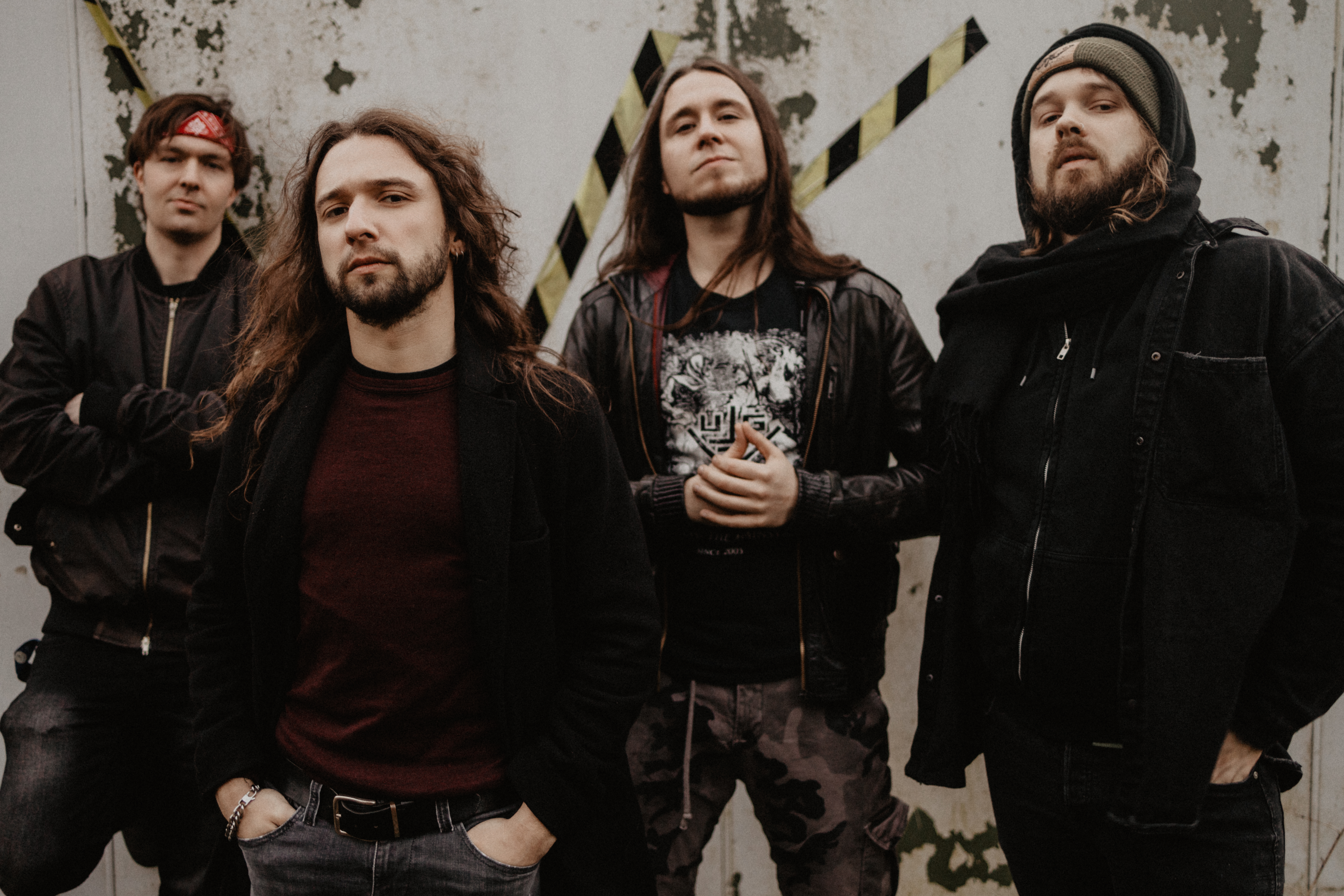 Follow the band at these links:
https://www.facebook.com/rezetband
https://www.merchlandshop.com/produkt-kategorie/rezet/brandneu/
https://music.apple.com/us/album/new-world-murder-ep/1617837760
https://open.spotify.com/artist/6mEsJPMfmOwRLP3NZGXYg2
https://ffm.to/rezetaliennoises
https://www.instagram.com/rezet_official/