OCTOBER THORNS - Soul Forge - Featured At Breathing The Core ! Check it out here at this link: http://www.breathingthecore.com/2022/08/interviews-october-thorns.html
Release Date: July 23rd, 2022
FFO: Dream Theater, Rush, Pain Of Salvation
Location: New York, USA
Soul Forge is the 3rd single from October Thorns critically acclaimed album, "Circle Game". Stream it here at this link: https://distrokid.com/hyperfollow/octoberthorns/soul-forge
The album, "Circle Game" continues to gain traction as new listeners and loyal fans connect to hear remixed and remastered songs from their well-known demo that was released over 20 years ago. Now, with new life and additional unreleased tracks, this album cements the Brooklyn band's legendary status as the best prog-metal band to come out of Brooklyn. What is remarkable is that most of the band was in their teens when this was recorded.
Vocalist Paul LaPlaca will be playing keyboards with ZO2, the band featuring David Z and his brother Paulie. Their next show is July 30th with Stone Temple Pilots. Kings X, and Steven Adler.
He is also playing bass with prog-doom band, Drift Into Black who just released their 4th album, "Earthtorn" on Black Lion Records. 
https://www.bandsintown.com/e/1025238015-stone-temple-pilots-at-paramount-hudson-valley
Album reviews have been solid 8-9 out of 10 on many of the leading sites.
"Theatrical, Beautiful, Magical, & Poetic Wall of Sound" - Metal 1 on 1
https://metal1on1.squarespace.com/progtech/october-thorns
"The energy throughout the eight main tracks immediately hits with real force… powering home with a pinpoint precision that matches the technical dexterity on show. With LaPlaca proving a fine singer with a truly vibrant attack, he was an excellent match for the fiery guitar work." - Sea Of Tranquility
https://www.seaoftranquility.org/reviews.php?op=showcontent&id=23853
"This album sounds like a dream and the music absolutely calls for it to be so."- Metal Temple
http://www.metal-temple.com/site/catalogues/entry/reviews/cd_3/o_2/october-thorns-circle.htm
"All the band members play their part in producing an epic sounding, entertaining piece of music with dramatic complexities, deep overlapping layers of music and feelings. Mixed together the listener can enjoy a thoroughly engaging experience." - Accidental Music Reviewer
https://www.facebook.com/Accidental-Music-Reviewer-532688274316782/photos/740489216870019/

Paul LaPlaca has had a very illustrious career and plenty of stories to tell for interviews! He has shared the stage with Chris Caffery, Jeff Plate, Steve Wacholtz, (Savatage/TSO), Ted Poley (Danger Danger/ Tokyo Motor Fist), Greg Smith (Ted Nugent/ Billy Joel), Dennis Leeflang (Lita Ford/ Within Temptation), Doug Odell's (Ice Age), Steve Brown (Trixter/ Eric Martin, Def Leppard/ Tokyo Motor Fist), The Great Kat, THOR, VON LMO, Zandelle, Grey Skies Fallen, Carnivore AD, Elvis Presley Jr., ZO2, John Macaluso (ARK/ James LaBrie, George Lynch), Nick Douglas (DORO), Steve Unger (Metal Church), Ira Black (Vicious Rumours/ Dokken/ Bullet Boys/ Lizzy Borden/ I Am Morbid) Charlie Zeleny (Behold The Arktopus) David Z (TSO, Jeff Scott Soto, Joan Jett).
He has also mixed for DORO, Metal Church, Pain Of Salvation, Voyager, Creations End, DGM, Enuff Z 'Nuff, Randy Jackson, opened for In Flames, Nevermore, Symphony X, Tesseract, Kings X, CloudKicker, Jon Oliva, Ripper Owens, DORO, Poison, KISS, 10,000 Maniacs, Yngwie Malmsteen, and done tech for Living Colour, Testament, Paul Stanley. 
Check out the videos!
Follow on Spotify and add to your playlists!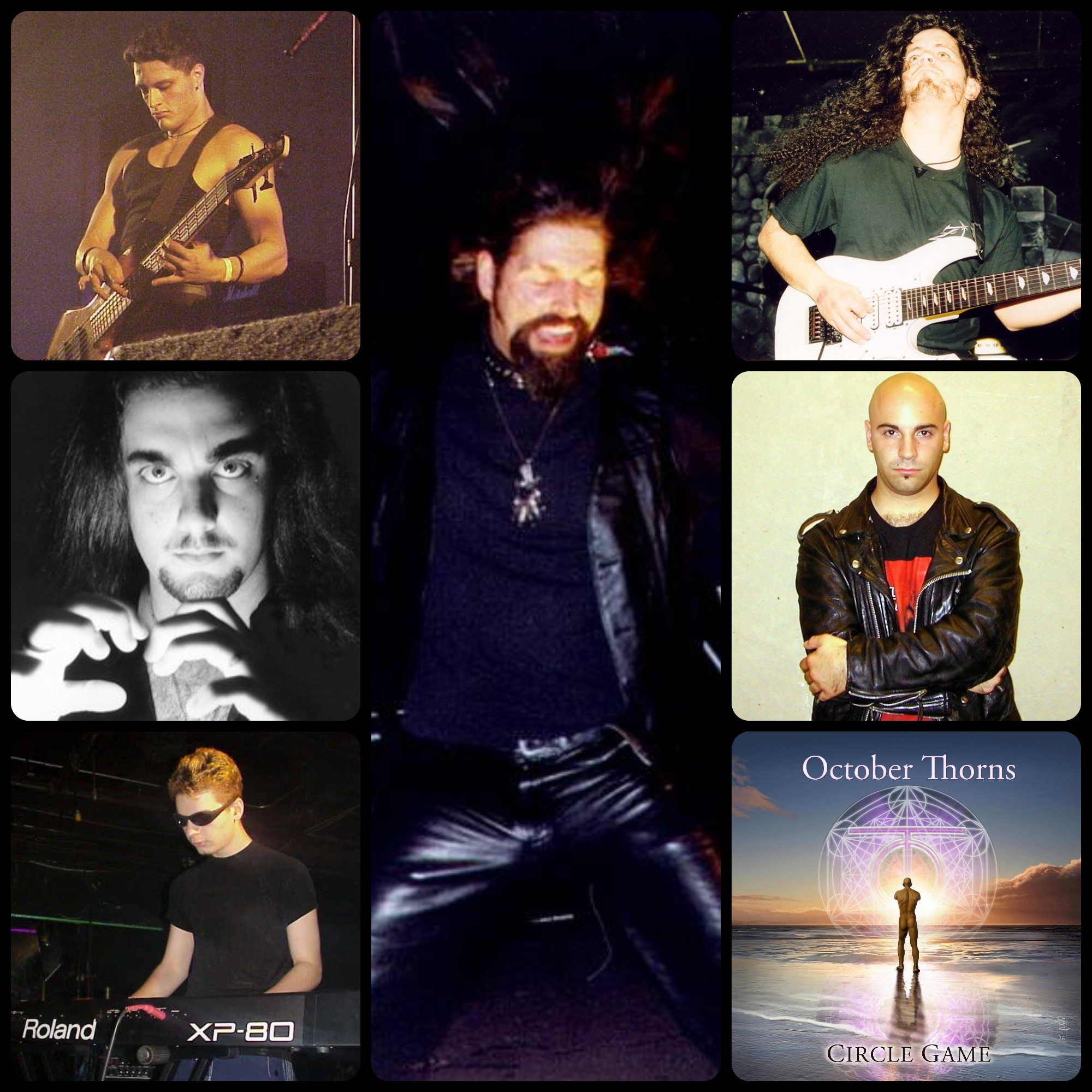 Follow the band at these links:
https://www.facebook.com/October-Thorns-116719685391554/
https://youtube.com/playlist?list=PLGcc2MjrIrzcces9XNeXt-S_52MJbCehj
https://distrokid.com/hyperfollow/octoberthorns/circle-game-2