CARR JAM 21 - Featured & Interviewed by Pete's Rock News And Views ! Check it out here at this link: http://petesrocknewsandviews.com/carr-jam-21-interview/
Press Release: CARR JAM 21 (Supergroup) Feat. Members From The Hellacopters, Alice Cooper, Accept - Make Tribute To KISS !
After the success from the self-titled album the supergroup Carr Jam 21 are back!  Carr Jam 21 is project to celebrate the legacy of the late Eric Carr , but also the legacy of KISS ! The band recently met up at the Skansen/Stockholm to take photos at the exact same locations where KISS took some of their photos when they first visited Sweden back in 1976. 
More info about the upcoming album and more members will be announced later this fall.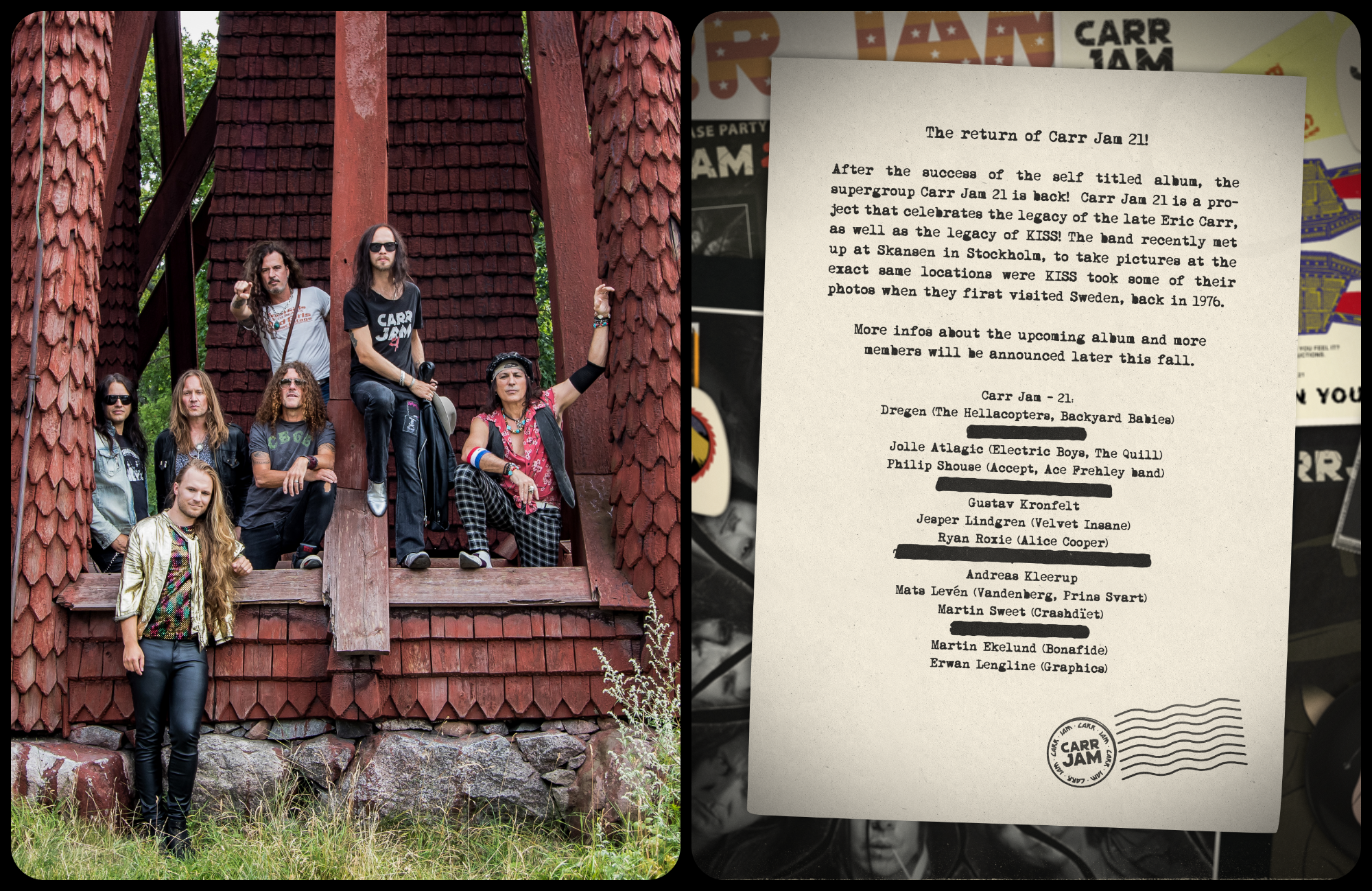 Carr Jam 21 is:
Dregen ( The Hellacopters, Backyard Babies )
Jolle Atlagic ( Electric Boys, The Quill )
Philip Shouse ( Accept, Ace Frehley band )
Gustav Kronfelt 
Jesper Lindgren ( Velvet Insane ) 
Ryan Roxie ( Alice Cooper )
Andreas Kleerup 
Mats Levén ( Vandenberg, Prins Svart ) 
Martin Sweet ( Crashdiët )
Martin Ekelund ( Bonafide )
Erwan Lengliné ( graphics )
Follow the band at these links:
https://open.spotify.com/album/7eqlH7LK1dZJQ7jcUUqHSS
https://music.apple.com/us/album/can-you-feel-it/1589258257
https://www.youtube.com/channel/UCwfy_8ApE3v3KyxusKARatQ
https://www.facebook.com/Carrjam21
https://www.instagram.com/carrjam21/
https://www.instagram.com/dregenofficial/
https://www.facebook.com/DregenOfficial
https://www.instagram.com/ryanroxie/
Photo Credit: Stefan Bjärkemark