Pyramid - Validity  - Reviewed by Sea Of Tranquility ! Check it out here at this link: https://www.seaoftranquility.org/reviews.php?op=showcontent&id=23800
Validity is the fourth studio album by U.S. progressive metal act Pyramid. The lineup for this album is Gabe Pietrzak on guitars, Lance Sawyer on bass, Chris Quiriarte on drums, Adam Bentley on guitars, Joey Izzo on keyboards, Tim "Ripper" Owens (Judas Priest, KK's Priest, Yngwie Malmsteen, Charred Walls of the Damned, Iced Earth) on vocals and guest violinist Perrine Missemer.
A TV show jingle cover opens the album with intense guitar/violin shredding and frenetic drumming, quite cool and it gives a snippet of what's to come. The guitar work in 'Resistance" is very good and catchy and the Sawyer-Quiriarte duo on rhythmic section sounds immensely tight. Izzo's work is fundamental, both here and throughout the whole album. The title track and epic "Validity" is full metal force at high speed, teasing with technical and trash metal with Owens's vocal display is as good as expected, ranging from pseudo growling all the way to high pitch Haltford style screaming, both powerful and fresh. The unique combination of guitars and violins in this type of fast progressive metal is really appealing.
"Mutiny" very dark but very melodic, and even though is hard to find hooks in the music within this genre (at least for me), this song sounds like a tougher and better version of early Ghost. Vocals, violins, and guitars are outstanding. "Stigma" takes the album into sludger territory, complex melodies and invasive female vocals make this song a less embraceable listen, however there are a few proggy instrumental moments that I do enjoy, as well as the guitar soloing.
"Core" is a song with a lot of complexity on its arrangements, it does have some cool vocal harmonies by multirange Owens and talented guitar shredding, but I don't feel the same connection that I do with other songs on the album. "Velocious" is exactly that, a fast & furious song with all the progressive metal ingredients smartly enhanced with the violins and the vocals. The sound created for this album reminds me a little of a mix between Megadeth, Judas Priest, and Dream Theater with a pinch of that American Metal groove that modern bands have adopted and mastered. "Nepotism" starts angry and doomy sounding but also revisits those same proggy moments found in "Stigma" which are even more beautiful and memorable here… it would be nice to make them a blueprint for further albums…just a thought.
"Passage" combines those atmospheric violins with heavy metallic riffing that slowly evolves into this kind of radio-friendly song, like a modern, proggier and eviler version of Faith No More, and I might sound like a scratched record, but I am a sucker for strings so… those hypnotic violins always add the right texture for me… I confess, this type of music is not my cup of tea, but It's so well arranged that somehow it grew on me. "A Story" is pure melody from the get-go, even the guitar soloing sounds more on the hard rock side than power or trash metal and the rhythm fluctuations are both unexpected and smooth. A 2 plus minutes epic ending has been included here, the same 2 plus minutes that made me go back and listen the album again… keyboards maybe? Violins and guitars?... all of it. "Natural Cause" is the chosen song to close the album and the complexity is immediately present, a musical talent display that includes every instrument (or band member) and their unquestionable quality, sometimes sounding like a pre-rehearsed jamming or simply a chaotic version of free style playing. A mostly instrumental track that covers a lot of ground, unfortunately too much for me. - Sea Of Tranquility
Release Date: December 14, 2021
FFO: Dream Theater, Savatage, Judas Priest
Location: USA
Pyramid is a American progressive metal band and collaboration of some of the most iconic vocalists and musicians world wide and was formed in 2017 by song writer and bassist Lance Sawyer. The current band line up includes " guests " vocalist Tim "Ripper" Owens, vocalist Andry Lagiou, guitarist Adam Bentley, guitarist Gabe Pietrzak, guitarist Mike Abdow, Keyboardist Joey Izzo, Drums James Knoerl, Violinist Perrine Missemer, and Bassist Lance Sawyer.
Mixed and engineered by Adam Bentley, Mastered by Maor Appelbaum at Maor Appelbaum Mastering - California USA http://wwwmaorappelbaum.com
Sleaszy Rider SRL www.sleaszyrider.com
www.facebook.com/sleaszyrider
Graphic design and video by the one and only  
Mike Morphett M : 29 Creative
Check out this video!
Check them out on Spotify!
Hurry and grab limited supply of hand signed CD's from Tim Ripper Owens on Bandcamp!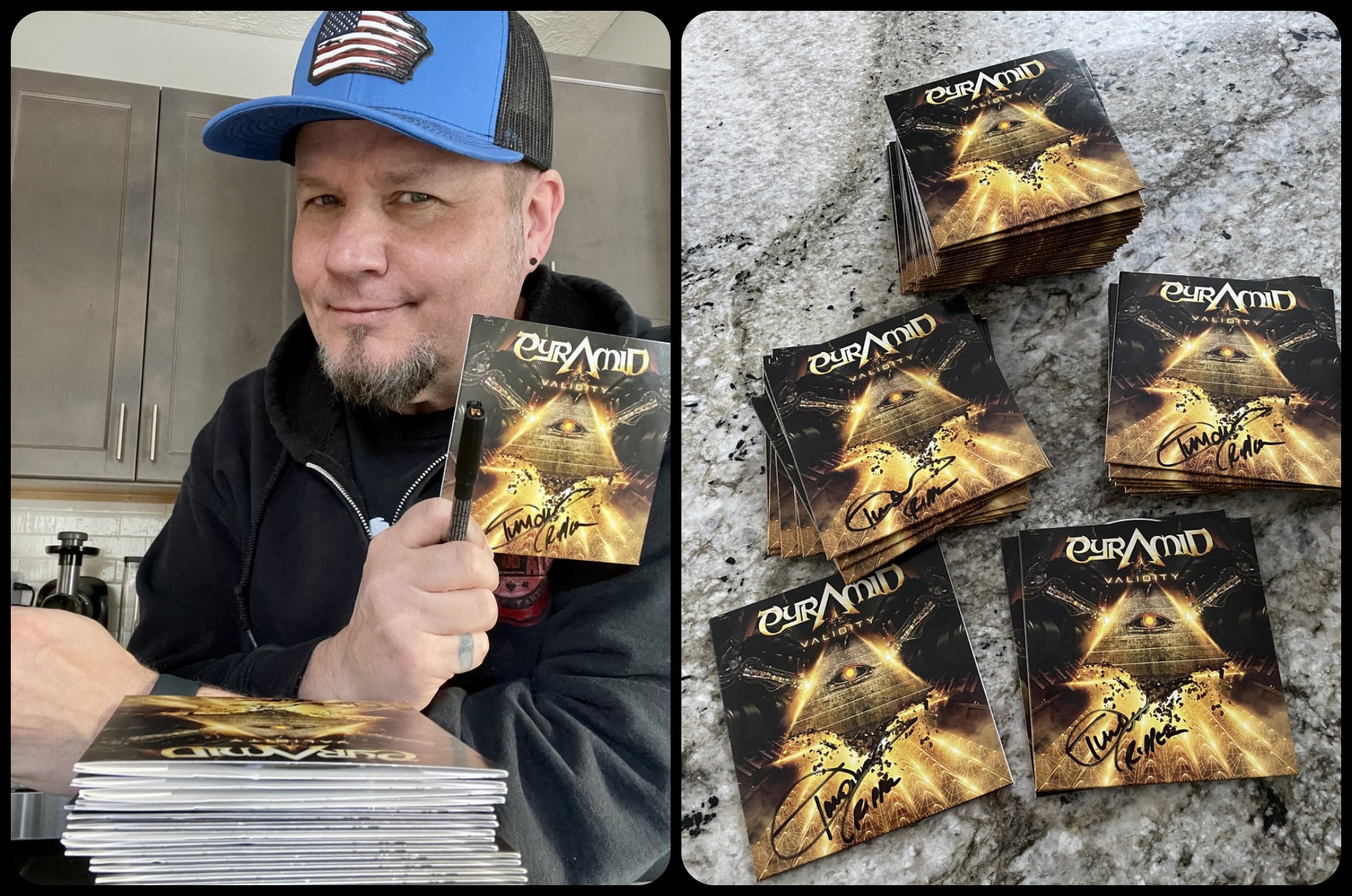 Support the band on Bandcamp!
Also available on Apple!
Follow the band at these links:
https://www.facebook.com/pyramidoffical
https://open.spotify.com/album/390qBziQTYD3nBRHg6dB6I
https://pyramid.bandcamp.com/album/validity
https://www.youtube.com/channel/UCYe4HTmmMHvVI0fSnpn7xag