Pyramid (USA) - Validity - Reviewed by Metal Crypt ! Check it out here at this link: https://www.metalcrypt.com/pages/review.php?revid=13693
Since bassist/band leader Lance Sawyer started the progressive metal sensation Pyramid, they have been extremely productive. They released three full-lengths in a three-year period with ''Validity'' being their fourth effort and probably the best so far.
The band blends their classic progressive metal influences such as Dream Theater, Fates Warning, Symphony X etc. with traditional metal bands like Savatage and Maiden. Having said that, they do not fall in the category of power/progressive Metal, this is definitely a progressive metal album with complex and dense riffing and soloing, both on guitar and keyboards.
This time Tim ''Ripper'' Owens is on guest vocals and he damn fuckin' delivers. Whispers, layered, mid or his trademark high-pitch singing are all there to elevate the material's quality standards even further. His duets with compatriot Andry Lagiou (The Harps) do well as their voices are complementary to each other.
''Prelude'' is an interesting intro as it is basically a metal interpretation of Edvard Grieg's ''In the Hall of the Mountain King.'' The best moment on the album is the 10-minute epic ''Validity'' where the band has the time and space to show off their technical skills and ability. ''Stigma" is a great example of how to compose a prog metal tune that is actually catchy and accessible, so it makes sense the band chose this for a video. Next would be the most straightforward song on the album, ''Velocity,'' where Ripper and the rest of the group shine in every possible way. Most songs stand on high level with very few indifferent moments, like the second track ''Resistance''.
Overall a solid progressive album that should be a must for fans of this genre and a ''need to check'' album for the rest. - Metal Crypt
Release Date: December 14, 2021
FFO: Dream Theater, Savatage, Judas Priest
Location: USA
Pyramid is a American progressive metal band and collaboration of some of the most iconic vocalists and musicians world wide and was formed in 2017 by song writer and bassist Lance Sawyer. The current band line up includes " guests " vocalist Tim "Ripper" Owens, vocalist Andry Lagiou, guitarist Adam Bentley, guitarist Gabe Pietrzak, guitarist Mike Abdow, Keyboardist Joey Izzo, Drums James Knoerl, Violinist Perrine Missemer, and Bassist Lance Sawyer.
Mixed and engineered by Adam Bentley, Mastered by Maor Appelbaum at Maor Appelbaum Mastering - California USA http://wwwmaorappelbaum.com
Sleaszy Rider SRL www.sleaszyrider.com
www.facebook.com/sleaszyrider
Graphic design and video by the one and only  
Mike Morphett M : 29 Creative
Check out this video!
Check them out on Spotify!
Hurry and grab limited supply of hand signed CD's from Tim Ripper Owens on Bandcamp!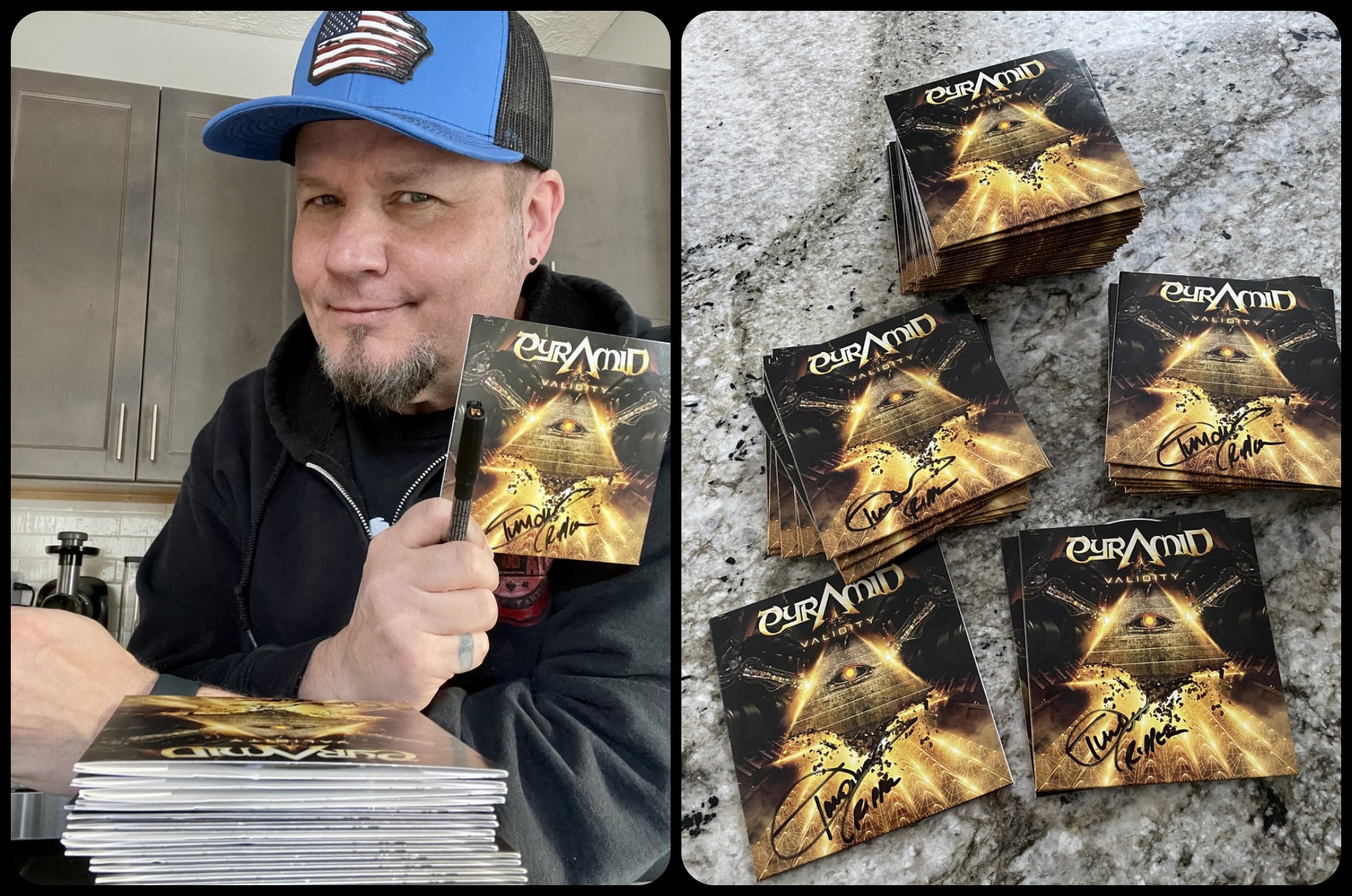 Support the band on Bandcamp!
Also available on Apple!
Follow the band at these links:
https://www.facebook.com/pyramidoffical
https://open.spotify.com/album/390qBziQTYD3nBRHg6dB6I
https://pyramid.bandcamp.com/album/validity
https://www.youtube.com/channel/UCYe4HTmmMHvVI0fSnpn7xag