Pyramid (USA) - Validity - Reviewed By Metal Digest ! Check it out here at this link: https://metal-digest.com/2022/06/09/pyramid-validity/
Pyramid is a Prog Metal collaboration featuring an impressive list of musical greats. The fourth offering, 'Validity' was released over 6 months ago so I'm sure you have read plenty of reviews and formed your own opinions by now. I'd like to offer my two cents and perhaps expound on a few items that may have been overlooked. 
Musically, 'Validity' is all you would expect from a Prog Metal outing and probably a bit more. Rivaling Epica's 2009 version, the album starts with a Metalized version of Grieg's "Hall of the Mountain King." All players bring their A-game on this track, and it just gets better from there. The band crunches and soars and mesmerizes. Nothing entry-level here; this is full tilt Prog grandeur.
 Arguably the biggest name on the album, Tim "Ripper" Owens is nothing short of astounding. Now into his 50s, he is supposed to be formularized, dependable, or (gasp) on the downslope. Nope. With each endeavor, he has continually exploded in every direction, each with brilliant intensity. Validity just maybe the album he was born to record. Even if his vocal style(s) isn't quite your cup of tea, his power is undeniable. 
The inclusion of Andry Lagiou is a special treat. Although she appears only sparingly with Owens,their chemistry is extraordinary (even if they were in different studios, different time zones, etc.) Personally, I would like to see more time dedicated to the other world-class talent here. The instrumentals that bookend 'Validity' showcase the band quite nicely, yet I feel each artist deserves a bit more time in the spotlight. This album is far more than Tim Owens, et al. As such, I am listing all the players' names below. Each is an amazing artist, worthy of a deep dive.

At over an hour in length, this album can be challenging at times. Many layers, colors, and shapes. While this is decidedly not a casual listen, it is well worth the time to discern and dissect and enjoy.
Gabe Pietrzak / guitars
Tim Owens/ Vocals
Lance Sawyer/bass
 Chris Quirarte / drums
 Adam Bentley / guitars
 Joey Izzo / keyboards
 Andry Lagiou/ vocals
Perrine Bakubama/ Violin - Metal Digest
Release Date: December 14, 2021
FFO: Dream Theater, Savatage, Judas Priest
Location: USA
Pyramid is a American progressive metal band and collaboration of some of the most iconic vocalists and musicians world wide and was formed in 2017 by song writer and bassist Lance Sawyer. The current band line up includes " guests " vocalist Tim "Ripper" Owens, vocalist Andry Lagiou, guitarist Adam Bentley, guitarist Gabe Pietrzak, guitarist Mike Abdow, Keyboardist Joey Izzo, Drums James Knoerl, Violinist Perrine Missemer, and Bassist Lance Sawyer.
Mixed and engineered by Adam Bentley, Mastered by Maor Appelbaum at Maor Appelbaum Mastering - California USA http://wwwmaorappelbaum.com
Sleaszy Rider SRL www.sleaszyrider.com
www.facebook.com/sleaszyrider
Graphic design and video by the one and only  
Mike Morphett M : 29 Creative
Check out this video!
Check them out on Spotify!
Hurry and grab limited supply of hand signed CD's from Tim Ripper Owens on Bandcamp!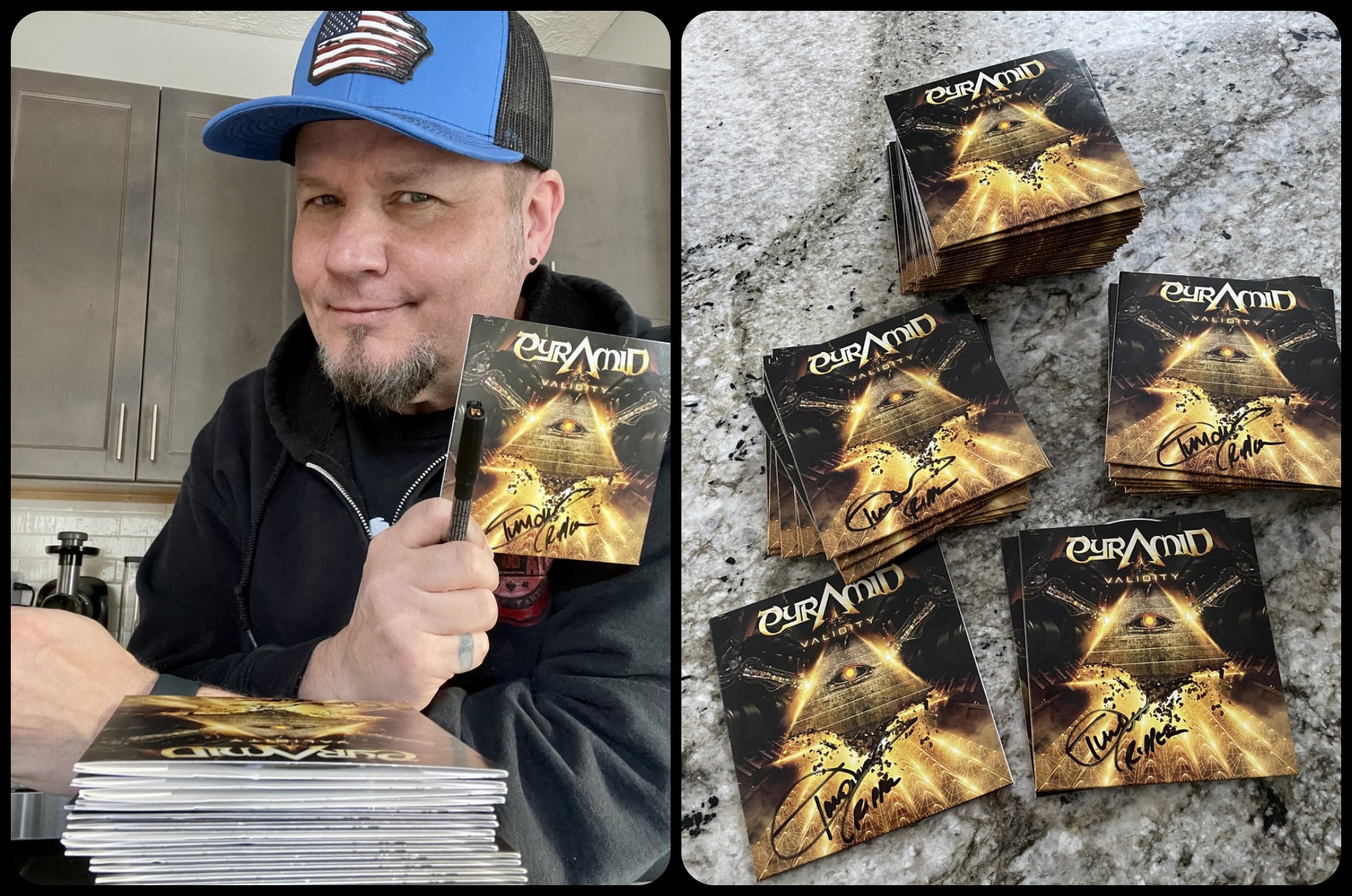 Support the band on Bandcamp!
Also available on Apple!
Follow the band at these links:
https://www.facebook.com/pyramidoffical
https://open.spotify.com/album/390qBziQTYD3nBRHg6dB6I
https://pyramid.bandcamp.com/album/validity
https://www.youtube.com/channel/UCYe4HTmmMHvVI0fSnpn7xag