Slanderus (USA) - Absorbing Infinity - Reviewed by Soundmagnet ! Check it out here at this link: https://www.soundmagnet.eu/slanderus-absorbing-infinity-album-review/
The Southern California prog metal quartet Slanderus has existed since 2008 and has many local live performances on the Kerbholz in addition to three longplayers and has been decorated with numerous laurels by any fanzines in the past.
Five years have passed since their last studio output, the Walls of the Mind EP. So it's time to let the new absorbing Infinity work off the leash. In addition to digital downloads and various streaming offers, the album is also available on CD.
Highly melodic progressive metal with the guitar of mastermind Jason J. Kennedy is then also on the menu of the current work. The instrumentation of the individual titles is also delicate. The opener Tectonic Plates, which you can listen to  HERE , speaks a clear language right from the start. Memorable melodies are also not neglected. Fans of Queensryche will also enjoy Absorbing Infinity.
Allen Alamillo also has a similar timbre to Geoff Tate, even if his voice is not so variable. The album is completely audible on the band's Youtube channel, so I recommend every friend of Progressive Hard Rock with Kante to rewind the complete playlist of the new work.
It is then noticeable that the progressive part of the songs is not excessively large. In addition, the production is very edgy and a bit musty, but powerful and gives each musician exactly the space that the songs need. Nice is the slower and melodically interesting Find Your Lifetime, which also has the nice groove like the rest of the record.
Is there such a thing as West Coast Progressive Metal? Like other progressive metal projects from the Californian area, Slanderus play this earthy, urban fusion of classic prog metal and hard rock as well as hip hop rap metal as Rage Against The Machine have made it famous. The focus here is on the straighter elements. To be honest, the Absorbing Infinity is not necessarily original. The impression of having somehow heard what is offered before, the listener can not get rid of over the entire length.
However, this does not have to be evaluated excessively negatively. Absorbing Infinity is an entertaining record for the summer.
Result
With Absorbing Infinity, Slanderus certainly do not break new ground five years after the last album, but offer the fan easy-to-consume, well-presented and down-to-earth progressive metal material. 7.5 / 10 - Soundmagnet
Release Date: April 29, 2022
FFO: Queensryche, Dream Theater, Opeth
Location: California, USA
"We are very proud to announce our new album 'Absorbing Infinity' is officially done and will be released on April 29th, 2022. As soon as Bryan joined the band, we started talking about working on a new album. Jason had been writing and demoing the songs for this album for years ." - Slanderus 
Rehearsals for the new album started in August 2021 and concluded in February 2022. Recording sessions took place at Love Juice Studios in Riverside, CA from February through April 2022.
"With our last album 'Walls of the Mind' 5th birthday coming up, we were very eager to get back in the studio and record a new album. We've had a lot of setbacks over the last few years, but we didn't let that stop us. We kept pushing forward and always believed in what we were doing. We are very excited for everyone to hear this album and can't wait to play these new songs live!" - Slanderus 
The new album will be available on CD, digital download and all major streaming services.
https://distrokid.com/hyperfollow/slanderus/absorbing-infinity
Check out this video!
Check them out on Spotify and add them to your playlists!
Also available on Apple!
Track Listing:
1. Tectonic Plates - 5:47
2. Absorbing Infinity - 6:09
3. Cobra Kai - 4:50
4. Find Your Lifeline - 6:26
5. Omen - 7:12
6. Espíritu - 5:52
7. A Small Sacrifice - 3:17
8. Absolution - 7:50
Lineup:
Jason J. Kennedy - Guitar
Allen Alamillo - Vocals
JJ Gawrich - Drums
Bryan Porter - Bass guitar / Keyboards
Sound Engineer - Dave Swanson
Produced by Jason J. Kennedy
Recorded at Love Juice Studios in Riverside, CA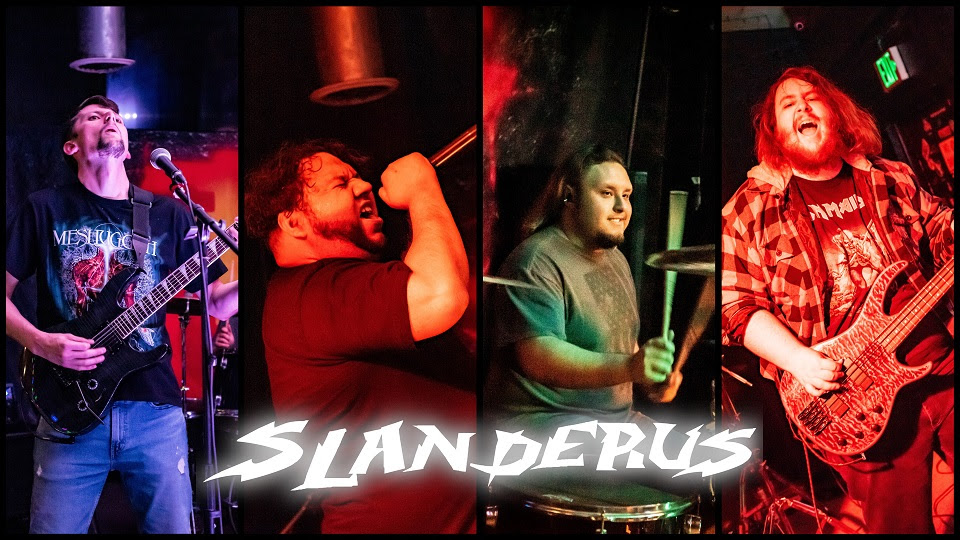 Follow the band at these links:
https://slanderus.bandcamp.com/
https://www.facebook.com/Slanderus/
https://www.youtube.com/user/slanderus
https://www.instagram.com/slanderusinc/