Slanderus (USA) - Absorbing Infinity - Featured At Arrepio Producoes ! check it out here at this link: https://arrepioproducoes.com.br/noticias/HdqvUm8BJp
Release Date: April 29, 2022
FFO: Queensryche, Dream Theater, Opeth
Location: California, USA
"We are very proud to announce our new album 'Absorbing Infinity' is officially done and will be released on April 29th, 2022. As soon as Bryan joined the band, we started talking about working on a new album. Jason had been writing and demoing the songs for this album for years ." - Slanderus 
Rehearsals for the new album started in August 2021 and concluded in February 2022. Recording sessions took place at Love Juice Studios in Riverside, CA from February through April 2022.
"With our last album 'Walls of the Mind' 5th birthday coming up, we were very eager to get back in the studio and record a new album. We've had a lot of setbacks over the last few years, but we didn't let that stop us. We kept pushing forward and always believed in what we were doing. We are very excited for everyone to hear this album and can't wait to play these new songs live!" - Slanderus 
The new album will be available on CD, digital download and all major streaming services.
https://distrokid.com/hyperfollow/slanderus/absorbing-infinity
Check out this video!
Check them out on Spotify and add them to your playlists!
Also available on Apple!
Track Listing:
1. Tectonic Plates - 5:47
2. Absorbing Infinity - 6:09
3. Cobra Kai - 4:50
4. Find Your Lifeline - 6:26
5. Omen - 7:12
6. Espíritu - 5:52
7. A Small Sacrifice - 3:17
8. Absolution - 7:50
Lineup:
Jason J. Kennedy - Guitar
Allen Alamillo - Vocals
JJ Gawrich - Drums
Bryan Porter - Bass guitar / Keyboards
Sound Engineer - Dave Swanson
Produced by Jason J. Kennedy
Recorded at Love Juice Studios in Riverside, CA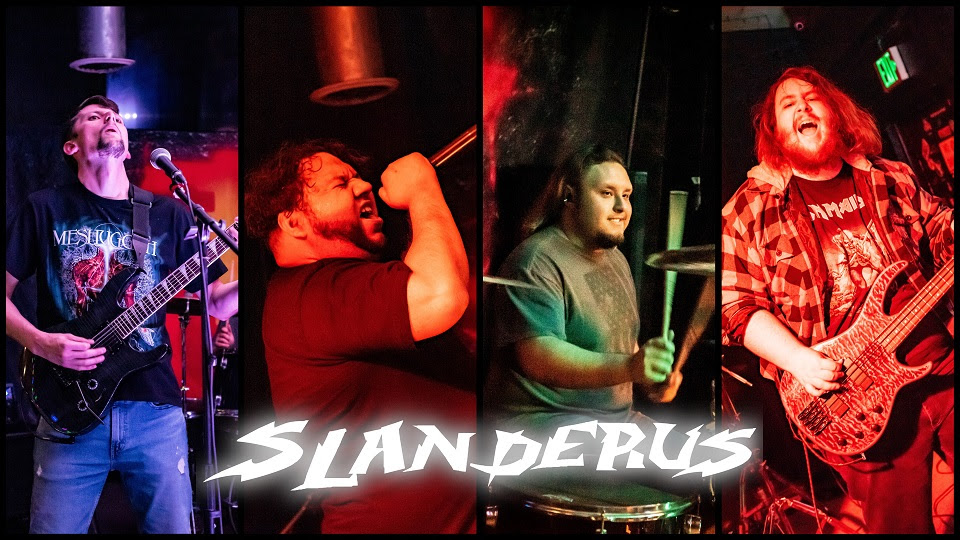 Follow the band at these links:
https://slanderus.bandcamp.com/
https://www.facebook.com/Slanderus/
https://www.youtube.com/user/slanderus
https://www.instagram.com/slanderusinc/