1945 - Heavy Metal Is Not for Sale - Reviewed by Metal Temple ! Check it out here at this link: http://www.metal-temple.com/site/catalogues/entry/reviews/cd_3/0-9_3/1945-heavy-metal-is.htm
Formed way back in 2016 in Salamanca, Spanish Metallers 1945 have managed to pick one of the most unGoogleable names since the 90s post-grunge act LIVE. This is their debut album, although they already have an EP under their belt from 2018 called "ACT I" which in fact just has half the songs from this album on it. They are a traditional Heavy Metal band with some material that gets heavy.
The album starts out in intriguing fashion with "Last Battle" which has some ominous sounding war chant-like backing vocals behind a decent riff that builds slowly with more input from the singer until the songs kicks off properly about a minute in. I'm not fully convinced by Sarah García's vocals, which are very gravelly, and very warbly and occasionally sound like he is choking on something. The rhythm section work is nice and tight, the guitars are well played but the riffs are really nothing to write home about. There's a just about competent guitar solo, but by the end of the six-minute run time I am left a bit flat.
So, onto the title track "Heavy Metal Is Not for Sale" which opens with some heavily fuzzed bass and a bit of clean wah-wah guitar before a strong and convincing guitar riff muscles its way in. I enjoy the harmonised riffs on this one, and the guitar soloing is a lot more fluid. Still not there on these vocals, however. Next up begins as a ballad, "No Love" which features heavier vibrato on the vocals and a clean arpeggiated riff on the guitars­ and some nice rim-tapping from drummer Jose Angel Koko, before a quite dark sounding riff kicks things off, with some nice discordant lead guitars in the background. It is peppered with very heavy and fast sections, lots of light and shade and some nice tasteful bass from Javier Rubio. García's vocals are still hard to digest for me.
"Our Home" also begins as a bit of a ballad. I'm looking at the almost seven-and-a-half-minute run time and thinking that this had better be something special. As it happens it is quite a brooding slow burner with a very catchy vocal hook. It's too long for sure, but the vocal really is quite a cracker on this one and when he doesn't sound like a man in a cupboard with an orange stuffed in his mouth, he has a great rock voice. The vocal is so good in fact I am still humming it at the end of the very heavy, almost Thrashy but ultimately forgettable next track "From Hell," which is enough about that.
"Perfect Final" has a bit of groove about the riff, and a nice fast punk infused fast section with a wild solo at the end. Still not very memorable mind. "Talk" is a typically chugging Traditional Metal track with some wooden sounding riffing in it, I didn't really go for this one. On the other hand, "Black Rose" was quite a magnificent ballad with more deft bass playing and some decent shredding, again it is not a pure ballad as there are some fast heavy sections to it.
"Lost Dream" was a good way to go out as original material is concerned, good riffing, a proper NWOBHM galloper with lots of tempo shifts and nice dual leads. Final track "Ace of Spades" is obviously a cover, it sounds just like "Ace of Spades" by MOTORHEAD, but not as good.
This was a mixed bag, there were a few genuine highlights which make the album worthwhile, but the song writing, and command of melody has some way to go, there are ideas but they are not fleshed out enough and the songs invariably go on for much too long. The production is a decent affair, I had no complaints about the quality of the recording. Sarah García regularly shows he has the pipes for a great rock performance but makes some inexplicable decisions about his delivery in places. Still, there's potential here. - Metal Temple
Release Date: December 17th, 2021
FFO: Judas Priest, Megadeth, Metallica, Testament
Location: Salamanca/ Spain
Formed in the spring of 2016 (Salamanca/ Spain), 1945 is the result of the union of 5 experienced musicians from other bands (K-OS, Evil Rise, Sarah Evil.) They wield an eclectic, vigorous mix of metal styles, full of strength and speed.
Their first EP (ACT I) was released past 2018 getting very good reviews from the specialized media.
After a mini tour around Spain and the UK, a pandemic, and line-up changes 1945 releases his full album "Heavy Metal is not for sale" 11 songs pure Heavy Metal made in Hell.
Check out this video!
Tracklist:
I. Last Battle
II. Heavy Metal is not for sale
III. No Love
IV.  Our Home
V. From Hell (& Heaven)
VI. The perfect final
VII. Talk
VIII. Horses of apocalypse
IX. Black Rose
X. Lost Dream
XI. Ace of Spades (Motorhead Cover)
Check them out on Spotify and add them to your playlists!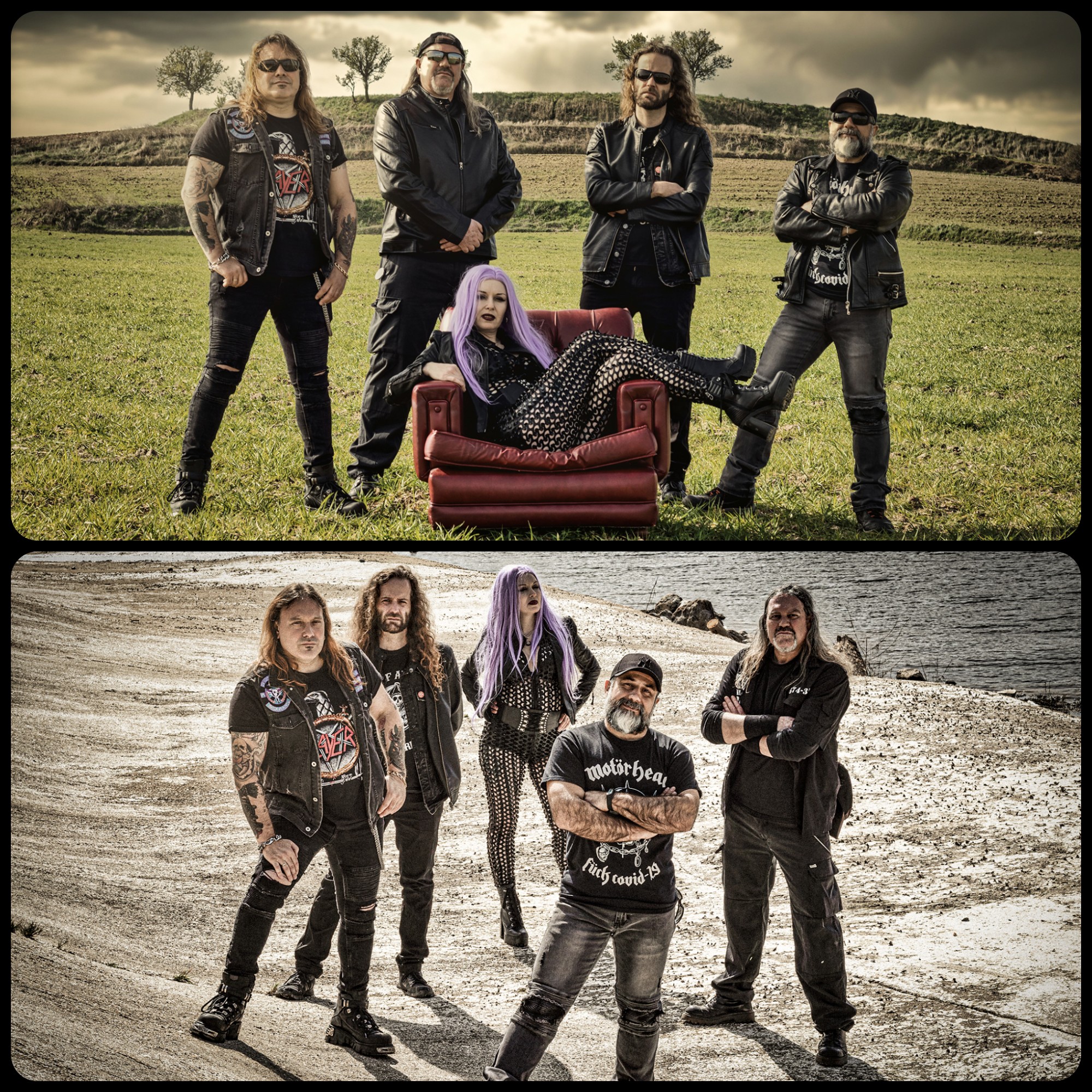 Lineup:
- Sheyla Sergio: voz
- Javier Rubio: Bajo
- Gorka RC: Guitarras
- Diego González: Guitarras
- Jose Angel koko: batería
Follow the band at these links:
https://www.facebook.com/1945oficial
https://www.instagram.com/1945_metal/
https://www.youtube.com/channel/UCcZvSYlHDCDJDg2jynuGPgg