Symphonic horror metal masters  CARACH ANGREN  will be making a triumphant return to North America in support of HYPOCRISY! The band will be supporting 2020's critically-acclaimed release, 'Franckensteina Strataemontanus.' The band's trek will start TOMORROW, April 29, in Brooklyn, NY will conclude on May 28 in Pittsburgh, PA. The full run of dates and tickets can be found below!

ICYMI: Last year,  CARACH ANGREN  announced their collaboration with DC comics for the new series "Dark Nights: Death Metal." The first episode is out now and features the band's new song, "Skull with a Forked Tongue," which is taken from 'Franckensteina Strataemontanus.' The episode can be seen at  THIS LOCATION .

Moreover, there are now exclusive  CARACH ANGREN  filters on Instagram! Check it out and have a ghoulish good time!

'Franckensteina Strataemontanus' is out NOW and can be streamed, downloaded, and/or purchased  HERE .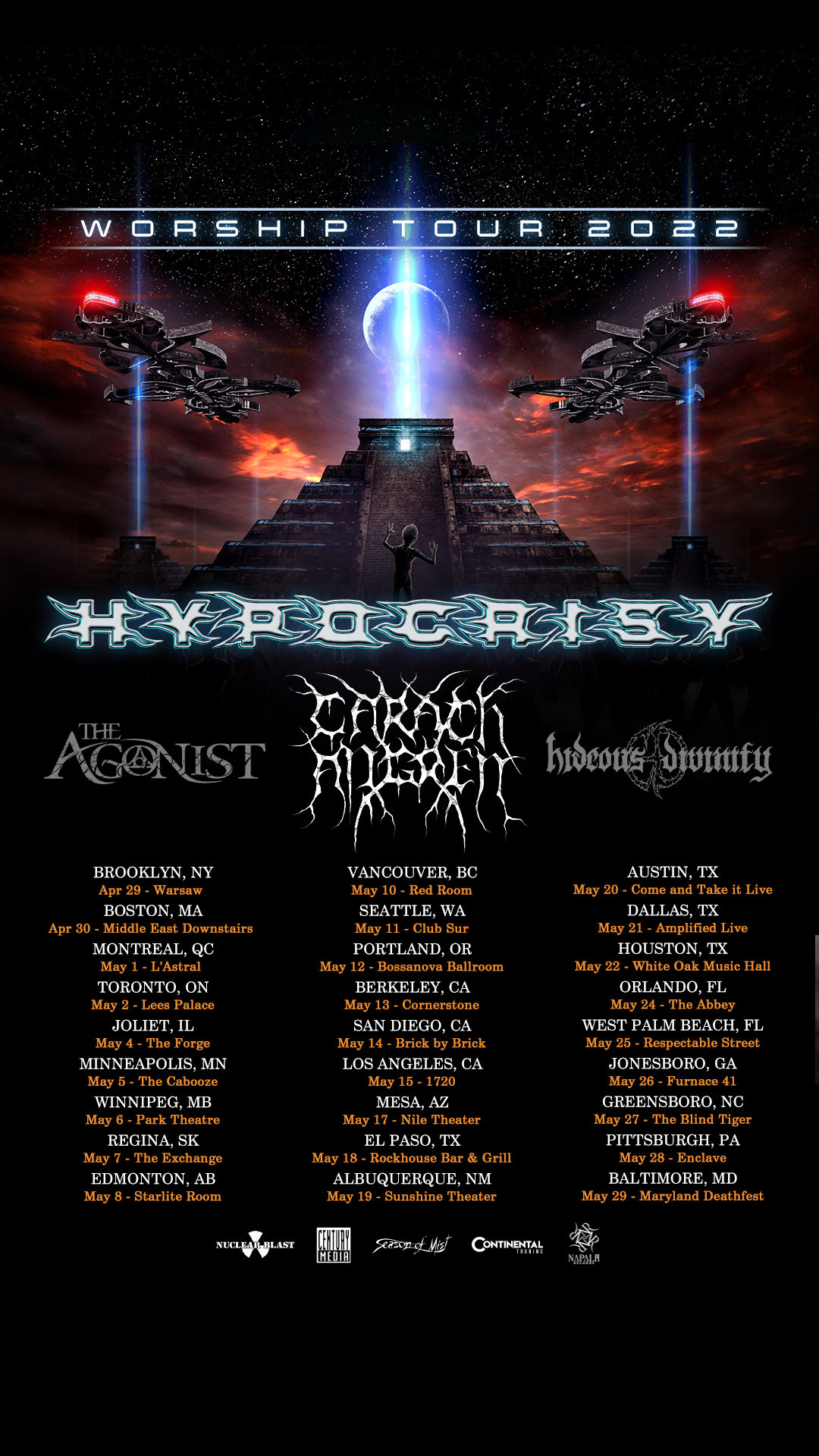 CARACH ANGREN North American Dates (w/ HYPOCRISY, THE AGONIST, + HIDEOUS DIVINITY):
04/29: Brooklyn, NY @ Warsaw [ TICKETS ]
04/30: Boston, MA @ Middle East Downstairs [ TICKETS ]
05/01: Montreal, QC @ L'Astral [ TICKETS ]
05/02: Toronto, ON @ Lees Palace [ TICKETS ]
05/04: Joliet, IL @ The Forge [ TICKETS ]
05/05: Minneapolis, MN @ The Cabooze  [TICKETS ]
05/06: Winnipeg, MB @ Park Theatre [ TICKETS ]
05/07: Regina, SK @ The Exchange [ TICKETS ]
05/08: Edmonton, AB @ Starlite Room [ TICKETS ]
05/10: Vancouver, BC @ Red Room [ TICKETS ]
05/11: Seattle, WA @ Club Sur [ TICKETS ]
05/12: Portland, OR @ Bossanova Ballroom [ TICKETS ]
05/13: Berkeley, CA @ Cornerstone [ TICKETS ]
05/14: San Diego, CA @ Brick by Brick [ TICKETS ]
05/15: Los Angeles, CA @ 1720 [ TICKETS ]
05/17: Mesa, AZ @ Nile Theater [ TICKETS ]
05/18: El Paso, TX @ Rockhouse Bar & Grill [ TICKETS ]
05/19: Albuquerque, NM @ Sunshine Theater [ TICKETS ]
05/20: Austin, TX @ Come and Take it Live [ TICKETS ]
05/21: Dallas, TX @ Amplified Live [ TICKETS ]
05/22: Houston, TX @ White Oak Music Hall [ TICKETS ]
05/24: Orlando, FL @ The Abbey [ TICKETS ]
05/25: West Palm Beach, FL @ Respectable Street [ TICKETS ]
05/26: Jonesboro, GA @ Furnace 41 [ TICKETS ]
05/27: Greensboro, NC @ The Blind Tiger [ TICKETS ]
05/28: Pittsburgh, PA @ Enclave [ TICKETS ]