Lunar Woods - Pain No More - Reviewed By Metal Digest ! Check it out here at this link: https://metal-digest.com/2022/04/17/lunar-woods-pain-no-more/
Lunar Woods are a band which are difficult to box up as the Russian band contains elements of stoner and grunge, but also progressive metal, appealing to fans of both Mida and Saturn Split, but more importantly Alice in Chains. The band themselves are self-confessed Alice in Chains fans and this comes through in their music as well other 90's sounds which gives 'Pain No More' an authentic and veracious sound.
'Pain No More' does also carry a Conventional rock sound, but there is an electricity powering throughout the album making sure that it never runs out of steam. This album is a whopper, at just over an hour, each song is an anthem of melody, chord and cadence with a progressive mix whilst being both technically and emotionally spot on with the guitars showing their skill and commitment to the craft. 
Building from a small intro, 'Pain No More' is then straight to it, no messing around; each beat and word perfectly placed to create a disjointed sound of bone and steel with 'Break The Ice' being a perfect example of this. Furthermore, the title track is a hidden gem, cushioned away in the middle of the album, it is like a highly polished pumice stone soothing and grating in equal measure.

Finally, 'Pain No More' ends on a weird, peculiar note that leaves you wanting more and that is exactly how to fully describe this album. - Metal Digest
Release Date: March 4th, 2022
FFO: Alice In Chains, Mastodon, Kyuss
Location: Izhevsk, Russia
/Yes, we are Russian band, but we are not Russian government/ 
No more Pain! PAIN NO MORE!
The world is full of pain, especially now. Recent events create many problems and obstacles, we want to make our own contribution and support the listeners with our music. People of all countries, nations, ages could find a shelter and support in music. Beyond boundaries and limits. 
The new release of Lunar Woods and its title track is about how to endure suffering and get out of a vicious circle. It's about returning to life, re-experience happiness and joy, without pain.
No wars! No suffering! Pain No More!
Check out the video!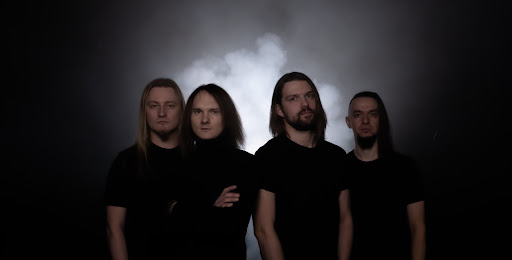 Follow the band at these links:
https://open.spotify.com/artist/7ABJd99ABHEsEFMFruFbMn
https://music.apple.com/us/artist/lunar-woods/935360081
https://www.facebook.com/LunarWoods/
https://twitter.com/LunarWoodsBand
https://www.youtube.com/channel/UCsqTOxcQivmtFYjep3QbVdg
Dmitriy Churilov