SWEET CRYSTAL - 7th Heaven - reviewed By Metal Digest ! Check it out here at this link: https://metal-digest.com/2022/04/03/sweet-crystal-seventh-heaven/
"It is said that the Devil has all the best tunes. This is broadly true. But Heaven has the best choreographers" ― Terry Pratchett, Good Omens: The Nice and Accurate Prophecies of Agnes Nutter, Witch
Rock and Metal is normally more closely associated with the other guy. The fire and brimstone guy. Horns and all that. Some notable artists however, take their inspiration from above. Sweet Crystal take this a step further by using their music as a ministry, a mission. By the power of Prog they want to reach out with a positive message of God's love for all.
Seventh Heaven is Sweet Crystal's seventh release, has seven songs, but sadly misses the opportunity to include a cover of Rory Gallagher's "Seventh Son of a Seventh Son". I'd totally have done one.

If there's a criticism to be made, although this album has some great musicianship, worthy lyrical content (if you are on that side of the ecumenical fence); it largely comes across as a little "forced". There's stress and emphasis at not quite the right moments, and the songs themselves are OK, but nothing ground-breaking. The overall feel is of a middle-era Marillion B-sides album for collectors, with a very obvious Middle-American take on Christian worship as content. - Metal Digest
Release Date: 02/14/2022
FFO: Meatloaf; Journey; Spock's Beard
Location: Detroit, MI, USA
The return of twenty-four-time Detroit Music award winning band Sweet Crystal brings another heavenly blend of uplifting lyrics, soaring signature guitars, multi-keyboard melodies and straight ahead drumming to the band's seven song seventh release aptly titled '7th Heaven'. Sweet Crystal's trademarked slogan 'Reaching The World, One Song At A Time'™ sums it all up – this is one group of musicians whose music, message, ministry and mission reaches out to the world with songs of inspiration, offering a musical light at the end of every dark tunnel that the listener might be going through. 
"This is probably our most powerful and passionate release to date. 
'7th Heaven' continues where last year's release 'Got Your Six' left off: songs of hope and inspiration featuring our signature guitar sounds, synth melodies, straight ahead drumming with just a few chanting monks thrown in for good measure."
"We are here to reach out to a world with songs of hope and inspiration; a musical light at the end of every dark tunnel you might be going through because chances are good – we've gone through those very same tunnels ourselves and definitely have found a way out. Come, go with us – there's always a seat for you at our table." - SWEET CRYSTAL
Check them out on YouTube!
Support the band on Bandcamp!
Band Line-Up:
MarQ Andrew Speck – lead vocals, keyboards, lyrics
Bill Blatter – guitars, harmony vocals
Steve Wieser – drums
Martin Kuchar – bass guitar, harmony vocals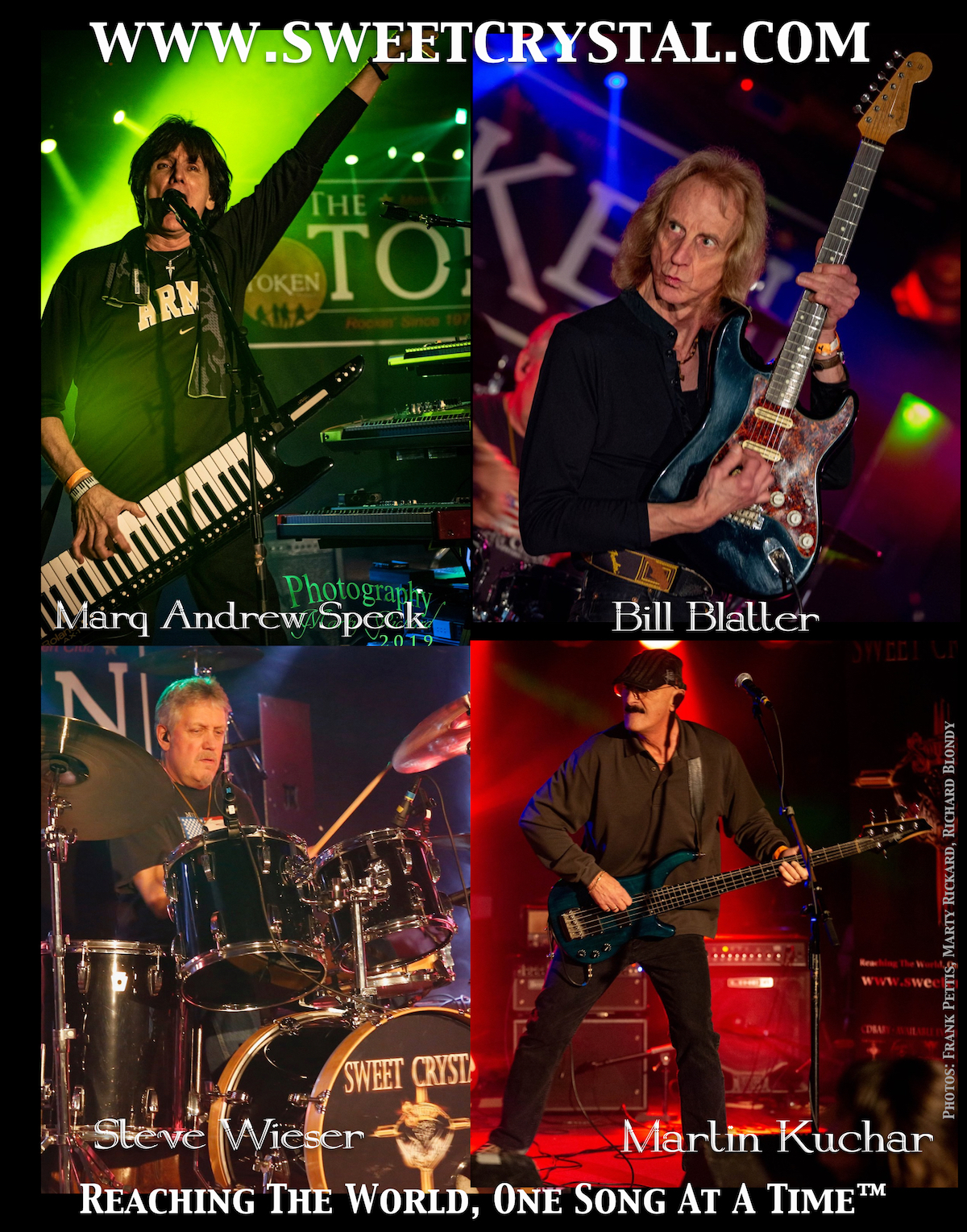 Follow the band at these links:
WEBSITE: www.sweetcrystal.com
FACEBOOK: www.facebook.com/SweetCrystalBand
YOUTUBE: www.youtube.com/c/SweetCrystal
REVERBNATION: www.reverbnation.com/sweetcrystal
BANDCAMP: https://sweetcrystal.bandcamp.com
TWITTER: www.twitter.com/sweet_crystal
SPOTIFY: http://tinyurl.com/y76vcpqg
SOUNDCLOUD: https://soundcloud.com/sweet_crystal