Vulture Lord - "Desecration Rites" - Reviewed By World Of Metal ! Check it out here at this link: https://worldofmetalmag.com/wom-reviews-sylvan-awe-vargaskri-lunar-spells-vulture-lord/
This time we head to Honefoss, Viken, Norway, to analyze the latest of this Black/Thrash machine, named Vulture Lord. 18 years have passed since the last – and first – album of the band, "Profane Prayer". Since then, the well-known musician, Trondr Nefas (Beastcraft, Urgehal, among others), has died, and the band has undertaken some line-up changes, but nothing that removes power and aggression to this Norwegian war tank, calm! The work of this quartet will easily please fans of Aura Noir and Witchery, for example. We have a powerful Thrash and based on lacerating riffs, to which were added vocalizations characteristic of Black Metal, composing a very strong work! A bit like Thrash Metal in general (ahah personal opinion), also this hybrid runs the risk of creeping into a marasmus, regardless of its quality, attention! "Beneficial Martyrdoom" is a good example of a band presenting something different than the genre in which it is part, "offers". Then, and out of this marasmus, we have these energetic and distinct moments! It's Thrash, it's Black Metal, but this mesh is of immense quality, where the slower and complex moments bring a special shine to the mesh. I liked it a lot. I hear that this isntrumental base goes to the next mesh, "Burining the Kingdom of God"... Yes, sir. Attention! These two meshes do not differ from the whole of the work, but I would like to It is about 38 minutes of a Black Thrash that follows the distinctive lines of the genre, but that presents distinct notes. Fans of Thrash Metal, and Black Metal, this is for you!
7/10
Daniel Pinheiro - World Of Metal
Eighteen years after the release of their first full length album,  Profane Prayer , the legendary  Vulture Lord  have returned with its caustic, violent successor -  Desecration Rite ! The album will be released in  June  by  Odium Records and pre-orders started on April 22nd , along with the unveiling of the first single from the album,  'Bloodbound Militia' .
FFO: Urgehal, Beastcraft , Carpathian Forest, Marduk
You can see the video for the 'Bloodbound Militia' single at the Odium Records YouTube channel by following this link:
The album, Desecration Rite, featuring stunning cover art from  Jorge Vimendy , is available to pre-order on CD, Vinyl and a deluxe wooden box edition, limited to just 66 copies, along with accompanying t-shirts and longsleeves - all from Odium Records at:
www.odiumrex.com/webshop
www.odiumrecords.bandcamp.com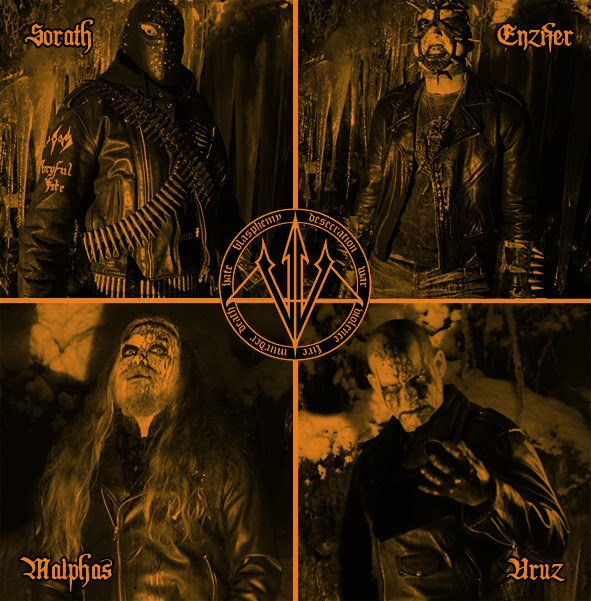 Vulture Lord feature members of   Urgehal ,   Carpathian Forest ,   Beastcraft   and   Endezzma   and Desecration Rite features material written by the sadly departed and much-missed   Nefas   of Urgehal.

Full track listing for Desecration Rite:

1   Glorification of the Dethronation
2. Bloodbound Militia
3. Stillborn Messiah
4. The Vulture Lord
5. Diabolical Intervention
6. Prepare the Coffin
7. Beneficial Martyrdom
8. Burning the Kingdom of God
9. Perverting the Bible
The Vulture Lord has returned and darkness, death and desecration await!
Follow them at these links:
https://www.facebook.com/deathcibel/
https://www.facebook.com/OdiumRex/