THE NATIVE HOWL Sign to FM Music Management; Announce Winter Tour Including the Rock Legends Cruise in Ft Lauderdale, Florida
The Native Howl have entered into a management deal with FM Music Management. They have joined FM Music Management's impressive roster which includes Nonpoint, Adelitas Way, Through Fire, SHIM, Kataklysm, Royal Bliss, Deadset Society, Keith Wallen, Spoken and more. "In addition, The Native Howl have announced a US headlining tour to coincide with the vinyl releases of their last two albums. This includes 2018's double-album Out of the Garden and Into the Darkness and 2016's Thrash Grass, which spent 8 weeks in the Top Ten on the Bluegrass Billboard Chart. The tour will begin in their hometown of Detroit, MI on January 26th at Saint Andrew's Hall and concludes with the Rock Legends Cruise, which sets sail from Ft. Lauderdale, Florida on February 14th.
"The Native Howl have created a unique sound that combines Bluegrass with Hard Rock/Metal. I didn't believe it until I saw it with my own eyes, and what I saw was truly amazing. They are one of the most unique and talented bands I have seen live in over 10 years. I look forward to helping them bring their "Thrash Grass" to the masses." -Dino Kourelis Partner/Manager FM Music Management
Music can be purchased at iTunes, Amazon, thenativehowl.com, Tidal, and the Google Play Store.
The music can be streamed at Spotify, Pandora, iHeart Radio, Apple Music, and Google Play.
Fan link for easy purchase access through all outlets: https://fanlink.to/OOTGAITD
Alex Holycross (Guitar, Bouzouki, Vocals) and Jake Sawicki's (Guitar, Banjo, Harmonica) joined forces in 2013 to lay the foundation for what was to become The Native Howl. They soon recorded and released The Revolution's Dead, and the duo started performing live and incubating the music that would form their 2015 release Inukshuk.
Drummer Josh Lemieux and bassist Mark Chandler have since rounded out the lineup. The quartet began playing and touring around the Midwest and garnered a solid and loyal following.
In March of 2016 the EP, Thrash Grass was released to critical acclaim. Screamer Magazine referred to the band's sound as "a unique blend of rock, folk, bluegrass, alternative and thrash metal genres."
In October of 2017, the band embarked on their first U.S. tour. The Spring of 2018 saw a long West Coast tour, followed by two additional U.S. tours in the Summer of 2018 that covered most of the mainland U.S. The much anticipated double-length album, Out of the Garden and Into the Darkness released on July 27th 2018. It debuted at number three on the Bluegrass Billboard Chart and number 50 on the New Artist Album Billboard Chart.
Tour Announcement/Promo Video:
Latest Music Video: "Somethin' Else" - Album: Out of the Garden and Into the Darkness:
"Thunderhead" - Album: Thrash Grass EP:
Live Video:Vermin Live in Detroit: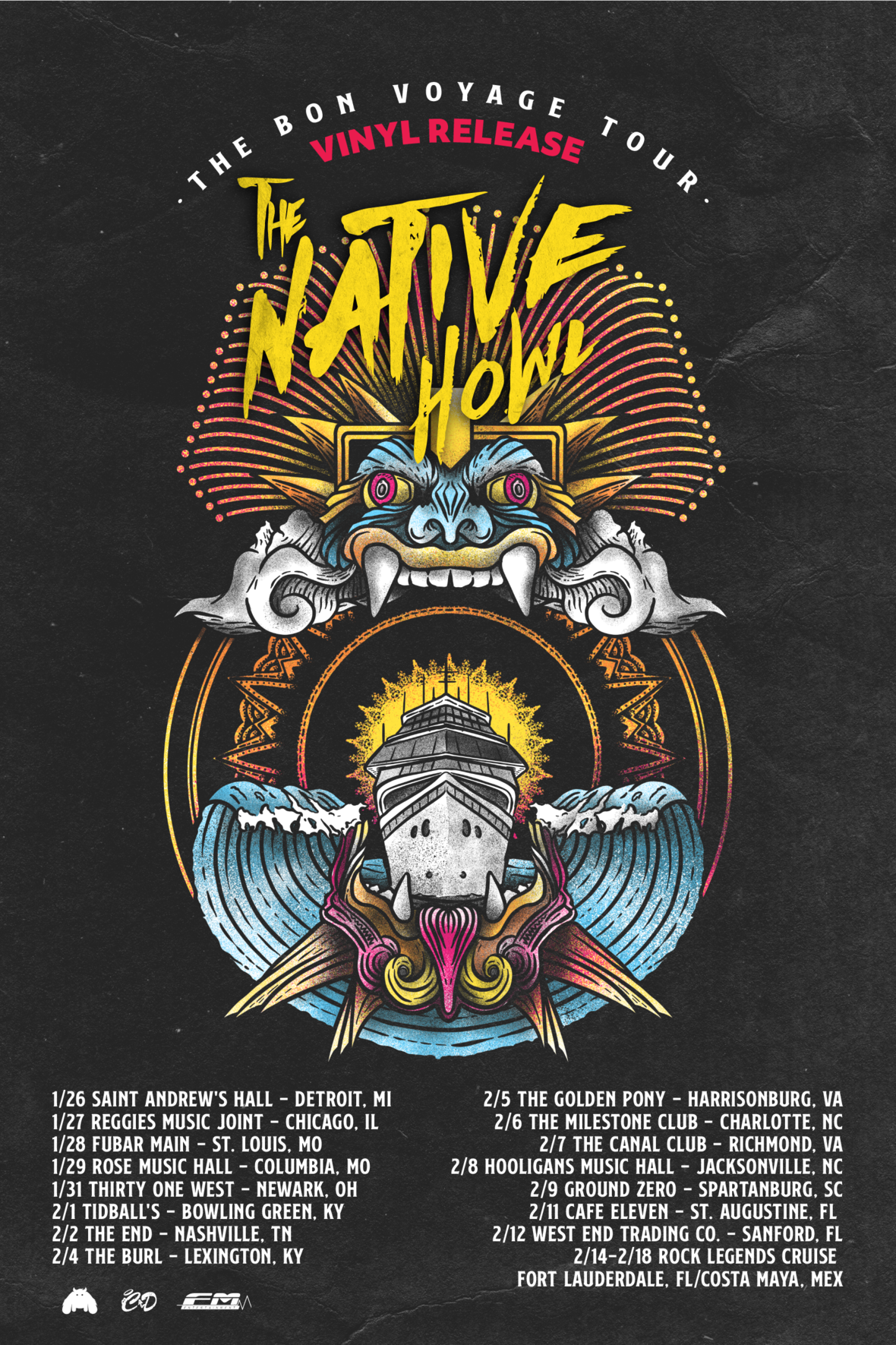 The Native Howl Tour Dates:
1/26/2019 Saint Andrew's Hall Detroit MI
1/27/2019 Reggies Music Joint Chicago IL
1/28/2019 Fubar Main St Louis MO
1/29/2019 Rose Music Hall Columbia MO
1/31/2019 Thirty One West Newark OH
2/1/2019 Tidball's Bowling Green KY
2/2/2019 The End Nashville TN
2/4/2019 The Burl Lexington KY
2/5/2019 The Golden Pony Harrisonburg VA
2/6/2019 The Milestone Club Charlotte NC
2/7/2019 The Canal Club Richmond VA
2/8/2019 Hooligans Music Hall Jacksonville NC
2/9/2019 Ground Zero Spartanburg SC
2/11/2019 Cafe Eleven St. Augustine FL
2/12/2019 West End Trading Co Sanford FL
2/14/2019 Rock Legends Cruise Ft Lauderdale FL
2/15/2019 Rock Legends Cruise Ft Lauderdale FL
2/16/2019 Rock Legends Cruise Ft Lauderdale FL
2/17/2019 Rock Legends Cruise Ft Lauderdale FL
2/18/2019 Rock Legends Cruise Ft Lauderdale FL
The Native Howl:
Alex Holycross (guitar/bouzouki/vocals), Joshua LeMieux (drums/vocals), Mark Chandler (bass/vocals), Jake Sawicki (guitar/banjo/vocals)
For More Information:
www.thenativehowl.com
www.facebook.com/thenativehowl
www.twitter.com/thenativehowl
www.instagram.com/thenativehowl
https://www.youtube.com/channel/UCLGcujWVz1OAsneaJBJimkg
www.fmmusicmanagement.com