Martyr - Planet Metalhead - Reviewed By Metal Crypt ! Check it out here at this link: http://www.metalcrypt.com/pages/review.php?revid=13509
The last thing I heard from The Netherlands' Martyr was their 2009 Fear the Universe compilation, which consisted of their debut album plus five new songs. I liked the songs from the debut a lot more than the new stuff and ended my review by expressing my hope for more old-school metal. Well, Martyr have delivered on Planet Metalhead, their fifth full-length album and third since reforming in 2001.
Like the debut, Martyr play '80s-style pounding heavy metal with thick riffs, pummeling drums and high, clear vocals. Singer Robert van Haren has a wide-ranging voice and alternates between some spot-on early Queensrÿche vocal lines and Vicious Rumors wails. The plaintive singing and slow tempos on "No Time for Goodbyes" and the vocal effects at the beginning of "Church of Steel" evoke Rage for Order/Operation: Mindcrime, but on "La Diabla" they pick up the pace and van Haren rides the galloping riffs, wailing like Jon Cyriis or Carl Albert. I don't mean to insinuate Martyr are simply recycling these bands, their songwriting is truly their own, but the influences are there. The album ends with another obvious influence, which is weirdly U2. The song "Wings in a Darkened Soul" sounds like something from The Joshua Tree with simple guitar work and falsetto vocals. It's not a bad song, it just feels a little out of place after the preceding nine tracks of ass-kicking heavy/power/thrash metal. If you like early Queensrÿche and Vicious Rumors, I can't imagine you not enjoying Planet Metalhead. Martyr have done a superb job of following existing paths yet maintaining a sound that is distinctly their own. Writing a bunch of great songs doesn't hurt either. - Metal Crypt
Release Date: February 24, 2022
FFO: Judas Preist, Iron Maiden, Helloween
Location: The Netherlands
WELCOME TO MARTYR - METAL TORTURE SINCE 1982!
Martyr is a heavy / speed / power metal band from Utrecht / The Netherlands that exists since 1982. During their career, a few demo cassettes were released as well as a number of long players. The general public first became acquainted with Martyr in 1984 when Roadrunner Records released the ' Dutch Steel ' compilation album.
Martyr's contribution to this release entitled ' Snow And Fire ' is still a highlight on the band's setlist today. In 1985 their song ' En Masse (Stand Or Die) ' appeared on the notorious ' Metal Massacre VI ' album from the legendary U.S.A. based ' Metal Blade ' record label. Both releases gained interest from metalheads from all over the world.
The debut mini album ' For The Universe ', which was released the same year, nowadays is considered a genuine heavy metal classic. The well-known website ' Encyclopaedia Metallum: The Metal Archives ' states: "Martyr's songwriting is vastly superior to most of its competitors".
Its successor ' Darkness At Time's Edge ' (1986) made Martyr's fanbase grow larger and larger and the band gigged and performed all over Europe. Martyr even was aired on MTV's 'Headbangers Ball' show.
After a few years however the band members decided to go separate ways and explore other musical directions in acts such as Medallion, Mindscape, Syrenade, Vangouw, Hot Legs and Wild Ride .
Needless to say, Martyr went on hiatus for a while... The flame however never flickered out and reignited around 2005 when they were asked to reunite to play old school metal festivals such as Heavy Maniacs Fest , Keep It True and Headbangers Open Air .
After the very successful reunion shows Martyr was back on track which resulted in the ' Fear The Universe ' compilation (2009, Rusty Cage Records ) and their highly anticipated comeback album ' Circle Of 8 ' on Metal Blade Records in 2011.
In 2014, Martyr was featured on the ' Dutch Steel (80's Metal From The Netherlands) ' compilation and their sophomore " after reunion " studio album ' You Are Next ' was released in 2016 by Into The Limelight Records .
The group frequently performs home and abroad, as a headliner or as a support act such as Manilla Road , Lizzy Borden, Saxon, Iced Earth and Trivium . The absolute highlights in Martyr's career so far have been three tours in the Land of the Rising Sun.
Their performance at the sold out 2019 edition of the legendary True Thrash Fest in Osaka was recorded and released on their most recent output ' Live In Japan ' which was released worldwide through Pt78 Records (The Netherlands) in co-operation with Rock Stakk Records (Japan). The album contains songs from their career-spanning back catalogue.
Martyr is releasing their new full-length on 24 February 2022. The 3 previously released songs ' No Time For Goodbyes', 'Fire Of Rebellions' and ' Raise Your Horns, Unite !' already showed an excellent performance beforehand. With 2 online listening sessions in December 2021 the band got confirmation that this material was the best thing Martyr has ever produced and it will be the next step forward. All songs are written by MARTYR, produced, mixed and mastered by drummer Rick Valcon at RA Recordings and are of excellent production quality. The new artwork is created by Wasi Kendedes .
"Planet Metalhead" will prove Martyr is still a force to be reckoned with.
Check out this video!
Check them out on Spotify and add them to your playlists!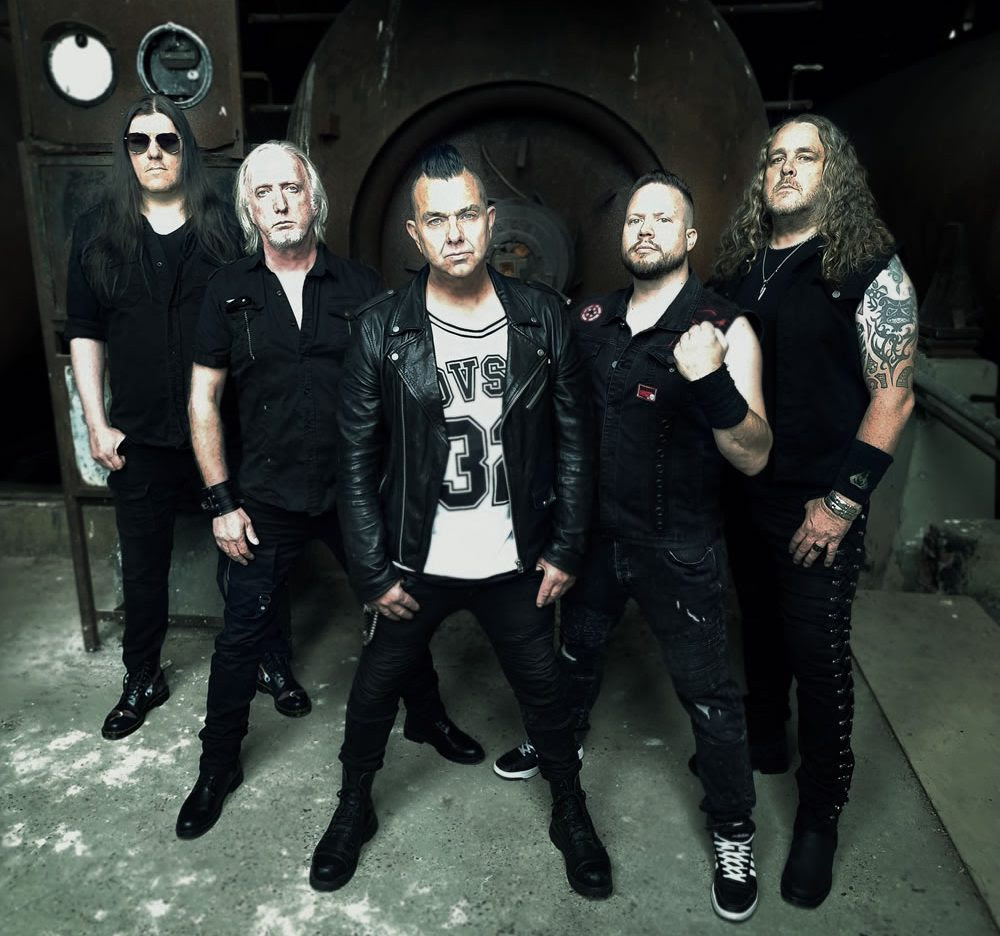 Lineup:
Rick Bouwman - Guitars
Rop van Haren - Vocals
Geoffrey Maas - Guitars
Vinnie Wassink - Bass
Rick Valcon - Drums
Management / Record label Martyr
Harm Kindt - Manager
Koen Bakker - Manager
Follow the band at these links:
https://open.spotify.com/artist/6Os2c8U66NlOGOZF2GGLX6
https://www.facebook.com/MARTYRONLINE
https://www.instagram.com/MARTYRONLINE/
https://twitter.com/martyronline2
https://muzika-p.com/epk/martyr
https://wayland-management.nl/
https://www.facebook.com/pt78records