Gangs Of Old Ladies - Sign with Sliptrick Records ! Check it out here at this link: https://sliptrickrecords.com/gangs-of-old-ladies/
Release Date: Jan 30, 2022
FFO: Massacre, Dethklok, Cannibal Corpse
Location: Australia
Australian based international band G.O.O.L. are back with a brand-new single with a matching horror novella and a fourth member as well! Joining the line-up is well-known old-school death metal musician Rick "Razor" Rozz (ex- Death/Massacre ).
Jekyll's passion for zombies has finally been given the green light to become a song and not only does it display the awesome talents of long-time lead guitarist David Andersson, but the track also features a pack of well-known metal personalities from around the world! Ranging from Chuck Billy ( Testament ) to Gene Hoglan (Dethklok/Dark Angel) doing zombie voices! The track is a direct tribute to the legendary George Romero and the talented Dan O'Bannon who both made a huge impact on creating and shaping zombie films as we know them today.
Check out the video!
Check them out on Spotify and add them to your playlists!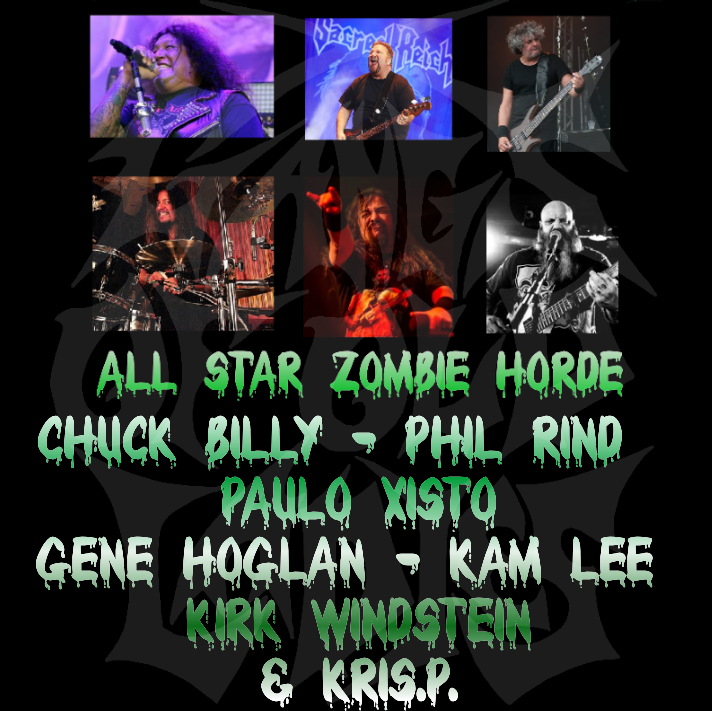 Main songwriter Simon Unknowne said, "It's an interesting fit now to have two lead guitarists whose styles both work well with the band but are in stark contrast to each other in terms of their playing styles" The new track and novella will download free from the band's Facebook page, as well as being available on all digital platforms. With a slightly old school feel and an odd jazzy riff this track is quite a groovy little departure and as always, the band stick with their style of not following trends or tying themselves to any particular style, choosing to do their own thing and stay unique. The band feel they are only just getting started on their way up and promise that there are loads more great music in store!
Vocalist Jekyll Jones stated, "It was great to become friends with David after first meeting through a Soilwork interview and we became friends over time, and he soon joined as a permanent member and the addition of Rick is awesome as I actually learned to sing extreme vocals to a cassette tape of Death 's "Leprosy" and "Spiritual healing" albums back when I was a teenager!" "I also decided it would be great to get some well-known metal celebrities to do the zombie voices, for which I am very grateful for everyone getting involved with the track!"
Just to spice things up for the new track; new member Rick "Razor" Rozz will be handling all interview requests and can be contacted through Jekyll at gangsofoldladiesmetal@gmail.com Get  your undead metal fix on!
Follow the band here at these links:
https://www.facebook.com/Gangsofoldladies/
https://www.metal-archives.com/bands/Gangs_of_Old_Ladies/3540469898