The Jeff Carlson Band, Announce Dates - Featured At Arrepio Producoes ! Check it out here at this link: https://arrepioproducoes.com.br/noticias/?n=RtLg14OqX3
Las Vegas, NV. based rockers The Jeff Carlson Band, Announce dates for their "Over My Shoulder 2022" US Tour. Kicking off on March 30th in Denver, CO the tour wraps through the Midwest, rolls as far East as PA. and then south into Tennessee, Kentucky and Alabama before finishing up in Amarillo on May 4th. The tour will also feature several RFL Records label mates joining as support acts as Jeff Westlake, Shallowpoint and After The Fall jump on as direct support in select cities. 
The complete tour itinerary can be viewed below and viewed here:

This is the band's first tour and the start of what is looking to be a huge step in the career of JCB and one that has shown Carlson's drive to succeed. In 2001, Jeff Carlson was diagnosed with Ulcerative Colitis, as well as Crohn's disease. He had fallen ill and was rushed to the hospital to have emergency surgery, where he actually died for almost three minutes on the operating table. He then underwent four more surgeries and still continues to deal with both of these diseases today.
Carlson Explains: "I thank God every day that I'm above ground, because life is too precious not to do what you love. This new record was written for everybody out there who is faced with challenges that life throws at you, and you keep going.  It's like one of my heroes Rocky Balboa said - "life's not about how hard you get hit...it's about how hard you get hit and keep going!" "Yesterday's Gone" was written with that frame of mind....hope.  I struggle every day with my disease, and even though I have it, it doesn't have me or my drive to what has gotten me to this point in my life."
It's that kind of hunger that flows through every track that Jeff writes and can be heard profoundly in the latest single "Over My Shoulder."
Jeff Carlson: "I wrote this song about believing in yourself enough to push through life's limitations and not giving up on your dreams until they become a reality."
The "Over My Shoulder" Live Video Can Be Viewed Here:

There is much to see and hear on this upcoming tour and the US audiences will have the chance to witness, hear and interact with a band who delivers when it comes to artist/fan interaction. Jeff Carlson Band brings back the glory days and refines them for the modern hard rock fans.
Jeff Carlson expresses his thoughts on the tour:
"The guys and I are so excited about finally going out on our first US Tour! We want to thank our team at MK Music USA and our record label at RFL Records for helping us out with all of the booking and PR to make this a dream come true for us! We also want to dedicate this tour to Kimberly Jean Allee for all of her hard work along with Nolan Hodges to make it happen. We can't wait to see you guys out there and we thank you, the fans, for coming out to the shows. This tour will be EPIC! "
"We're extremely proud of the strides the Jeff Carlson Band has made and the fruition of a National Tour is just a byproduct of the countless hours spent between the band, RFL Records and MK Music working together to help the Artist and Brand grow continuously. Kimberly Jean Allee was a very integral part of making this tour happen and we were extremely blessed to have her as part of this unique music family. This tour is unlike any other and you're gonna kick yourself if you miss it!" - Nolan Hodges, MK Music USA
"To see Jeff Carlson and this band see their dreams come to fruition is really the reason that we all do this. Jeff is not only a person who believes in his art, but he is a positive influence in this music family of ours. Together with the great people at MK Music, Nolan Hodges and the late Kimberly Jean Allee, we have reached one goal of many that we have set to attain. I can only see bigger and better things from the Jeff Carlson Band and their future as one of melodic hard rocks elite. I am extremely proud of these guys. – Jon Marchewka (Mar-hef-ka), CEO RFL Records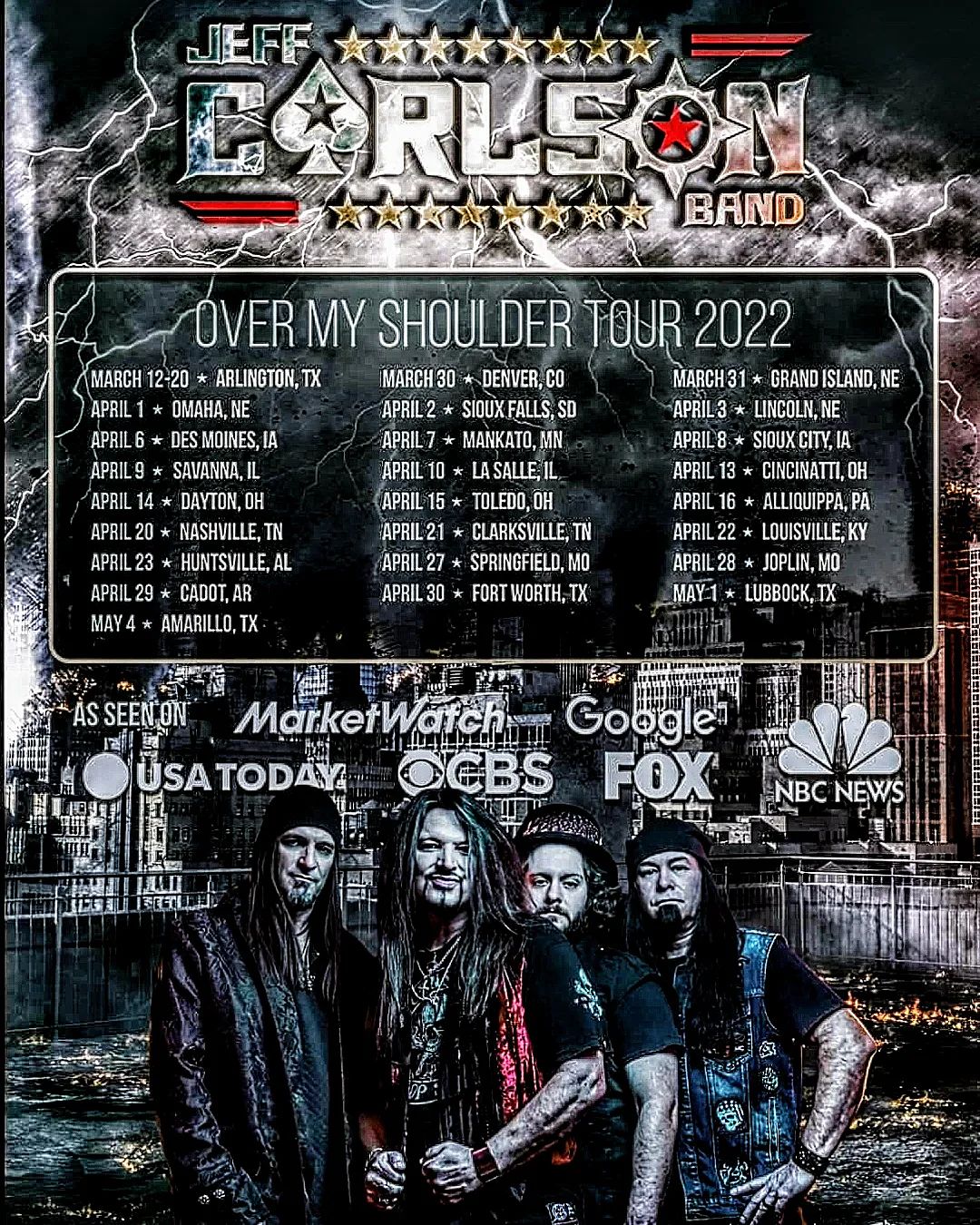 Catch Jeff Carlson Band on tour at the following shows:
March
 
 30 – Herman's Hideaway – Denver, CO
 
 31 – Upper Deck – Grand Island, NE
April
 
 1 – The Drinkery – Omaha, NE
 
 2 – Dada Gastropub – Sioux Falls, SD
 
 3 – Duffy's Tavern – Lincoln, NE
 6 – Lefty's – Des Moines, IA
 
 7 – Mully's On Madison – Mankato, MN
 
 8 – Whiskey Dick's – Sioux City, IA
 9 – Hawg Dogs – Savanna, IL
 
 10 – 9th Street Pub – La Salle, IL
13 – Harmonize – Cincinnati, OH
 
 14 – Hidden Gems – Dayton, OH
 
 15 – Polish Ostrich – Toledo, OH
 
 16 – Kendrew's Lounge – Aliquippa, PA
 
 20 – Donaldson Pub – Nashville, TN
 
 21 – The Warehouse – Clarksville, TN
 
 22 – Louisville Billiards – Louisville, KY
 
 23 – Shagnasty's – Huntsville, AL
 
 27 – Southbound Bar and Grille – Springfield, MO
 
 28 – Blackthorn Pizza & Pub – Joplin, MO
 
 29 – The Censored Monkey – Cabot, AR 
 
 30 – Lola's Trailor Park & Saloon – Fort Worth, TX
May
 
 1 – Jake's Sports Bar – Lubbock, TX
 
 4 – Leftwoods – Amarillo, TX

 Jeff Carlson Band is:
 Jeff Carlson - Lead Vocals / Rhythm Guitar
 Kory Brown - Lead Guitar / Harmony Vocals
 Cory Kay – Bass
 Nathaniel Welch – Drums
Follow the band at these links:
  
 Website: https://www.jeffcarlsonband.com/
 Facebook: https://www.facebook.com/JeffCarlsonBand
 
 RFL Records Website: https://www.rflrecords.com/
 RFL Records Facebook: https://www.facebook.com/rflrecordsroxx
Streaming at these links:
https://open.spotify.com/artist/0zrItALgeRSOYmEnadYzRC
https://music.apple.com/us/artist/jeff-carlson-band/544038066