SOULFLY/CAVALERA CONSPIRACY GUITARIST MARC RIZZO ANNOUNCES NYC LISTENING PARTY 4/6 AT DUFF'S BROOKLYN FOR NEW ALBUM ROTATION, IN STORES NOW VIA COMBAT RECORDS
SOULFLY/CAVALERA CONSPIRACY guitarist Marc Rizzo has announced a NYC listening party for his new LP ROTATION, in stores now via Combat Records. The listening party will take place this Friday, 4/6, at DUFF's Alcohol Abuse Center in Brooklyn. Rizzo, on tour starting April 17 with Soulfly, has additionally announced two FYE instore meet and greet performances, Sunday 4/22 at Philadelphia Mills FYE, and Saturday 5/19 at Arizona Mills FYE.
ROTATION, featuring cover art by Melody Myers (Escape The Fate, Combat Bullets), is the 4th solo release for Rizzo, following 2004's COLOSSAL MYOPIA, 2006's THE ULTIMATE DEVOTION (both released by legendary shred label SHRAPNEL), and the independently released 2010 LP LEGIONNAIRE.
Produced by Chris "Zeuss" Harris (Hatebreed, Soulfly, Rob Zombie, Chimaira), and featuring cover art by Melody Myers (Escape The Fate), ROTATION is a blistering showcase of Rizzo's pummeling eclectic diversity, showcased on album tracks including "Spectral Intensities", "Thrash Boogie", and title track "Rotation", combining Rizzo's penchant for pummeling, low-end riffs, with thrash-intensive leads and heavy latin flavor.
Check out an album teaser featuring "Spectral Intensities" Below:
Originally a member of New Jersey latin-metal favorites   ILL NINO , appearing on their classic 2001 Roadrunner release   REVOLUTION REVOLUCION ,   and the 2003 follow-up   CONFESSION ,   Rizzo joined   SOULFLY   in 2004, and has since appeared on all subsequent Soulfly records including;   PROPHECY, DARK AGES, CONQUER, OMEN, ENSLAVED, SAVAGES,   and   ARCHANGEL . In 2007, Rizzo became a member of   CAVALERA CONSPIRACY,   the side project of Sepultura co-founders, brothers Max and Iggor Cavalera, and has performed on all Cavalera Conspiracy releases including   INFLIKTED, BLUNT FORCE TRAUMA, PANDEMONIUM,   and the critically acclaimed 2017 release   PSYCHOSIS .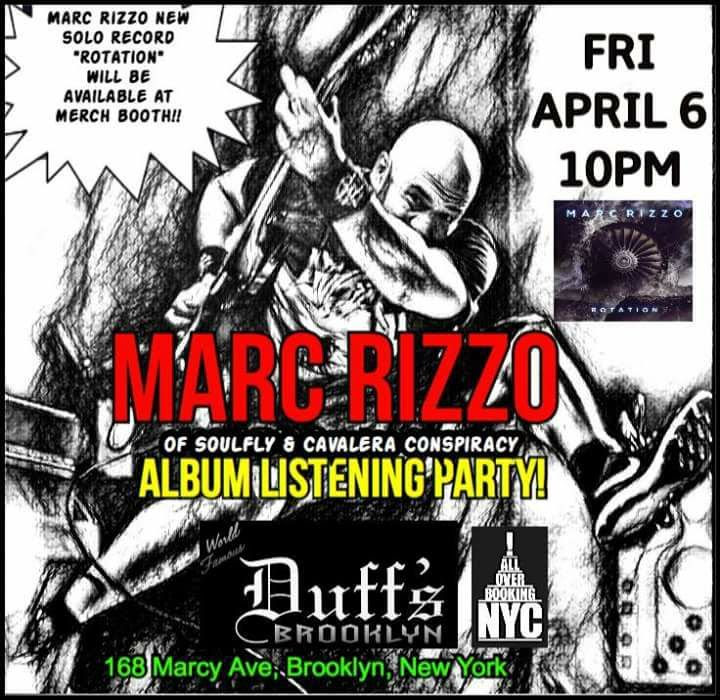 Says Rizzo, "I spent a couple years talking to David (Ellefson) and Thom (Hazaert) about releasing Rotation and when the COMBAT thing came up it just really felt right. I have known both David and Thom, literally for the better part of 2 decades, and I'm really excited to have such a killer team putting their stamp on my record."
Soulfly (with NILE)
4/17/18   Louisville, KY Diamond Pub Concert Hall  
http://enterthevault.com/ moreInfo.php?id=8327  
4/18/18   Baltimore, MD Rams Head  
http://enterthevault.com/ moreInfo.php?id=8329  
4/19/18   New York, NY Gramercy Theater  
http://enterthevault.com/ moreInfo.php?id=8331  
4/21/18   Poughkeepsie, NY Chance Theatre  
http://enterthevault.com/ moreInfo.php?id=8333  
4/22/18   Philadelphia, PA Underground Arts  
http://enterthevault.com/ moreInfo.php?id=8335  
4/24/18   Greenville, SC The Firmament  
http://enterthevault.com/ moreInfo.php?id=8337  
4/25/18   Tampa , FL Orpheum  
http://enterthevault.com/ moreInfo.php?id=8339  
4/26/18   West Palm Beach, FL Kelsey Theater  
http://enterthevault.com/ moreInfo.php?id=8341  
4/27/18   Atlanta, GA Masquerade  
http://enterthevault.com/ moreInfo.php?id=8343  
4/28/18   Knoxville, TN The Concourse  
http://enterthevault.com/ moreInfo.php?id=8345  
5/1/18   Pitstburgh, PA Diesel  
http://enterthevault.com/ moreInfo.php?id=8347  
5/2/18   Rochester, NY Montage Music Hall  
http://enterthevault.com/ moreInfo.php?id=8349  
5/3/18   Detroit, MI Token Lounge  
http://enterthevault.com/ moreInfo.php?id=8351  
5/4/18   Cleveland, OH Agora Theater  
http://enterthevault.com/ moreInfo.php?id=8353  
5/5/18   Dayton, OH Oddbodys  
http://enterthevault.com/ moreInfo.php?id=8355  
5/6/18   Joliet, IL The Forge  
http://enterthevault.com/ moreInfo.php?id=8357  
5/7/18   Milwaukee, WI Turner Hall  
http://enterthevault.com/ moreInfo.php?id=8359  
5/8/18   Minneapolis, MN Cabooze  
http://enterthevault.com/ moreInfo.php?id=8361  
5/9/18   Kansas City, MO Riot Room  
http://enterthevault.com/ moreInfo.php?id=8363  
5/10/18   Denver, CO Herman's Hideaway  
http://enterthevault.com/ moreInfo.php?id=8365  
5/11/18   Salt Lake City, UT Metro Music Hall  
http://enterthevault.com/ moreInfo.php?id=8367  
5/12/18   Jerome, ID Diamondz Event Center  
http://enterthevault.com/ moreInfo.php?id=8369  
5/13/18   Seattle, WA Studio Seven  
http://enterthevault.com/ moreInfo.php?id=8371  
5/14/18   Portland, OR Hawthorne Theater  
http://enterthevault.com/ moreInfo.php?id=8373  
5/16/18   Berkeley, CA The UC Theatre  
http://enterthevault.com/ moreInfo.php?id=8375  
5/17/18   Los Angeles, CA Whisky A Go Go  
http://enterthevault.com/ moreInfo.php?id=8377  
5/18/18   Anaheim, CA The Grove  
http://enterthevault.com/ moreInfo.php?id=8379  
5/19/18   Phoenix, AZ Marquee Theater  
http://enterthevault.com/ moreInfo.php?id=8381  
5/20/18   Albuquerque, NM El Rey Theater  
http://enterthevault.com/ moreInfo.php?id=8383  
5/22/18   Dallas, TX Trees  
http://enterthevault.com/ moreInfo.php?id=8385  
5/23/18   San Antonio, TX The Rock Box  
http://enterthevault.com/ moreInfo.php?id=8387  
5/24/18   Houston, TX White Oak Music Hall  
http://enterthevault.com/ moreInfo.php?id=8389
For More Information:
Thom Hazaert – COMBAT RECORDS  
thomhazaert2@gmail.com
https://combatrecs.com/  
http://www.facebook.com/ combatrecordsofficial  
http://www.facebook.com/ marcrizzoband