The Nightcall Sessions
­
­ 
Fresh on the heels of their second album, "Strayed in Shadows", Sweden's premiere gothic rock band De Arma return with a three-song EP called "Nightcall". Whereas the full-length still showed some traces of De Arma's metal past, the EP introduces elements of darkwave into their ever-expanding sonic palette. Nonetheless, it retains many of the characteristics which earned the previous effort such critical acclaim: the outpouring of raw emotion materialising through sweeping dreamscapes, gripping choruses, and the mesmerising interplay between vocalists Andreas Pettersson and Maria Oja. 
Serving as a bridge between the second and third albums, "Nightcall" builds further on the Depeche Mode infatuation hinted at on "Strayed in Shadows" and blends it with sounds which should appeal to fans of Drab Majesty, House of Harm, and later Paradise Lost; the spirit of the 80s animating a corpus borne of the present. The EP also expands upon the visual and thematic approach of its predecessor – that of being stuck in a dark and dystopian futuristic metropolis, where peril lurks around every corner – with cover artwork depicting the same figure in a setting catering to the lyrics.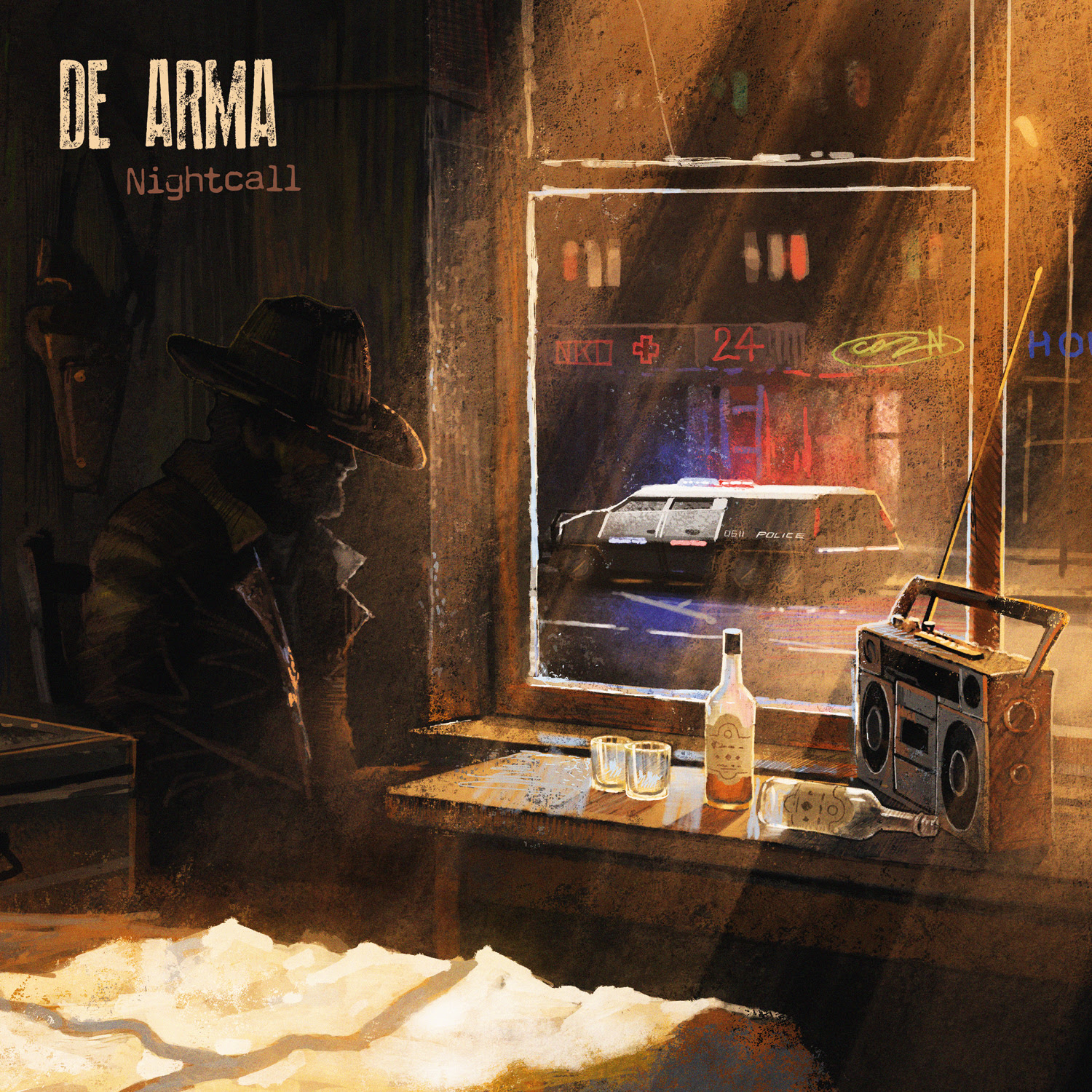 De Arma - Nightcall
­
"Nightcall" will be released by Silent Future Recordings on May 6, 2022. Available on limited digipak-CD and coloured vinyl with artwork by the talented Boris Groh. 
De Arma was founded in 2009 by guitarist, vocalist, and bass player Andreas Pettersson. After enlisting drummer Johan Marklund, the duo recorded three tracks for "Towards the Shores of the End" (Nordvis), a 2011 split with British band Fen. In the very earliest incarnation of De Arma, the founder's black metal roots shone through quite a bit. But there were also plenty of musical elements present which remain a fixture in the band's sound today. 
Later that year, encouraged by the positive response to the split, De Arma not only wrote a full-length record but also began tracking it. Despite retaining a palpable sense of darkness, the music had now drifted even further from black metal and into the realms of gothic rock. "Lost, Alien & Forlorn" (Trollmusic) was released in February 2013. 
With inspiration still raging wild, a follow-up album was composed in its entirety over the months following the debut. Unfortunately, ulterior obligations delayed its completion until 2021, when De Arma unveiled "Strayed in Shadows" (Trollmusic). The second chapter saw the band explore a wide spectrum of music – from gothic metal to synthwave, even pop music – all boiled down into their unique brand of cold and heartfelt northern melancholia. Then, to round off an already eventful year, De Arma entered a multi-album collaboration with Swedish label Silent Future Recordings.
 Andreas commented:
The three songs found on this EP were originally intended for our upcoming third album. However, we decided on a whim to re-arrange the material and present it as a dedicated release. Ever since our debut album, we've felt a deep-rooted longing to explore uncharted musical ground – staking out something of our own creation, but with inspiration drawn from the world of 80s synth. It was this impulse that fuelled the direction taken on "Nightcall". Lyrically, it explores the divine but detrimental relationship between the loner and various mind-altering substances, as well as the poor choices which tend to follow in its wake.
­­
Tracklist:
1 - Shame Drifter
2 - After Dark, You're There
3 - Sunset Dreams
Release date: May 6, 2022
Formats: CD, Digital, LP
Pre-sale link to publish alongside any news:
https://orcd.co/de-arma-nightcall
https://silentfuture.se/artist/dearma/
Scheduled single titles and release dates: 
Single 1: After Dark, You're There (2022-03-18)
https://orcd.co/after-dark-youre-there
Single 2: Shame Drifter (2022-04-08)
https://orcd.co/shame-drifter