Neuropsy - Vivisection Of The Demented - Reviewed by Metal Digest ! Check it out here at this link: https://metal-digest.com/2022/02/03/neuropsy-vivisection-of-the-demented-ep/
        The Covid-19 global pandemic put a lot of things on the backfoot, there is actually no getting around that, but what got the ball rolling in 2018 for Neuropsy with their debut album was swiftly kicked back four years and now finally, the Portuguese death metal band are back with their latest EP 'Vivisection of the Demented'.
                As a band, Neuropsy have obviously spent their youth eating all those excellent death metal records from the late 80's and early 90's and with 'Vivisection…' this doesn't half show. The band deliver a decent EP which wears its influences on its sleeve without ever losing sight of their goal and that is to create modern sounding death metal delivered through that old-school lens. Clocking in at just over 20 minutes, these six tracks batter down the doors, getting in and out with as much loot and pillage as they can as tracks such as 'Mutated Humans', 'Breakpoint' and 'A Clockwork of Dementia' bring forth all the power of Morbid Angel, Deicide and even later Cannibal Corpse to the forefront with just enough technical prowess and brutality to intrigue fans of fellow Portuguese band Afterbleeding.

                'Vivisection…' is a death metal EP which does what it says on the tin, there are no frills, no gimmicks and you can't ask for more than that… well… other than a new studio album because we are more than ready. - Metal Digest
Release Date: January 20, 2022
FFO: Soreption, Beyond Creation, Suffocation, Cattle Decapitation
Location: Portugal
Label: DyMM P&M
Neuropsy is a Death Metal band from Setúbal, Portugal, formed in 2016 by Fábio Abenta (vocals), João Martins (guitar), Jorge Leitner (bass) and Oleg Lozhkin (drums). The band has released one EP in 2017 focusing on Egyptian lyrical themes and a full-length album on 2018, focusing on gore, death, doom and destruction based lyrical themes, with an old school sound, raw, groovy and straight to the point.
As for the new upcoming EP ''Vivisection Of The Demented'' soon to be released in January 2022, the band has worked on this record for the past three years. There has been lineup changes throughout this period, having the current line up been completed as of recently, consisting of Fábio Abenta (vocals), João Martins (guitar), Flávio Kebras (guitar) and Jorge Leitner (bass). The band is currently without a drummer. The main themes for the songs on this record are based on the human fragile psyche. It dwells deeper on the problems of the mind such as depression, dementia, schizophrenia, among other mental disorders. It draws from different perspectives, such as personal introspective on the sickness, the outcome of your being determined by those in power of your life, the simple understanding of our meaningless existence, and even satire regarding the lunacy and insanity of our mindset. The music presents you with some solid death metal riffage, with a good balance of heaviness, melody, groove and rhythm variations.
Check out the video!
Check them out on Spotify and add them to your playlists!
Support the band on Bandcamp!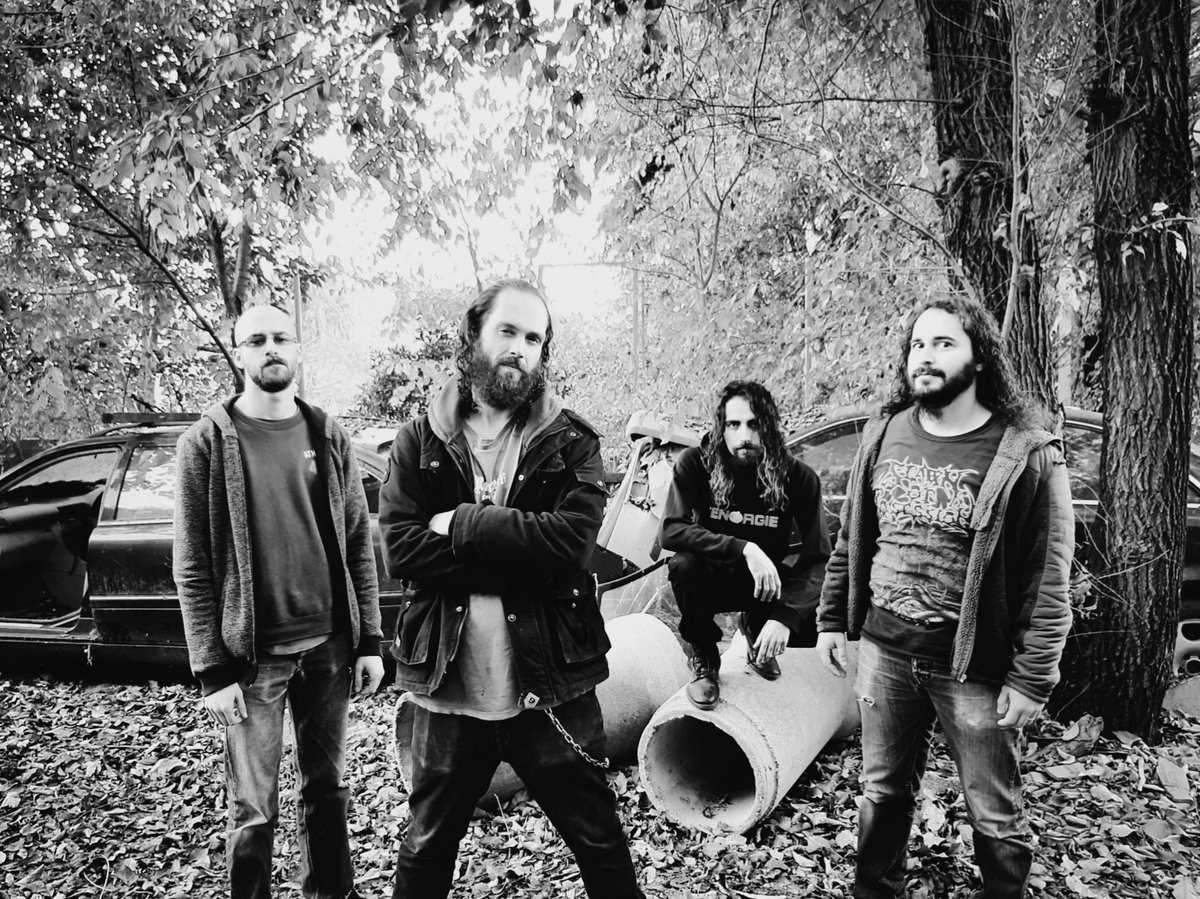 Follow the band at these links:
https://www.dymm-productions.com
https://www.instagram.com/neuropsyofficial/
https://www.facebook.com/NeuropsyOfficial
https://neuropsy.bandcamp.com/