HELLFOX - The Call - Reviewed By Keep On Rocking ! Check it out here at this link: https://keep-on-rocking.com/2022/01/16/hellfox-the-call/
Hellfox, an all-girl band from Italy, was formed in the winter of 2019, when Greta Antico and Priscilla Foresti rediscovered their friendship from earlier days. Shortly thereafter, the lineup was completed by Gloria Capelli and Federica Piscopo. Four young musicians with different musical influences. After two years of songwriting and studio recordings, the debut album is now available.
Hellfox pict 2 hrRoasting guitars, booming drums and bitterly evil growls (by bassist Priscilla Foresti). This is how the girls' quartet starts their debut on "Haunted". Greta Antico takes over the rock and melodic vocal part. Beauty and the Beast completely female. The Italians move musically far away from the beaten track. Synths (who?) and powerful bass lines can be heard in "Our Lady Of Sorrows" and of course again the interplay of clear vocals and growls. The Double Bass constantly pushes itself into the foreground and thus sets the beat. A guitar solo completes the song. Also on "Raising" and "Nothing Really Ends" industrial synth sounds can be heard again. The latter, however, is a bit quieter. Also with "Rebirth" and "Your Name" it continues in the mid-tempo area. Once again, the sound is characterized by hard drumming and deep bass lines. This pressure is counteracted by the keyboard sounds. The regular closing song is then "Bleeding Machine". Here the pace picks up a bit again. As a bonus track, there will be a remastered version of "Dead Star". This song was already released at the end of 2020 as a single or EP and video.
Hellfox are a young up-and-coming band. They have found their very own style. The album is powerfully produced, with drums and bass being emphasized a bit too much in places. But the figurehead is certainly the vocal double leadership. Clear vocals and growls are very well coordinated. The year 2022 is still young, but already you will be surprised with new music, a new band with a good debut. It can go on like this. - Keep On Rocking
Release Date: Jan, 21 2022
FFO: Lacuna Coil, Amorphis, In Flames, Dark Tranquillity
Music for the Masses has the pleasure to announce the agreement for the release of the debut Album of the Alternative Metal ALL FEMALE BAND: HELLFOX with the debut album "The Call"!
The album, scheduled for release on January 21st 2022 features 7 new tracks plus the remastered Version of "Dead Star", released in late 2020, which gathered consensus among press and fans! The album will be distributed in Italy by EGEA MUSIC Italy, in Europe by CODE 7 UK and by WORMHOLEDEATH Japan, besides all digital platforms. Hellfox trademark is represented by the dualism between Greta and Priscilla's voices, which intertwine while telling the tales of the album. But let the band members' words speak for their own:
"HELLFOX is an alternative metal (alt-metal) leaning towards melodic Death Metal. In spite of four rather different musical backgrounds, we're on the same page on the inspiration we draw from Amorphis, In Flames and  Dark Tranquillity in the process of songwriting, while we've chosen to detach from the Symphonic context, widely regarded as feminine, inserting acid, distorted synths in order to create a modern mood we felt our own and committed more adherently to the pop vibe of Greta's melodic voice. The dualism existing within HELLFOX is not to be meant as a conflicting one, it's rather the result of different voices interacting inside the human soul, different faces if we want to put it down this way. Faces mingling and generating the person in itself, in its entirety, who create and live in harmony and balance although seemingly clashing one another. We do not use masks to conform to the mass, while we don't even want to distinguish ourselves at any cost, in a society where normality is a mere surface. The abyss, on the other hand, is made of countless personality facets, both for the collective and the single human being. Our message is accessible to all, everyone can recognize it in her or himself: that small, tiny voice in your head which attracts or repulses you…'cause nothing is normal for us, nothing is different."
Check out the video!
Hellfox was born from the 4 members' different musical tastes and influences. We're not trying to fit into a genre, our music expremes the need to convey what we have behind the mask everyone wears in every day life, independently of what we are. Instrumental parts are made of acid and distorted sounds with great atmospheres, where two voices fights with each other's. The band formed during 2019 winter, thanks to the Greta and Priscilla rediscovered friendship. In February 2019 they find Gloria, and after a long and exhausting research, finally they find Federica to properly complete the band.
"Hear our call"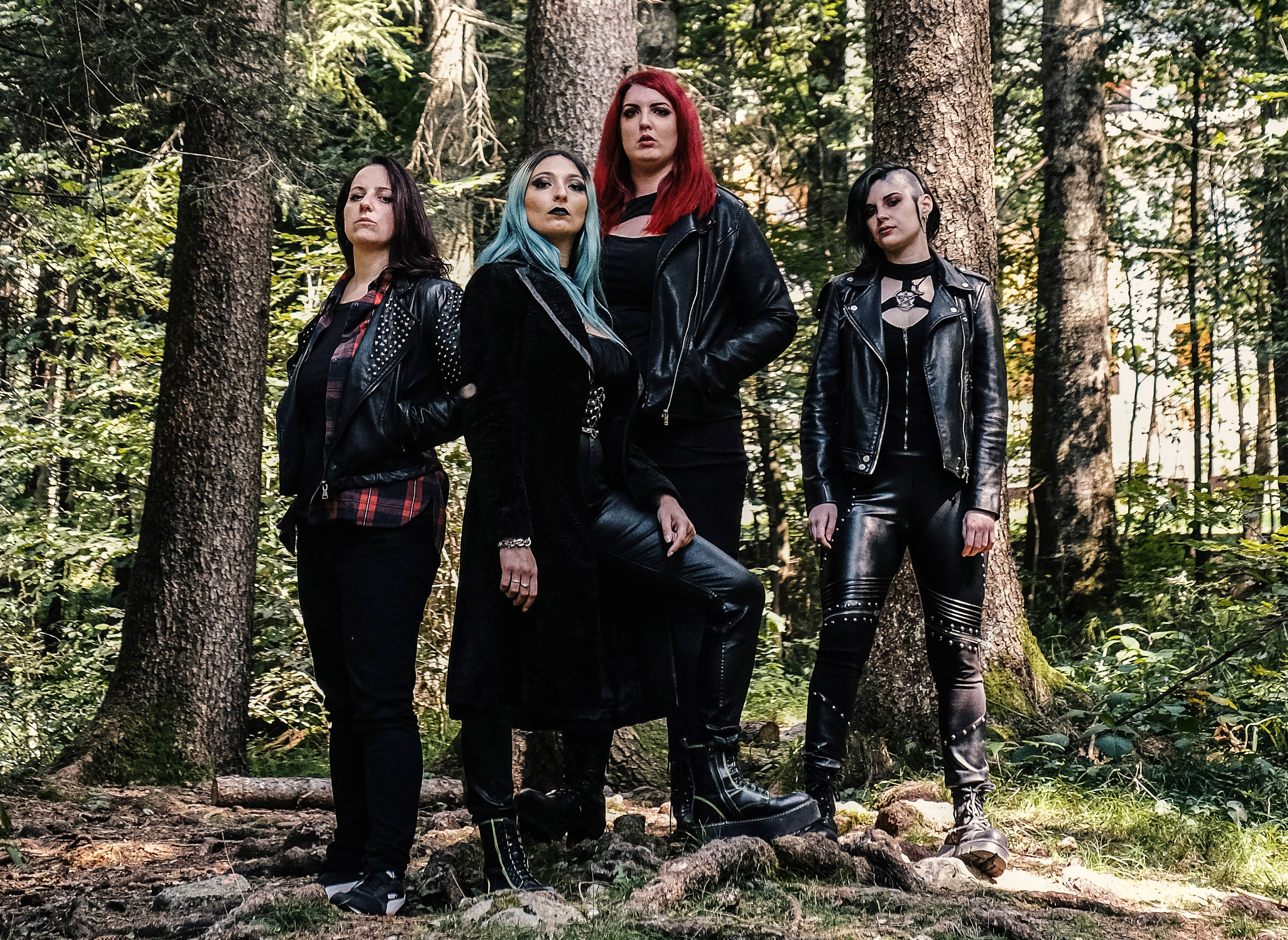 Line Up:
Greta Antico – Vocals
Priscilla Foresti – Bass, Vocals
Gloria Capelli – Guitars
Federica Piscopo - Drums
Follow the band at these links:
https://instagram.com/hellfoxofficial?igshid=3p01a7vcxvfr
https://facebook.com/HellfoxOfficial/
https://youtube.com/channel/UCqpx9Z3Yam2RRvdPF_jQp9g
https://open.spotify.com/artist/74vdoR0KlT5MBw1z3vmhFV
WWW.MUSICFORTHEMASSESRECORDS.COM
WWW.MUSICFORTHEMASSESDISTRO.COM