Carr Jam - 21 - Carr Jam - 21 - Reviewed by Metal Digest ! Check it out here at this link: https://metal-digest.com/2022/01/12/carr-jam-21-carr-jam-21-ep/
    Who would have thought that it was now over 30 years since legendary drummer Eric Carr passed away, taken from the world in 1991 aged only 41 from cancer. In celebration of the life of Carr and indeed Kiss, Dregen, Jesper Binzer and Ryan Roxie amongst others have got to together and recorded an EP entitled 'Carr Jam 21'.
                For an EP, 'Carr Jam 21' does exactly what it sets out to do. This is a group of avid Kiss fans paying tribute to an excellent drummer by covering two Eric Carr songs in the shape of 'Eyes of Love' and 'Can You Feel It' featured on Carr's posthumously released 1999 album 'Rockology'. These tracks are done very well, and the listener can clearly hear the Kiss influence and the amount of reverence given to the tracks. Furthermore, what the listener gets are two Kiss deep cut tracks in the shape of 'Love Her All I Can' from Kiss' 'Dressed to Kill' album as well as the Ace Frehley track 'Snowblind' from his 1978 album.

                These tracks are delivered well, and 'Carr Jam 21' is a lot of fun. It is an EP designed exactly for that to honour the memory of Carr and to have a lot of fun doing it. It's probably not worth running out to purchase, but it is 15 minutes of cheesy, good time enjoyability that leaves the listener feeling good. - Metal Digest
Release Date: January 7, 2022
FFO: Kiss, Eric Carr, Paul Stanley, WigWam, The Hellacopters, D-AD, Accept, Ace Frehley, Gene Simmons, Backyard Babies
Location: Sweden, Denmark, Norway and America
A project to celebrate the legacy of the late Eric Carr ( KISS 1980-1991). Eric tragically passed away 30 years ago, and we wanted to do something special. Together with some of the most well-known and KISS inspired musicians, we have recorded 2 songs written by Eric Carr + 2 KISS related bonus songs. Dregen, lead vocals on the EP's last track Snow Blind , comments: " Snow Blind has always been a hidden treasure in the KISS catalog. So, it was great fun to finally record it. In addition, with a bunch of fantastic musicians who are quite different in many ways but have one thing in common - the band KISS ! And the proceeds go to charity. Another proof that musicians, who are hard hit by the pandemic, find ways to be creative anyway!"
Check out the video:
Check them out on Spotify and add them to your playlists!
The people behind the project are: Dregen ( The Hellacopters, Backyard Babies) , Gustav Kronfelt (video producer), Jolle Atlagic ( Electric Boys, The Quill ), Jesper Lindgren ( Velvet Insane ), Ryan Roxie ( Alice Cooper/Slash's Snakepit ) Åge Sten Nielsen ( WigWam ), Philip Shouse ( Accept, Ace Frehley, Gene Simmons ), Jesper Binzer ( D-A-D ) and Martin Ekelund ( Bonafide ).
Listen and order the EP here: https://orcd.co/carr-jam-21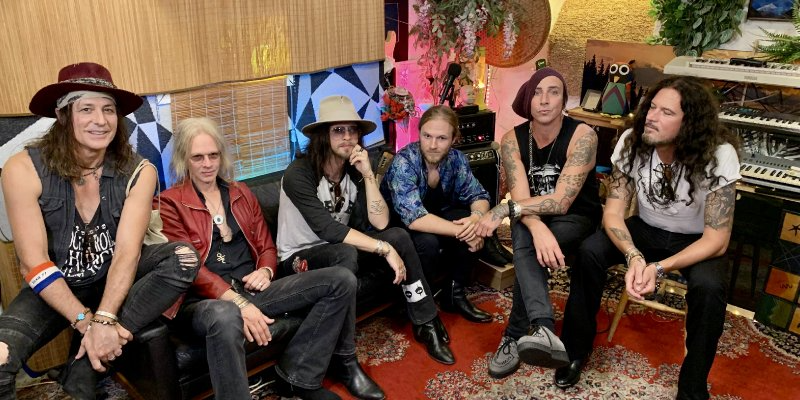 Follow the band at these links:
https://open.spotify.com/album/7eqlH7LK1dZJQ7jcUUqHSS
https://music.apple.com/us/album/can-you-feel-it/1589258257
https://www.youtube.com/channel/UCwfy_8ApE3v3KyxusKARatQ
https://www.facebook.com/Carrjam21
https://www.instagram.com/carrjam21/
https://www.instagram.com/dregenofficial/
https://www.facebook.com/DregenOfficial