Malacoda joins The Zach Moonshine Show to talk about the new (EP) "Crawling Chaos"! We take questions from the listeners in the live chat and play new music from the EP! We also play new music from Creeping Fear, Cannibal Corpse, Curse the Son, Brutal Death Fuck, TEDIO, Aberration, Chaos Echœs, Voreus, THULCANDRA, Joe Deninzon & Stratospheerius, Sleepless, Byron Nemeth, Take This To Your Grave, TERMINAL BLISS, DISCARDED SELF, Puro Odio, Noisecide, and battle of the bands winners Delta Enigma! We also play by request from the listeners some Marilyn Manson, Jason Aaron Wood, Rock N Roll Villain Society, and Body Count!
Track List:
1 - Collapse/Hate Crush Consume/Deceitful Tongues - Creeping Fear
2 - The Zach Moonshine Intro
3 - Inhumane Harvest - Cannibal Corpse
4 - Suicide By Drummer/Worry Garden/Devil Doctor Blues - Curse the Son
5- The Devils Whiskey/Alcohol - Remastered - Brutal Death Fuck
6 - Malacoda - Interview featuring Crawling Chaos/Deadlights/From the Depths
7 - Sobrevivir - TEDIO
8 - I - Aberration
9 - Through Kaleidoscopic Haze of Unexpected Extents - Chaos Echœs
10 - Progeny of Fire - Voreus
11 - Fallen Angel's Dominion - THULCANDRA
12 - Cognative Dissonance - Joe Deninzon & Stratospheerius
13 - Blood Libel - Sleepless
14 - Engines Of Thunder - Byron Nemeth
15 - Vultures - Take This To Your Grave
16 - 8 Billion People Reported Missing - TERMINAL BLISS
17 - ORBITOCLAST - DISCARDED SELF
18 - Darby Crash - Puro Odio
19 - My Desires - Noisecide
20 - Unreality - Delta Enigma
21 - I Don't Like The Drugs/Antichrist Superstar/Astonishing Panorama... - Marilyn Manson
22 - Enchanter, Destroyer - Jason Aaron Wood
23 - Love Your Enemy - Rock N Roll Villain Society
24 - Institutionalized 2014/Talk Shit, Get Shot - Body Count
Listen top the full show below on Mixcloud!
Check out the interview on Spotify!
Check out the interview on YouTube!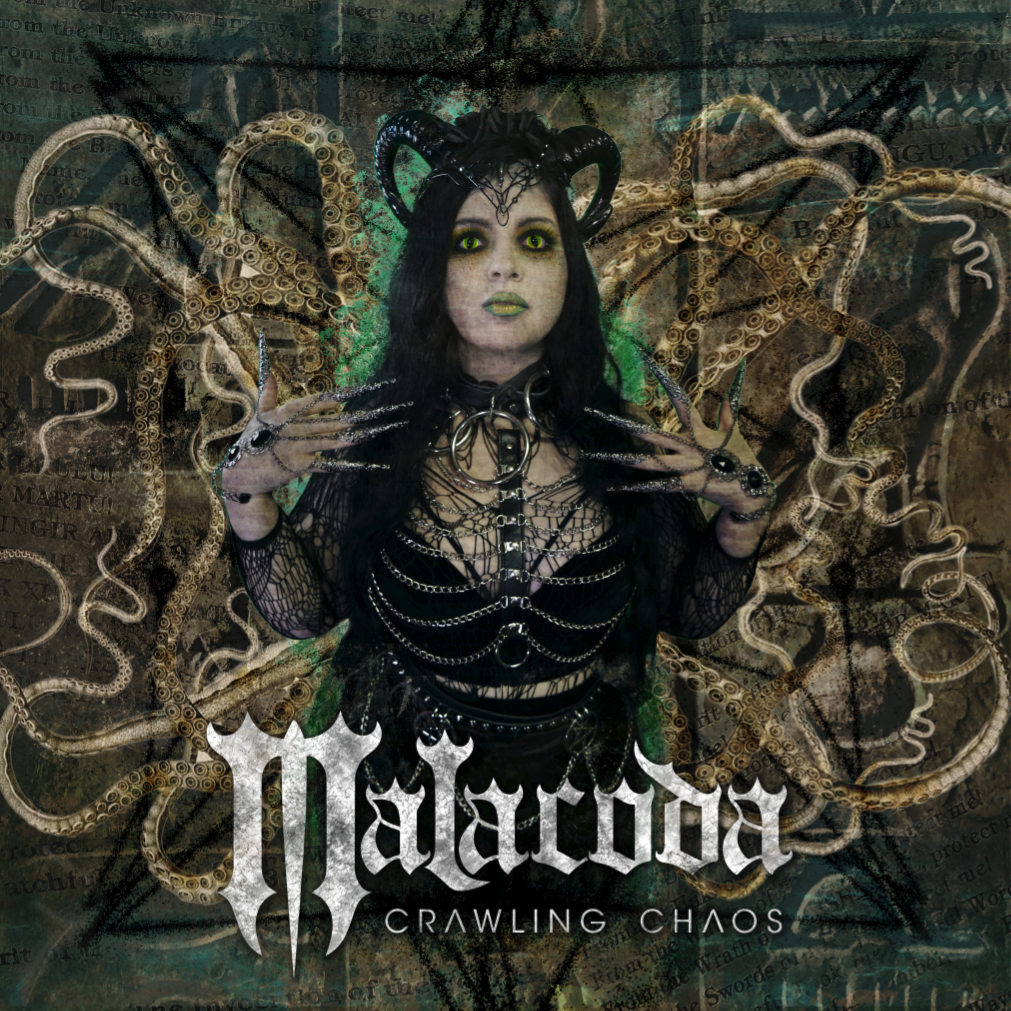 Malacoda announces the April release for their next EP, Crawling Chaos, independently. The first single "Crawling Chaos" will hit all streaming services on February 5th. Crawling Chaos is the band's first new release since 2018's Restless Dreams and is a return to the band's more cinematic and gothic roots as heard on Ritualis Aeterna (2016) as well as a deeper exploration of melodic vocal hooks as heard on their self-titled debut (2014). In the summer of 2019 the band formed a new live lineup and embarked on a small tour around Ontario, including a final show at Toronto's legendary Rockpile venue before heading into the studio.
With music described as "dark, foreboding and with lyrics to enjoy as well as unsettle." (Powerplay Mag UK) being a constant in the band's sound, the next step would be to write a follow up to Restless Dreams. While looking for a drummer, the band recorded throughout the rest of 2019/2020 with friends behind the drum kit.
ARTWORK - YEGANEH GHASEMI/MODEL - GODDESS OV DEATH
TRACKLISTING:
CRAWLING CHAOS
DEADLIGHTS
FROM THE DEPTHS (feat. James Delbridge)
THE HARSH LAW
MALACODA IS:
Lucas Di Mascio : Vocals & Keys
Wes MacDonald : Guitars
Zachary "Zak" Stulla : Bass

RECORDING INFO:
Crawling Chaos recorded and mixed by Lucas Di Mascio at Old Haunt Recording Studio in the Winter 2019 - Spring 2020.
Mastered by Dan Dubois at Schematic Sound in the summer of 2020.
Guest vocals on "From the Depths" - James Delbridge (Lycanthro)
Guest Vocals on "Crawling Chaos" & "The Harsh Law" - Beth Wilson
Drums on "Crawling Chaos" and "Deadlights" - Victor Boechat
Drums on "From the Depths" and "The Harsh Law" - Elie Bertrand. (Scarlet Sins)
Connect with Malacoda:
Facebook: https://www.facebook.com/MalacodaBand/
Instagram: https://instagram.com/malacodametal?igshid=w228qqemi2lz
Spotify: https://open.spotify.com/artist/0uSMLxN5CQhtsuekp5sGqe?si=Xgzoc6k6SI-6luMdUH7vyg
Bandcamp: https://malacoda.bandcamp.com/album/ritualis-aeterna
Youtube: https://youtube.com/channel/UCLPNpJWXL5ejV2X03ZHwXYg
Website: https://malacodametal.com/home