1945 - "From Hell" - Reviewed By Hellfire ! Check it out here at this link: https://www.hellfire-magazin.de/1945-heavy-metal-is-not-for-sale/
Also 2022 will certainly be a good year with many novelties of the metal scene. Which only applies to a limited extent to my album today. Although it is a new work of the band "1945", but it was already released last year on 17.12.2021.
The five-piece band comes from Spain, more precisely from Salamanca. Founded in 2016, this band forms a very experienced crew. Among other things, they have played "Sarah Evil" "ex "Asko" and "ex "Evil Rise".
Sarah Garcia (voc), Javier Rubio (b), Gorka RC (g), Diego Gonzalez (g) and Jose Angel Koko (dr) celebrate 11 tracks with this work, which are very catchy.
The last track "Ace of Spades" is a tribute to Motörhead. The opener "Last Battle" and track two "Heavy Metal is not for sale" start with a guitar riff and dull drums.
"Our Home" seems almost peaceful. However, there is no time to fall asleep. The following track "From Heaven (& Hell)" starts immediately furious. Jose Angel works on his double bass, cymbals and snares as if it were the band's last gig.
No less committed are Gorka and Diego. They let the picks race through the strings. And Sarah's rough voice drives again and again. "The perfect Final" contains everything a heavy metal song needs. Guitar solo, double bass and an exhilarating voice.
The "Horses of Apocalypse" are unfortunately a bit lame, the title lacks a little strength. Ingenious, however, the ballad "Black Rose" and also "Lost Dream". I would have liked the dynamics in this song for "Horses of Apocalypse".
A glorious conclusion to the album is "Ace of Spades", a Motörhead cover. Instrument-wise, this number is not far behind the original. Lemmy's voice, however, cannot be copied. Nevertheless, respect for the vocal performance.
Conclusion: The album of the Spaniards deserves to be heard and bought. Catchy metal that corresponds to the fans of the 80s scene around bands like Judas Priest, Iron Maiden or Motörhead. A successful work that certainly makes it onto the shelves of metal fans. My rating for this is 7.5 out of 10 Hellfire points. - Hellfire
Release Date: December 17th, 2021
FFO: Judas Priest, Megadeth, Metallica, Testament
Location: Salamanca/ Spain
Formed in the spring of 2016 (Salamanca/ Spain), 1945 is the result of the union of 5 experienced musicians from other bands (K-OS, Evil Rise, Sarah Evil.) They wield an eclectic, vigorous mix of metal styles, full of strength and speed.
Their first EP (ACT I) was released past 2018 getting very good reviews from the specialized media.
After a mini tour around Spain and the UK, a pandemic, and line-up changes 1945 releases his full album "Heavy Metal is not for sale" 11 songs pure Heavy Metal made in Hell.
Check out this video!
Tracklist:
I. Last Battle
II. Heavy Metal is not for sale
III. No Love
IV.  Our Home
V. From Hell (& Heaven)
VI. The perfect final
VII. Talk
VIII. Horses of apocalypse
IX. Black Rose
X. Lost Dream
XI. Ace of Spades (Motorhead Cover)
Check them out on Spotify and add them to your playlists!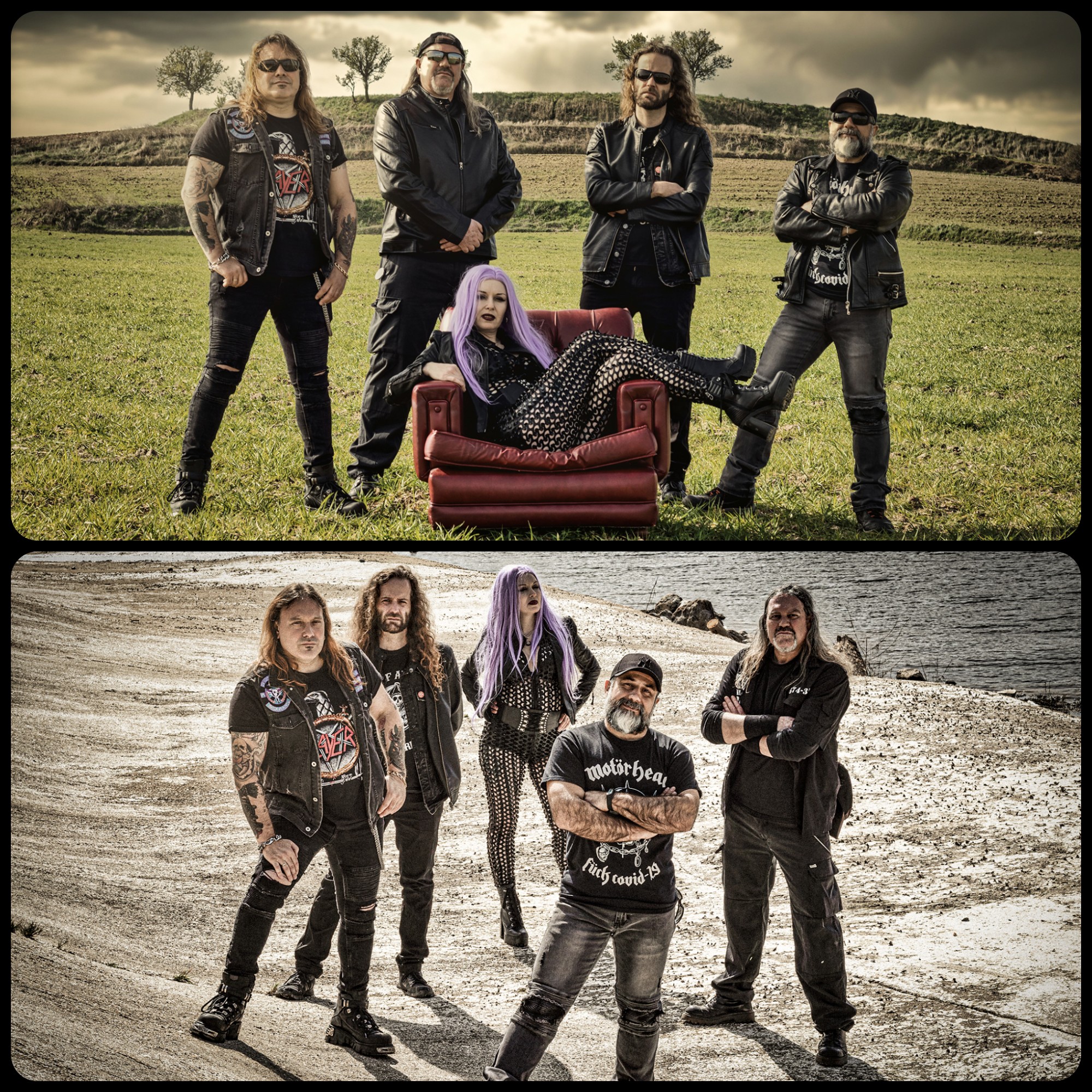 Line up: 
- Sarah García: voz
- Javier Rubio: Bajo
- Gorka RC: Guitarras
- Diego González: Guitarras
- Jose Angel koko: batería
Follow the band at these links:
https://www.facebook.com/1945oficial
https://www.instagram.com/1945_metal/
https://www.youtube.com/channel/UCcZvSYlHDCDJDg2jynuGPgg