SLAEGT SIGN TO CENTURY MEDIA RECORDS   BAND COMPLETES NEW STUDIO ALBUM ANNOUNCES EUROPEAN TOUR!
(Copenhagen, Denmark – December 8, 2021) - Danish Black/Heavy Metal outfit Slaegt (a.k.a. Slægt, meaning "lineage" / "heritage" in Danish language and pronounced /slɛɡt/), one of the most vital and exciting bands to come out of the Scandinavian Metal scene, are thrilled to announce that they've signed a new deal with Century Media Records. The first studio offering with their new label, and fourth full-length overall, is entitled Goddess and is set for a worldwide release on March 18th, 2022.
"It is with utmost pleasure we can announce that we have signed a deal with Century Media. Century Media is a huge force within the metal world - their history speaks for itself, and their roster of current and former acts is a sight to behold. The label is made up of passionate and professional people, whose work is very impressive in regard to how they maintain to be such a successful label while still understanding and respecting their artists' creative process and work. So, it would be an understatement to say, that we are truly looking forward to where this collaboration will take us, our music, and our listeners," states Slægt about signing to Century Media.
Century Media Records Vice President Phillipp Schulte adds, "We are happy to announce a worldwide partnership with Slaegt. The band's vision, their passion and courage to create dark and timeless music as well as their breathtaking live performances have made a huge impression on us. We couldn't be prouder to welcome this great band to Century Media Records." 
The first single and video, as well as further details for the Goddess album, will be launched on January 14th, 2022 with the start of the album's pre-order. Stay tuned for more details.
Additionally, Slaegt have just announced their European tour with fellow Danish group Demon Head, to promote the new album. See below for the full list of tour dates. Tickets are available to purchase, HERE .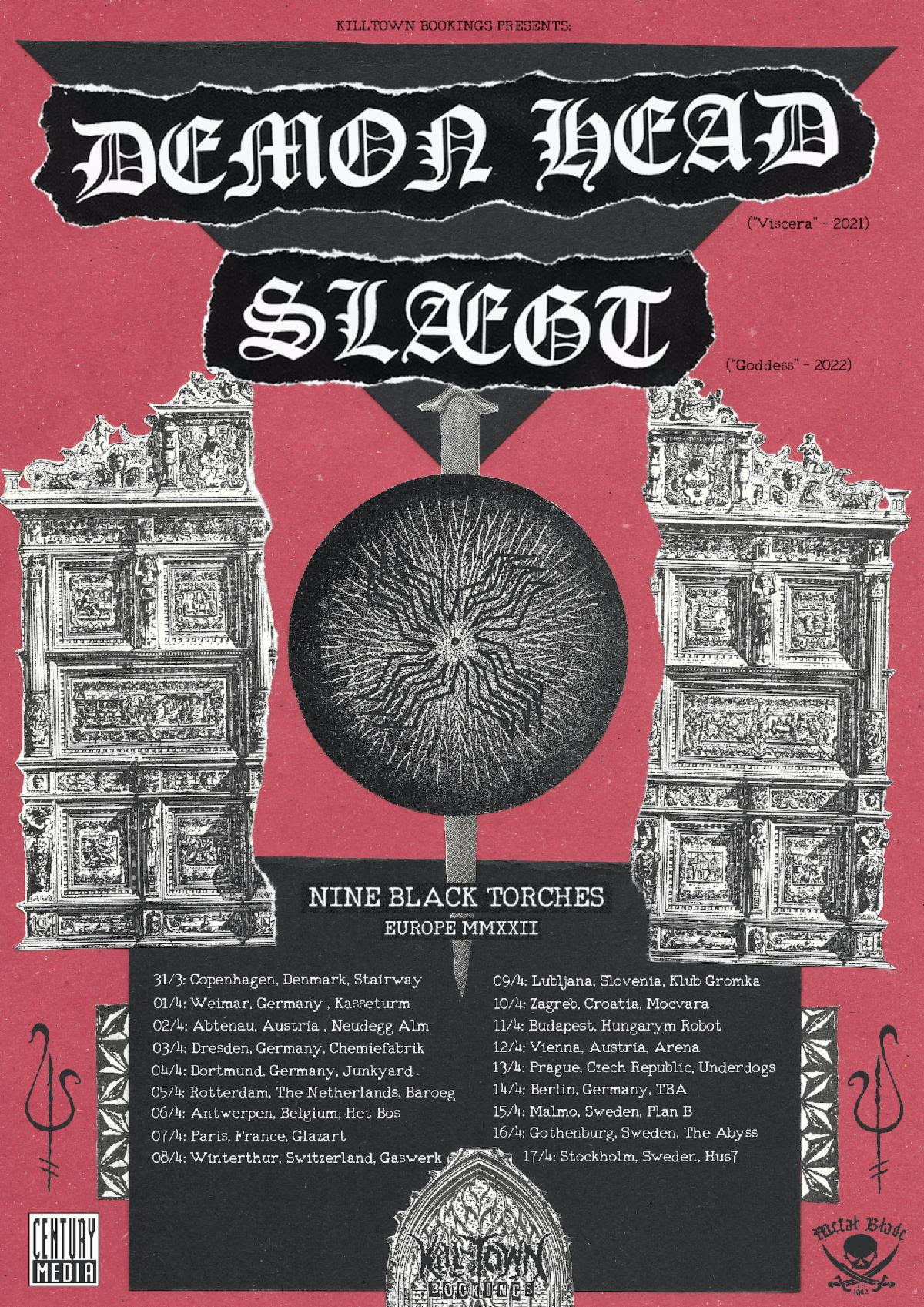 Slaegt "Nine Black Torches" European Tour 2022
w/ Demon Head
31.03.2022 Copenhagen (Denmark) - Stairway
01.04.2022 Weimar (Germany) - Kasseturm
02.04.2022 Abtenau (Austria) - Neudegg Alm w/ Grave Miasma, The Ruins of Beverast, etc.
03.04.2022 Dresden (Germany) - Chemiefabrik
04.04.2022 Dortmund (Germany) - Junkyard
05.04.2022 Rotterdam (The Netherlands) - Baroeg
06.04.2022 Antwerp (Belgium) - Het Bos
07.04.2022 Paris (France) - Glazart
08.04.2022 Winterthur (Switzerland) - Gaswerk
09.04.2022 Ljubljana (Slovenia) - Klub Gromka
10.04.2022 Zagreb (Croatia) - Močvara
11.04.2022 Budapest (Hungary) - Robot
12.04.2022 Vienna (Austria) - Arena
13.04.2022 Prague (Czechia) - Underdogs
14.04.2022 Berlin (Germany) - TBA
15.04.2022 Malmö (Sweden) - Plan B
16.04.2022 Gothenburg (Sweden) - The Abyss
17.04.2022 Stockholm (Sweden) - Hus 7
Slaegt - Live 2022:
22.-24.09.2022 Auzas (France) - L'Homme Sauvage Festival
About Slaegt
Starting out as a one-man Black Metal project in 2011, the band has grown into a four-piece and developed a signature sound of their own, combining well-known styles with influences from beyond the sphere of hard rock and heavy metal. Slaegt comment: "Amalgamation leads to the redefinition of genres. At our core, we draw from a wide range of genres, styles, and time periods and we combine them in a way that speaks to us deeply. We have many shades on our palette, both light and dark. These are, as in life, interwoven and become ever-changing constants."With three albums and several EP's to their name so far as well as over 150 concerts under their belt, including three European tours and appearances at major festivals like Copenhell, Roadburn, Party.San and Roskilde, Slaegt have built a strong following and achieved critical acclaim both at home and internationally.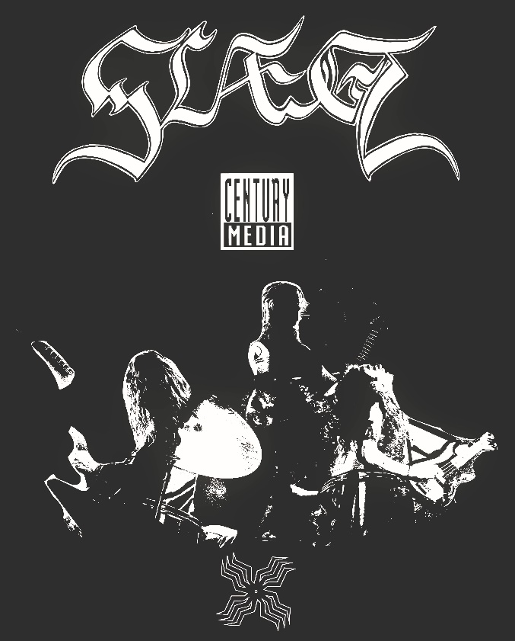 Slaegt is (From left to right on top promo photo by Peter Troest) Adam "Ccsquele" Nielsen (Drums), Oskar J. Frederiksen (Lead Vocals & Guitar), Anders M. Jørgensen (Guitar), and Olle Bergholz (Bass Guitar & Backing Vocals).
Slaegt discography:
Ildsvanger - 2015
Beautiful And Damned - EP 2015
Domus Mysterium - 2017
The Wheel - 2018
Black Bombs - EP 2019
Goddess - 2022
Century Media Records online: