Hierarchy - Hierarchy - Reviewed By A DIFFERENT SHADE OF BLACK METAL ZINE ! Check it out here at this link: https://darkdoomgrinddeath.blogspot.com/2020/12/hierarchyself-titled2021-full-length.html
Hierarchy  are  a  band  from  New  York  that  plays  a  very  melodic  and  blackened  form  of  death   metal and  this  is  a  review  of  their   self   titled  and  self  released   album  which  will  be  released  in  2021.
A  very  dark  and  heavy  sound  starts  off  the  album  while  the  faster  sections  of  the  songs  also  add  in  great  amount  of  blast  beats.  Melodies  can  also  be  heard  in  some  of  the  guitar  riffing  along  with  the vocals  being  mostly  black  metal  screams  and  the  music  is  very  heavily  rooted  in  the  90's  death  metal style.
Demonic  voices  can  also  be  heard  briefly  while  the  solos  and  leads  are  also  done  in  a  very  melodic style.  Growls  can  also  be  heard  at  times  along  with  the  songs  also  adding  in  a  decent  mixture  of slow,  mid  paced  and  fast  parts  as  well  as  some  synths  also  being  utilized  briefly  and  all  of  the musical  instruments  also  have  a  very  powerful  sound  to  them  and  all  of  the  music  also  sticks  to  a heavier  direction.
Hierarchy  plays  a  musical  style  that  takes  melodic  black  metal  and  mixes  it  with  90's  era  death  metal to  create  a  sound  of  their  own.  The  production  sounds  very  professional  while  the  lyrics  cover Satanism,  Luciferian,  Left  hand  Path,  Occultism,  Blasphemy,  Anti  Christianity  and  the  writings  of  H.P Lovecraft.
In  my  opinion  Hierarchy  are  a  very  great  sounding  melodic  and  blackened  death  metal  band  and  if you  are  a  fan  of  this  musical  genre,  you  should  check  out  this  album.  RECOMMENDED  TRACKS INCLUDE  "Light  Ov  the  Morning  Star"  "Ave  Satanas"  "Suicide  Ceremony"  and  "Through  The  Fires  Of Moloch".  8  out  of  10.
The brainchild of Vernon Boward III and Michael Goguey Jr . Hierarchy was formed in 2002 and went through numerous lineup changes before going on indefinite hiatus in 2010. But as the gods would have it, the stars and planets aligned and Hierarchy was reborn once more in 2018! This band is now poised to conquer the world!
For fans of: Amon Amarth, Behemoth, Deicide, Dark Funeral
The long awaited debut album of Long Island's own melodic blackened death metal band Hierarchy is here. 15 years in the making!
Track List:
1. Everything Burns (intro) 02:17
2. Light ov the Morning Star 04:56
3. The Spectacular Sin 05:39
4. Faithless 05:00
5. Ave Satanas 03:43
6. Death to the Vatican 04:26
7. Fire and Blood 03:08
8. Legion 04:04
9. Suicide Ceremony 04:32
10. Ravenous 01:51
11. From Aeons Came 06:30
12. Through the Fires of Moloch 04:06
13. Blessed Be the Fallen 04:02


Released December 1, 2020
All Songs Written By Tabotan and Lucithor
Recorded and Mixed by Lucithor at Odinson Studios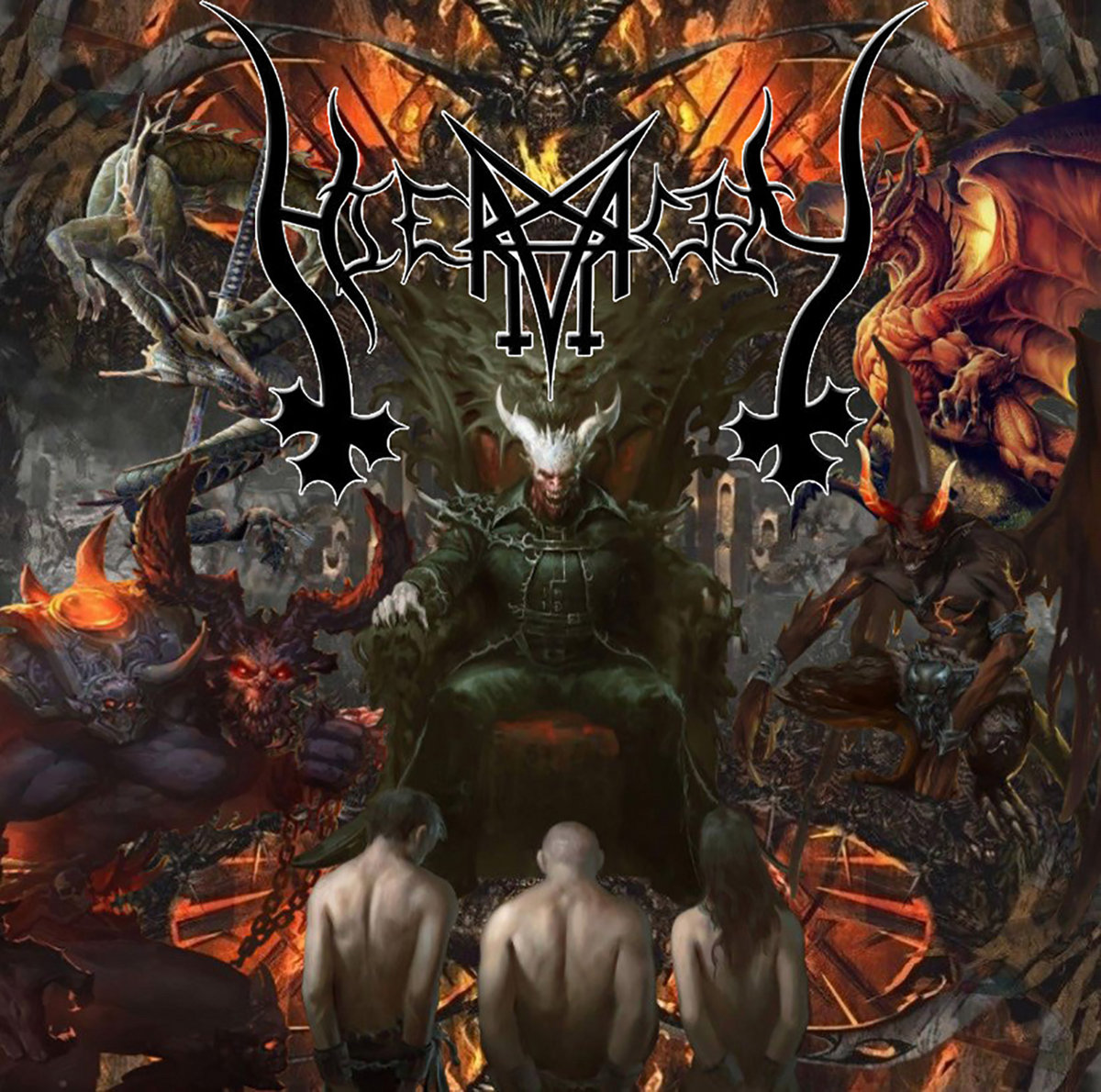 Check out this crushing cover of Black Sabbath 's classic The Headless Cross !
Follow the band at these links:
https://hierarchyband666.bandcamp.com/music
https://twitter.com/HierarchyOffic1
https://www.facebook.com/hierarchybandny