Myronath - Djevelkraft - Reviewed At Zwaremetalen.com ! Check it out here at this link: https://zwaremetalen.com/albumrecensies/myronath-djevelkraft
With their debut album, Into the Qliphoth, Myronath's Swedes proved two years ago that they are capable of putting together a more than solid black metal album. Myronath stands for robust, melodic-occult music in which melody and fiery aggression go hand in hand. Not all the songs on the debut were equally haunting, but the band did manage to continue to stimulate the interest of the listener through sufficient variety and some striking attention grabbers. Especially closing track Annihilation of the Crescent Moon is still a fixed value in my 'with-the-bike-to-work-and-backplaylist'. An apocalyptic, unleashed fury that makes the pedals go up and down a lot faster.
After two years, the gentlemen are back with a successor: Djevelkraft. The heart of the band, the Maltese bassist/singer Hellcommander Vargblod(Khaospath,ex-Martyrium)and guitarist Lars Björkens (now under the name of Bjarkan instead of Malphas, among others also active with Ragnarok),has remained unchanged. Ex-Marduk drummer Lars Broddesson was meanwhile exchanged for Fredrik Andersson, who was active for a long time with Amon Amarth. Yes, Myronath knows how to choose his drummers. At Djevelkraft, the line-up is supplemented by Myrkheim, who was previously active as a session guitarist with the band. The connection with Marduk has remained, because Devo Andersson (ex-guitarist and bassist with the band) was responsible for the recording and production of Djevelkraft in his Endarker Studio. The foursome brings us just under an hour full of potty black with a lot of feeling and brutality. Because yes, that combination really exists.
Myronath is not the band to suddenly change course 180°. Djevelkraft is therefore the logical successor of Into the Qliphoth. The band has developed its own style from the beginning and they are (rightly) very satisfied with that. There is therefore no reason to change anything about the way they write, build and respond to the songs.
You know what I find so special about this band? It is of course a fact that their music does not really excel in originality and innovation, but every song is wonderfully nice to hear! That is a skill that they master perfectly at Myronath: writing smoothly listening songs that always sound powerful, balanced, dynamic, melodic and at the same time full of feeling. Let me start with Evil Unchained. After a few somber, worn chords, Mr. Andersson's drums blasted the song all the way. Melody is omnipresent here, but it is mainly the semi-dissonant riffs in the faster parts that willingly throw you into that occult atmosphere around which Myronath builds up his songs every time. The interplay is sublime and watertight, as if everything was recorded live. And while many of the excellent, catchy riffs and lead melodies are repeated, the flow and dynamics are of such a nature that no boredom occurs. The drums are deliberately kept tight and dry. They regularly excel in speed and thus provide an extra dimension on top of the mean riffs and the beastly gray of Hellcommander Vargblod. The latter also single-handedly provides some occult additions in the form of mesmerizing, deeply sonorous singing.
She Who Dwells In Flames is clearly a reference to the (daring) album cover and starts with a rotten pace. The lead melody that forms the common thread here is possibly even more compelling than that of Evil Unchained. The band continuously switches in rhythm, atmosphere and tempo, while the song does not lose its continuity. Devo Andersson has done an impressive job, because he has managed to give every part of the music the attention it deserves. The drums are slightly in the background, but still remain audible. The vocals and lead guitar are in the foreground, allowing the band to optimally play its main strengths: melody, vocal versatility and an emphasis on the lyrical theme.
"And the bass guitar?", you ask yourself. Well, he gets a nice leading role at the beginning of Radix Diaboli. This song also stands out for its playful, groovy middle piece, after which Hellcommander Vargblod brings out his "clean" voice to bring up the title of the song. It seems that the text as a whole consists of Latin texts, although this is subject to reservation due to the lack of lyrics. That Myronath is not averse to a bit of Latin, they had already proven on the song Hymn to Lucifer from their previous album. Anyway: if you have the lyrics at hand, this seems to me to be the sing-along of the album. The rhythm/melody combination here is very reminiscent of naglfar'scompatriots.
Every song has something extra to offer on a melodic level and so it is difficult to choose a highlight from it. The Hellstain Productions label chose Effigy or Malediction and Evigt Mörker as singles, but those are certainly not the best songs on the album. In fact, the level of all songs is equally high and also in terms of style everything is perfectly connected. Nevertheless, there are nice (unexpected) extras on every track. "Attention grabbers," as I called them above. Like the dangling solo in Till Aska,or the quiet acoustic intro and outro of The Sword of Satan,which also conjures up some delicious tremolo moments. In the end, Myronath usually falls back on blast beats and that typical Swedish meloblack (or just keeps the pace high all the time, like on Reborn In Chaos),but it never gets monotonous.
As mentioned, Evigt Mörker is certainly not better than the other songs, but it does carry that little bit more emotional depth. The tempo is slightly slower here, but the melodies are a bit more drawn out, to support the lyrics about the worship of the Dark. The general atmosphere is therefore slightly darker, which is further enhanced by the deep-throated monster grunts that Hellcommander Vargblod adds here. You feel the conviction, the devotion flowing out of his voice. Great song!

Djevelkraft consists of eleven full-fledged songs, of which only the closing track is instrumental. No hassle with interludes, but just dead honest, occult black. And that occult is always tangibly present. For example, if you want to enjoy something that is dirty, dark and irresistibly mean, I can recommend To Walk the Paths of the Dead. From the lingering opening chords to the heavy, infernal riffs, this is a feast for the satanic black metal lover. The only band I know that can make black metal sound as groovy is Satyricon,but with the best will in the world it doesn't sound half as dark as Myronath. Class.
The album closes with the sensitive and beautiful Beyond the veil of Death,which is only performed by guitars. And then you can only conclude that we are dealing here with a very strong album by a band that knows how to model its songs in a masterful way, with a great eye for harmony and a pronounced ability to produce delicious riffs and haunting melodies. The fact that all songs are very easy to hear is reason enough to recommend this album to all black metal lovers. Myronath confirms the class and good intentions of the previous album and even goes the extra mile. And yes, why shouldn't it end up somewhere in your top-20 annual list?... - Zwaremetalen.com
Hellstain Productions
Release-date: 4 June 2021
Swedish Black Metal for fans of Dark Funeral, Necrophobic, Marduk…
56 minutes of powerful black metal and dark melodic passages across 11 tracks with Fredrik Andersson (ex-Amon Amarth) on drums! 
"Ritualistic, Agressive and Dynamic"
- Metal Hammer PT
Here are some words from the band about "Djevelkraft" from an upcoming interview in Metalized Magazine Denmark: "We are all very satisfied with the final result. The sound is exactly as we imagined! Kudos to Devo Andersson (ex Marduk) at Endarker Studio for his work on this one! He is a very talented person and his experience in Black Metal really shows, and immediately understood what we needed. Musicwise, all songs offer different emotions and we hope that these emotions will also reach our listeners the way we intended!" - Hellcommander Vargblod
Check out these videos!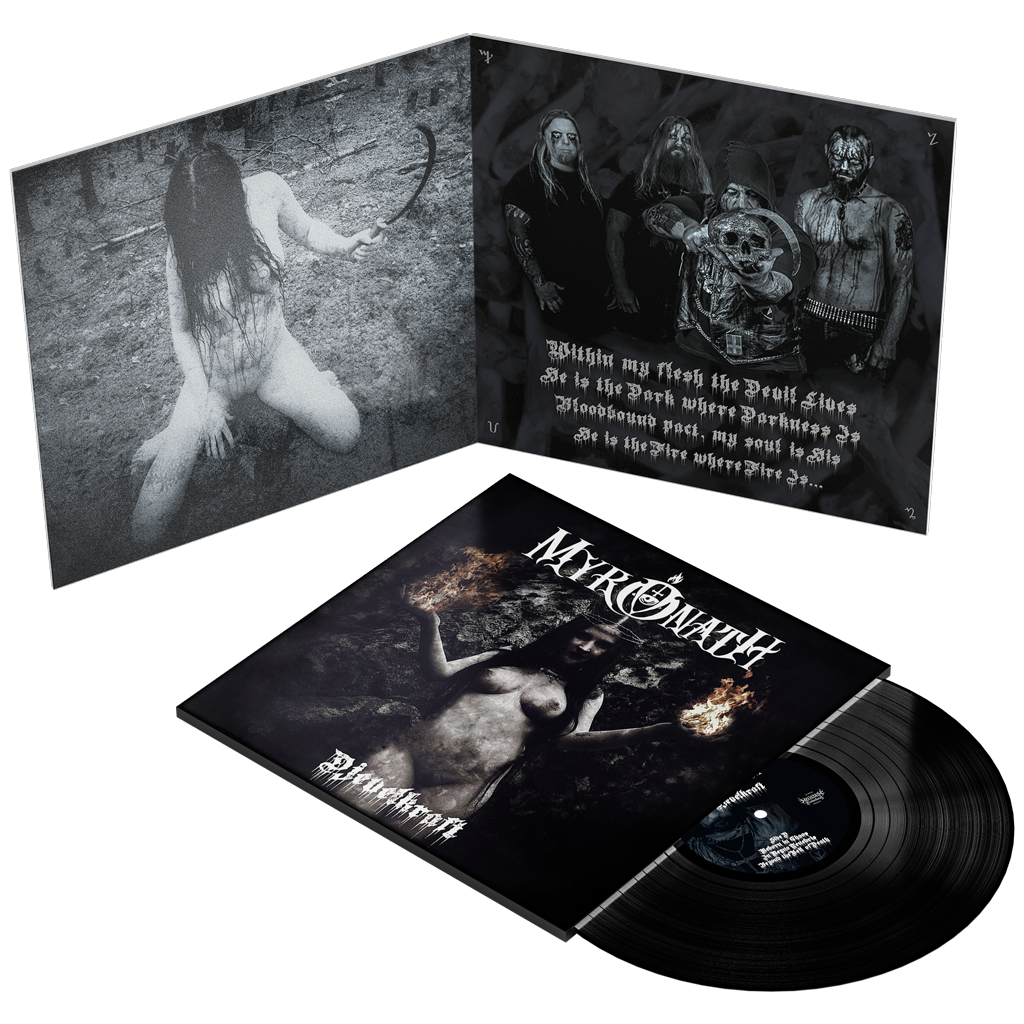 Tracklist:
1. Evil Unchained
2. She Who Dwells In Flames
3. Radix Diaboli
4. Effigy of Malediction 
5. Till Aska
6. The Sword of Satan
7. Evigt Mörker 
8. To Walk the Paths of the Dead
9. Reborn In Chaos
10. In Regno Tenebris
11. Beyond the veil of Death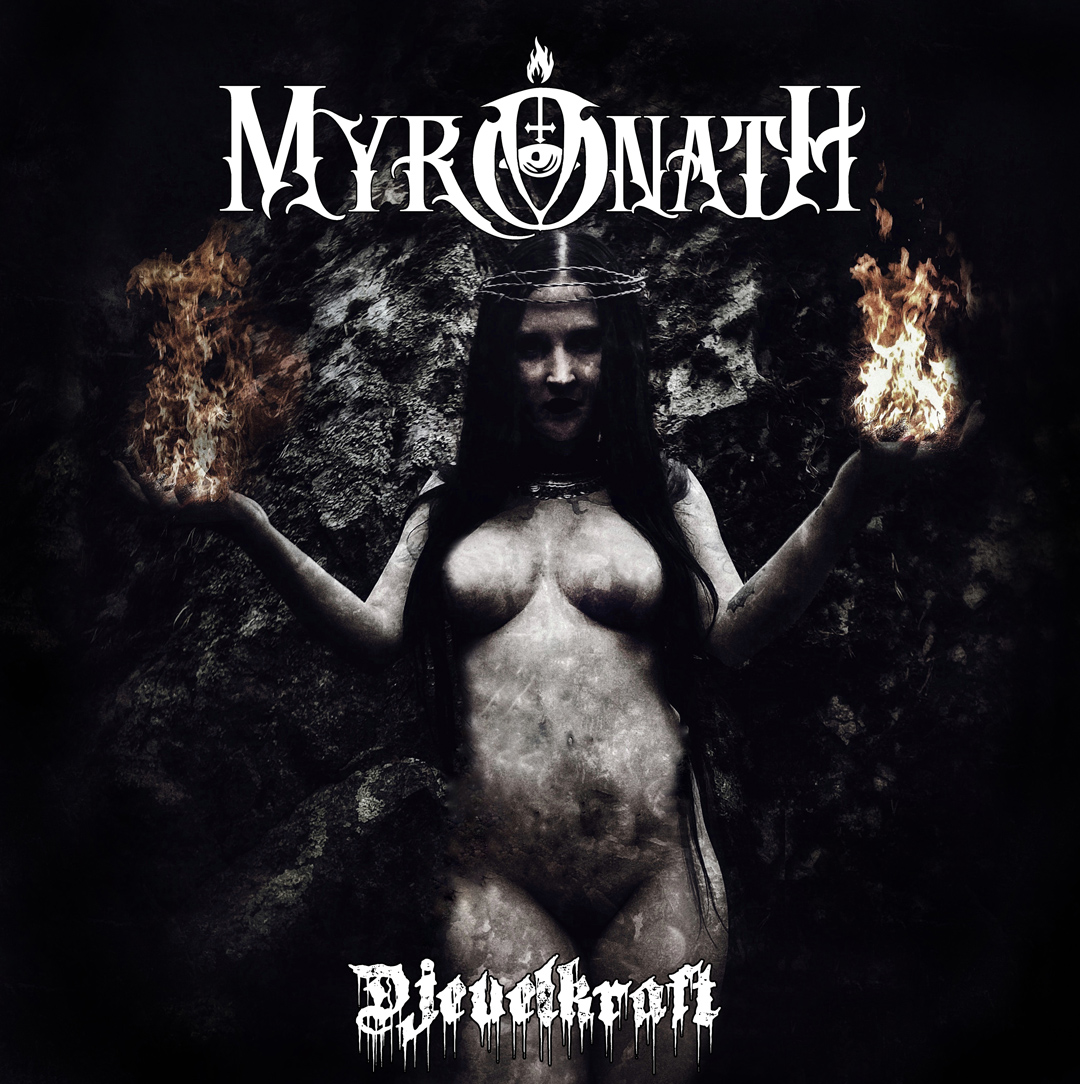 BIOGRAPHY
Myronath started out as a side project of Hellcommander Vargblod (H.V), sole member of Khaospath and Draugûl – together with Bjarkan who also plays in various other bands; Ragnarok, Throne of Heresy, Kala, Blood of Serpents amongst others.
The band took a quick turn to be a serious one and the two members started writing material directly for their first release. H.V (bass and vocals) and Bjarkan (guitars) were shortly after joined by none other than Lars Broddesson on session studio and live drums, who people certainly know from Marduk. Then Myrkheim (from Serpesta) joined as a live session guitarist for Myronath.
In late spring 2019 Myronath entered the studio and recorded their first full length "Into the Qliphoth". It consists of 8 tracks solely dedicated and in veneration to the members' creed and practices. The album was mixed by Lars Broddesson at Twisting Serpent Studios, and was later mastered by Devo Andersson (ex-Marduk) at Endarker Studio, Sweden.
Summer 2019 Myronath signed with Dutch record label Non Serviam Records for one album, and "Into the Qliphoth" was released early September 2019. This was during the band's very first live performance at the "Mörkaste Småland Festival" in Hultsfred, Sweden – alongside bands such as Gra and Svartidaudi.
December 2019 saw Myronath playing live again at the December Darkness festival, alongside Marduk, Avslut and others.
Due to personal reasons Lars Broddesson could unfortunately not continue as drummer of Myronath at this point, but without delay the band recruited none other than Fredrik Andersson (ex-Amon Amarth, Netherbird) to replace Lars behind the battery.
Myrkheim was by now also a full member of the band, and Myronath started working with new material for the band's second release. The album was recorded at Endarker Studio autumn 2020 under the hands of Devo Andersson (ex-Marduk).
Myronath was now looking for new partnership to release their second album and develop the band further. Early 2021 they inked a deal with Hellstain Productions, and together they soon after released "Effigy of Malediction" as the first single from the upcoming album, together with an official video for the song.
The second album is entitled "Djevelkraft" and is set for release 4th of June 2021 on CD and Gatefold double vinyl together with official merchandise. The second single "Evigt Mörker" is also out now, including a lyric video.
The journey into the Abyss continues…
LINE-UP:
Hellcommander Vargblod – Bass and Vocals
Bjarkan – Guitars
Myrkheim – Guitars
Fredrik Andersson – Drums
MYRONATH FACTS:
Country of orign: Sweden
Formed in year: 2019
Style/genre: black metal
Follow the band at these links:
https://www.facebook.com/myronath/
https://open.spotify.com/artist/1Oc25qGAiSUWAjXvk5oadx?si=qt-S5wMQRjCm_Z0FM8AqTg
Check them out on Spotify and add them to your playlists!
Follow Hellstain Productions : https://linktr.ee/hellstain