Vulture Lord - Desecration Rite - Makes Metal Injections Top 10 List Of Black Metal Releases for 2021!
Vulture Lord - Desecration Rite - Makes Metal Injections Top 10 List Of Black Metal Releases for 2021 ! Check it out here at this link: https://metalinjection.net/lists/best-of-2021/10-amazing-norwegian-black-metal-releases-of-2021-that-you-probably-have-not-heard
The occasion of the release of Vulture Lord's Desecration Rite was so momentous that a limited-edition stout was brewed in honor of this long-awaited album. Desecration Rite will satisfy your nostalgic cravings. Vulture Lord effortlessly fuses black metal with a healthy amount of thrash. As odd as this may sound, if you love Pantera, this is the black metal album for you. Vulture Lord's influences date mostly from 1984 to 1994. Although Vulture Lord was founded in 1995, Desecration Rite is only the "Deathfuck" band's second full-length album after Profane Prayer (2003) and the 4-song EP Blasphemy (2006). (No wonder why Desecration Rite figuratively screams: "I Am the Graves of the '90s.") Thus, this comeback album inspires curiosity and admiration. Two of Desecration Rite's 9 songs were written in 2003, five date back to 2005, and one more has its origin in 2010. Despite this, Desecration Rite feels surprisingly fresh. This heroic, time-capsule of a recording has more than enough fuel, fire, and momentum to maintain your interest until the end.
All members of Vulture Lord, except the group's vocalist, Sorath Northgrove, have played with the now defunct Urgehal. This year, Sorath and Vulture Lord's drummer, Uruz, who has played with the colorful and brilliant Mr. Niklas Kvarforth's Shining, also celebrated the release of Ulvehyrdre's Englemakersken, which was produced by Vulture Lord's guitarist, Malphas, who is a current member of Carpathian Forest. In 2021, Malphas also celebrated the release of Endezzma's The Archer, Fjord and the Thunder. Diabolus, who left Vulture Lord, has maintained his relationship with the band. Thus, he contributes guitar and rhythm guitar tracks to Desecration Rite's final track, "Perverting the Bible," which he wrote. Diabolus and guitarist Trondr Nefas, who passed away at 34 in 2012 had collaborated on writing and making demos for what eventually became Desecration Rite. Nefas composed all of the Desecration Rite's songs, except "Perverting the Bible," of course. It seems that you can thank Northgrove for the album's lyrics. On "Bloodbound Militia," Northgrove sings: "Together we'll reign in hell. Eswiel (former project). Enzifer. Endekrist (ex-member). Malphas. Diabolus. Nephas. Uruz. Sorath. [Morten] Shax."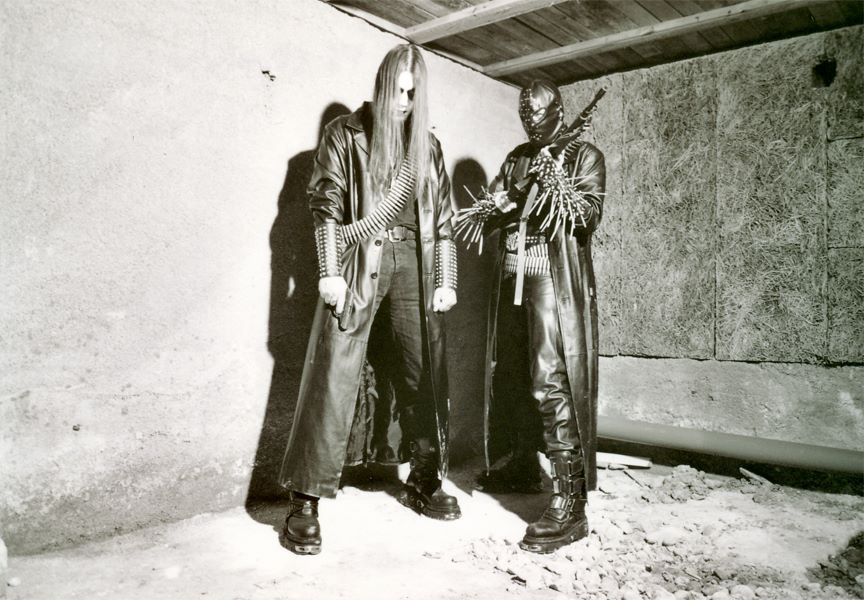 Nefas and Northgrove in 2001.
You have to love the guitars and drums on Desecration Rite. The album features just enough grandstanding to lead you on and make you crave more. More solos, please! Listening to Desecration Rite, you wonder how many Red Bulls it takes for Vulture Lord to sustain the slog of such relentless labor with such zeal. We must say that Desecration Rite boasts an especially awesome title track. "Beneficial Martyrdom" is pleasantly cheeky. Yet, every song on the album is a winner. Vulture Lord's delightfully irreverent attitude will spark so much joy that you could light your cigarette from it. Vulture Lord has never played live, but they are gearing up for upcoming shows in 2022. Acquaint yourself with songs like "Stillborn Messiah" now so that you will be prepared to hear them in concert. Even if you are a person of faith, you will not be able to resist chanting amusingly brazen lyrics like "2001 — The second coming of the bastard son."
In January, Vulture Lord will release a split EP with the Polish group Black Altar called Deathiah Manifesto. The guests include members of Mork and the legendary Vader — an important inspiration to Fenriz and many others. - Metal Injection
Eighteen years after the release of their first full length album,  Profane Prayer , the legendary  Vulture Lord  have returned with its caustic, violent successor -  Desecration Rite ! The album will be released in  June  by  Odium Records and pre-orders started on April 22nd , along with the unveiling of the first single from the album,  'Bloodbound Militia' .
FFO: Urgehal, Beastcraft , Carpathian Forest, Marduk
You can see the video for the 'Bloodbound Militia' single at the Odium Records YouTube channel by following this link:
The album, Desecration Rite, featuring stunning cover art from  Jorge Vimendy , is available to pre-order on CD, Vinyl and a deluxe wooden box edition, limited to just 66 copies, along with accompanying t-shirts and longsleeves - all from Odium Records at:
www.odiumrex.com/webshop
www.odiumrecords.bandcamp.com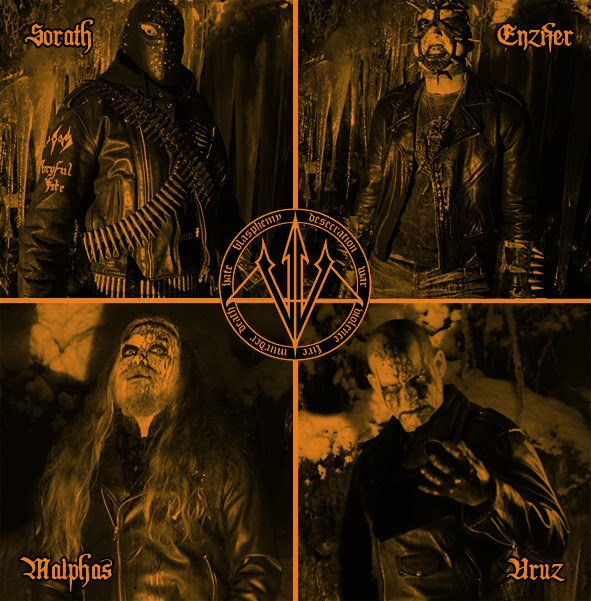 Vulture Lord feature members of   Urgehal ,   Carpathian Forest ,   Beastcraft   and   Endezzma   and Desecration Rite features material written by the sadly departed and much-missed   Nefas   of Urgehal.

Full track listing for Desecration Rite:

1   Glorification of the Dethronation
2. Bloodbound Militia
3. Stillborn Messiah
4. The Vulture Lord
5. Diabolical Intervention
6. Prepare the Coffin
7. Beneficial Martyrdom
8. Burning the Kingdom of God
9. Perverting the Bible
The Vulture Lord has returned and darkness, death and desecration await!
Follow them at these links:
https://www.facebook.com/deathcibel/
https://www.facebook.com/OdiumRex/