Bulletproöf - Dynamite - Featured At Mtview Zine ! Check it out here at this link: https://music-mtview.blogspot.com/2021/10/bulletproof-dynamite-heavy-metal.html
Release Date: November 1st, 2021
FFO: Running Wild, Judas Priest, Accept
Stream it here: https://distrokid.com/hyperfollow/bulletprof/dynamite
"All around, choruses rock harder than Freddie Mercury in is heyday; once the hard-driving and ever-fuelled "Dynamite" proper blows up in our adamantly grimacing faces, all bets and codpieces are off. The actual musicianship is nothing out of this World - except maybe for these wicked, fun-loving solos which take off at every knuckle-dragging turn, alongside killer main riff to " Flags of Freedom ". Beginning with a stomping, AOR reminiscent drum beat and throbbing, pulsing bass - the kind Rudy Sarzo and Bob Daisley would approve of - this winner makes kick-ass use of its utterly slack n' sleazy momentum, kind of similar to Judas Priest 's " Rock You All Around The World ", but with way more character."
"Leads occasionally feature Tony Iommi' s singularly sharpened, diabolical flair, and I'd be lying by omission not to exclaim (maybe a touch too eagerly) how much this release also brings me back to Slade 's cheesy, albeit wondrous, Keep Your Hands Off My Power Supply , from 1984. " Fist Pounding " is another haymaker which suits both illegal drag-racing/911 pursuits and stalled big city traffic jams, alike. Try to dismiss its allegorically fun refrain, and let us know how that works out. Closer " Feel The Heat " starts off with a down-home, GNR ' (circa "Lies") style clean blues shuffle-slam before turning it up, combining sardonic chutzpah with mesmeric Rob Halford ian poise..." -  -  Metal Archives
"We want to thank all those who allowed us to make this dream become true. Family, friends, colleagues and the entire Heavy Metal brotherhood. Long live Rock, long live Heavy Metal, long live Bulletproöf!"
Check out the video!
Recorded at Barbaro Recording Studios and Martillo Estudio.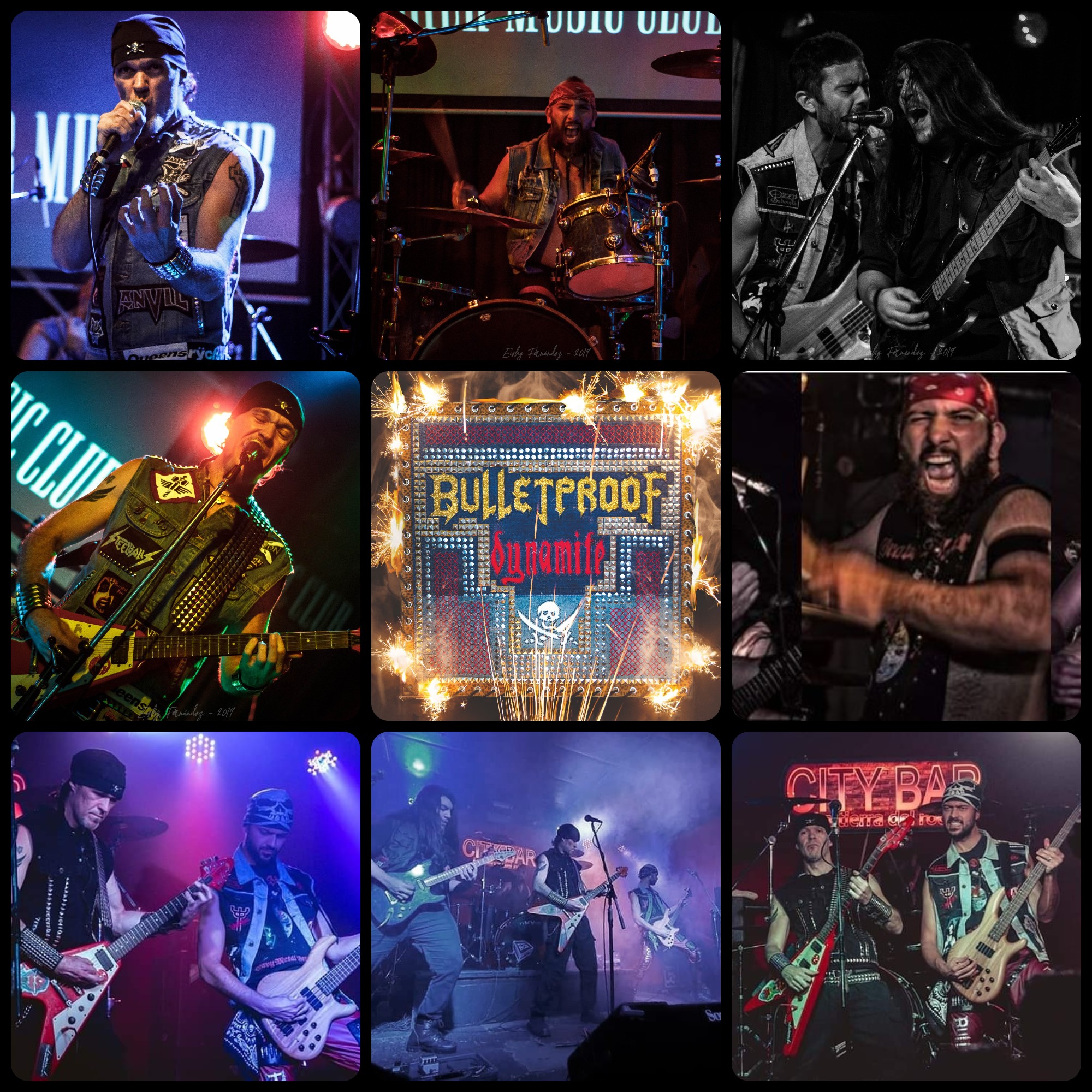 Lineup:
Poli Serafini: Lead vocal / Guitar
Matías Pena: Drums
Martín De Bonis: Bass guitar / Vocals
Ariel García: Lead Guitar / Vocals
Follow the band at these links:
https://www.facebook.com/bulletproofok/
https://www.facebook.com/ossuaryrecords
https://ossuaryrecords.bandcamp.com/
https://ossuaryrecords.com/en/
https://www.youtube.com/channel/UChzzVdKKRZE79cO9E8syH6w