Mandragora Scream - Nothing But The Best - Reviewed By Hellfire ! Check it out here at this link: https://www.hellfire-magazin.de/mandragora-scream-nothing-but-the-best/
Usually MANDRAGORA SCREAM are put into the Gothic or Dark Metal corner, but the Italians around singer Morgan Lacroix and guitarist Terry Horn were never really metal. More Dark / Gothic Rock with Industrial Edge and Symphonic Touch. Similar to their compatriots 'Lacuna Coil', who also became known in the mid-1990s. Only that MANDRAGORA SCREAM never really came out of the underground.
Since 1997, six different works have been published, but they have one thing in common. They have always maintained their penchant for the dark, morbid, the last album "The deathly hollows" was released last year in digital form and has already gone down a bit. With now a new label, NOTHING BUT THE BEST was released these days, the first Best Of album of the band from Tuscany. And that offers a complete overview of the band's entire creative period in 73 minutes.
Seventeen songs between Industrial Goth, Dark Rock, Gothic Metal and Dark Pop. A colorful mix of dark music, sometimes more times less club suitable. All the songs don't really knock you off your stool. It's a pity when, like me, you got to know the band with the songs Cryin' clouds, Dark lantern and The circus (and they are really strong), but then you are also confronted with supposedly weak numbers like Blight thrills or Baby blue.
For fans of the band, such a Best Of compilation without bonus, extras or even without new songs is not really interesting. Certainly, in addition to the numbers praised above, there are also a few other good songs, but also enough average. So without incentive in the form of bonus or new in the end but not really recommended. If you don't know the band yet, you can definitely listen to it.
from me there are 6.5 out of 10 Hellfire points - Hellfire
24 SEPTEMBER: MANDRAGORA SCREAM "NOTHING BUT THE BEST" CD Release It's with immense pleasure that Music for the Masses proudly announces the agreement that will lead to the release of the Greatest Hits of the legendary Italian Goth/Industrial Metallers MANDRAGORA SCREAM on the occasion of the twentieth discographic anniversary of Morgan Lacroix and Terry Horn's band, September 24th will see the release of "Nothing but the best", with the addition of previously unreleased tracks like "Jeanne D'Arc" and "Spiritual leadin'" and of three new songs which will be part of the new full length, scheduled for the end of 2022.
The fist 100 copies of the album will come along with a celebratory poster (size 50x70). The record will be distributed by Egea Music (Italy), Code 7 UK (Europe), Fans and bands Mexico (Mexico), Sleaszy Rider Records (USA Romania and Greece) and Wormholedeath Japan.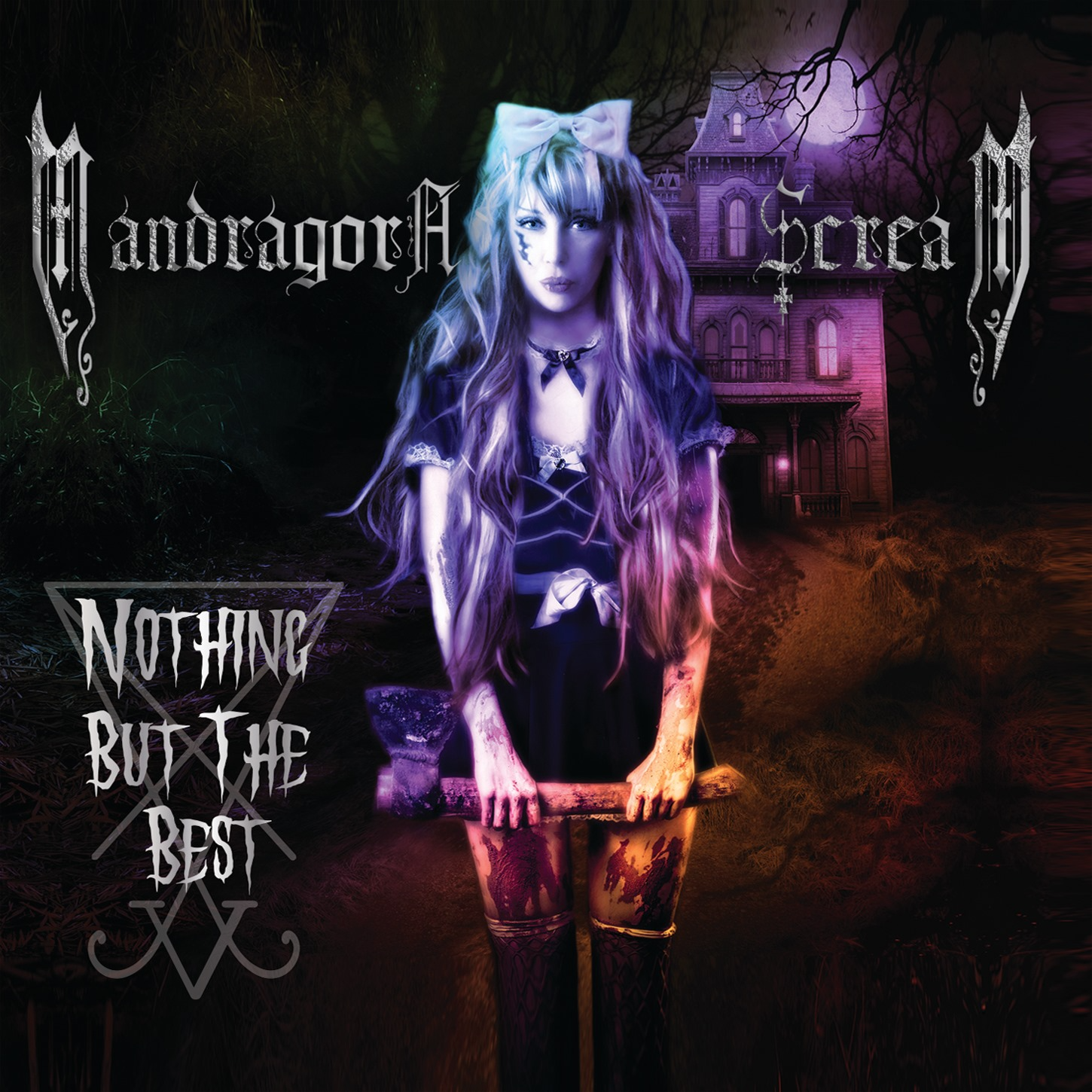 BIOGRAPHY
The MANDRAGORA SCREAM project - dark-gothic-rock band - takes shape in 1997 from an idea of the band's lead singer MORGAN LACROIX. In 1999 Morgan cuts a demo CD with four tracks, titled "PromoTrack99" at the NEW SIN studios in Italy.
 
In 2000, Morgan is introduced to singer, guitarist and composer Terry Horn. The result of this magical artistic union is the debut album "FAIRY TALES FROM HELL'S CAVES", Published in 2001 by German independent label NUCLEAR BLAST/CAPIRANHA RECORDS .
 
Fairy Tales is definitely a concept album: a trip throughout the Dantean Hell, tormented by passion, anguish and insanity, where the character of Virgil is surprisingly replaced by an unusual bewitching vampire fairy. In 2002 MANDRAGORA SCREAM release their second album "A Whisper of Dew", by NUCLEAR BLAST . Once again a concept album, centered on the enthralling vampire story purposely written for the band by Julio Angel Olivares Merino, horror-gothic literature writer and " English Philosophy " Teacher at the Spanish "UNIVERSIDAD DE JAEN".
Drawing inspiration from this tale, Morgan has composed the entire album lyrics. In January 2010 the band is On Tour for 30 Dates with Christian Death and The 69 Eyes . In 2010 Fantasy Horror Awards In April –May  2011 the band is On Tour with Cradle of Filth . The two projects end up selling over 24.000 records on the whole and are received with stunning appraisal words from the critics, winning the consent of the greatest rock magazines worldwide.
METAL HAMMER April 2003: "A charming vampire concept story, composed by Spanish writer Julio Angel Olivares Merino represents the basis for the extraordinary  'A Whisper of Dew',  second album by Mandragora Scream, one of the most appealing gothic bands who grew up in our peninsula…"
METAL SHOCK March 2003: "Fortified by the success of their debut album 'Fairy Tales From Hell's Caves', both in terms of critics and audience, Mandragora Scream are finally back after two years of silence with their new 'A Whisper of Dew'…..".
ROCK SOUND March 2003 : "Plunged deeply in their vampire world since 'Fairy Tales Form Hell's Caves', Mandragora Scream are back on the scene to have themselves newly acclaimed. Their latest 'Whisper of Dew' is proposing. In May 2003 Mandragora Scream are on the road touring with Mortiis on the Smell Of Rain Europe Tour 2003 . In 2005 Mandragora Scream  Release the Album "Madhouse" for Lunatic Asylum Records in Europe. In the end of 2008 ,  2 new members are on Mandragora Scream Line Up , Furyo on Drums and Max River on Bass. In 2009 the band sign a New Deal with new World Management Gatti Promotion Heavy Division, the new management is based in Italy, in November 2009 Mandragora Scream Release the new Album "Volturna" a great explosion Industrial/Gothic Album. The new Management find two Important Deals, Volturna is Out in Italy with Lunatic Asylum/Self , and in the World with the important Label Massacre Records, finally In January 2010 the band is On Tour for 30 Dates with Christian Death and The 69 Eyes . In 2010 Fantasy Horror Awards In April –May  2011 the band is On Tour with Cradle of Filth.  A fifth album, Luciferland, followed in 2012.
Follow the band at these links:
https://www.mandragorascream.com/
https://www.youtube.com/c/MandragorAScreaMofficial
https://www.facebook.com/MandragorAScreaMOfficial
https://www.instagram.com/mandragorascream_officialpage/
https://twitter.com/MandragorAScreM
WWW.MUSICFORTHEMASSESRECORDS.COM
WWW.MUSICFORTHEMASSESDISTRO.COM