Summoner's Circle - Chaos Vector - Reviewed By BathoryZine ! Check it out here at this link: https://www.bathoryzine.com/2021/10/summoners-circle-chaos-vector-review-by.html
Today's review is of American Progressive Blackened Death Metal band Summoner's Circle's new album.
Adding a sort of theatrical feeling to a modern kind of Blackened Death Metal, these lovecraftian storytellers include a slightly dark and surely catchy essence in their music. Even though sometimes the music sounds absurdly incredible in the likes of Dimmu Borgir, it is mostly at the exact spot of exultance that doesn't sound artificial.
While at times some tracks may sound too forcibly long for some listeners, their Progressive tints and technical melodies aid in giving the whole some depth. This is the kind of full-length that shall surely sound better live than on album, though even checking it out at home you may feel trapped by the lugubrious tale sung throughout the conceptual album and the heavy riffs on songs such as the title track or "Vessel".
I recommend this album to fans of Blackened Death Metal, Melodic Black Metal and Progressive Blackened Death Metal. My rating is of 8,5/10.
VARG THE MIGHTY - BathoryZine
L-R: Invictus (Drums), Y'takt (Bass), Hex (Keys), Blind (Lead Vocals), Gog (Lead Guitar), Azra (Guitar)
Photo Credit: Rachel Craig Media/Joshua Winstead Photography
Release Date: Aug 27, 2021
FFO: Dimmu Borgir, Behemoth, Immortal, Opeth, Tribulation
Summoner's Circle 's latest album " Chaos Vector " was conceived over two years ago, but the global turmoil slowed down its creation. Now that it is ready for release, the band couldn't be happier with how it turned out. They are eager to share with fans their love of storytelling and cosmic horror in a concept album that vocalist Blind has been percolating since their formation in 2015. They say that they have scratched every creative itch with this record, and hope fans get the same satisfaction from it. 
" Chaos Vector " was recorded by Yanic Bercier ( Gone in April, Quo Vadis ) at Wavetransform Studios in Knoxville , USA . The album will include a Lovecraft -style cosmic horror short story written by the band where each chapter correlates to a song. This story marks a new chapter in The Lore of The Six and sets a foundation for them conceptually moving forward. 
Check out the new video for ' Apostasy '!
Check out the music video for ' Chaos Vector ' featuring Laura BD Beach from Feminazgûl !
Watch guitarist Azra play through "Chaos Vector" as featured at Gear Gods!
Check out the ' Drum Playthrough ' for ' Of Black Horizons '
Album pre-order / save at the following links:
Album: https://backl.ink/145841454
Single "Chaos Vector": https://backl.ink/146809398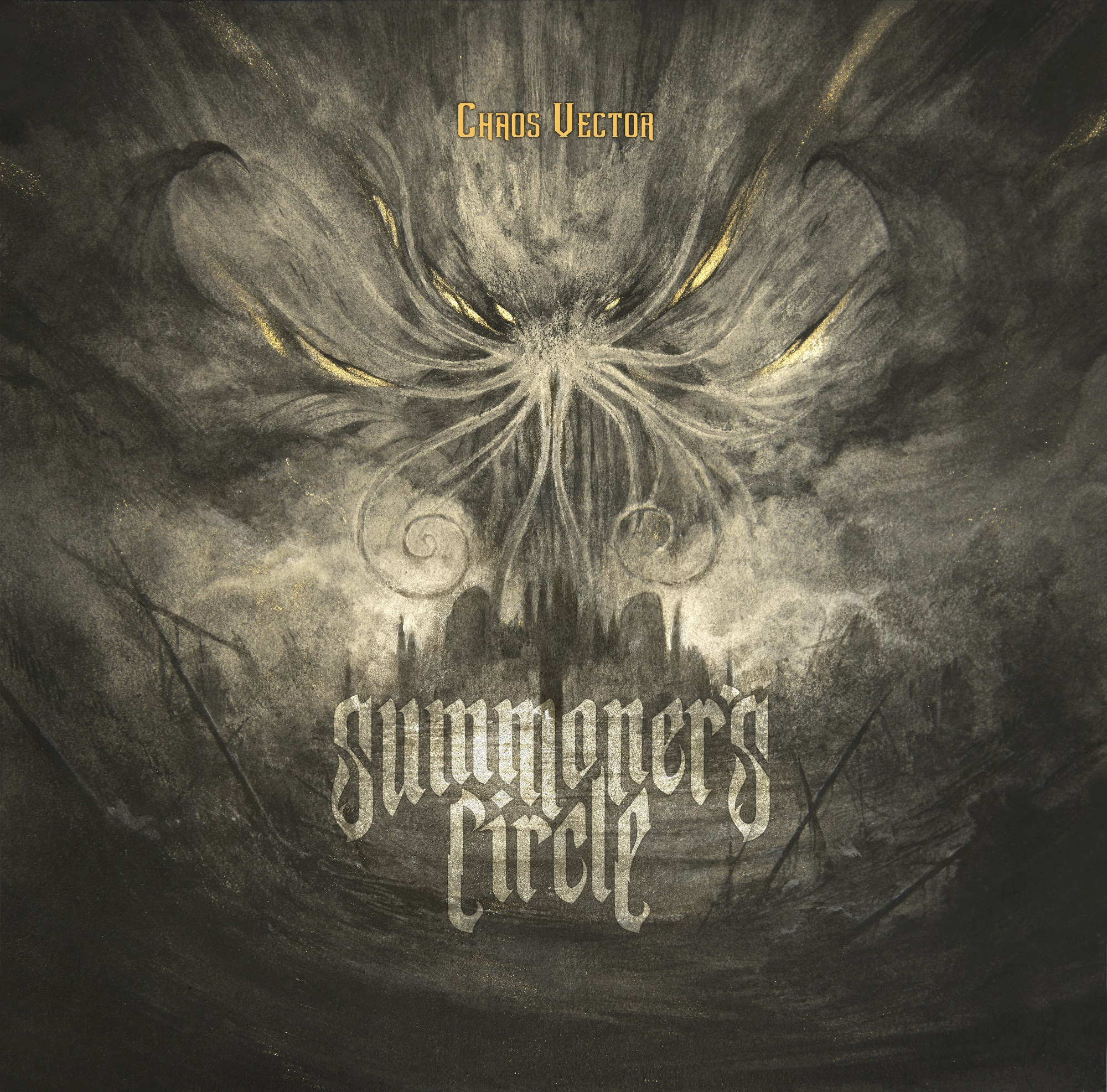 Track Listing:
1. The Message (1:02)
2. Of Black Horizons (4:00)
3. Vessel (7:34)
4. The Hierophants (5:17)
5. Apostasy (7:45)
6. Chaos Vector (4:05)
7. Terminus Egress (9:12)
8. Chrysalis (1:35)
9. The Beyond (7:43)
Album Length: 48:17
Check them out on Spotify and add them to your playlists!
About:
"Let the Summoning Begin..."
Summoner's Circle is a six-piece theatrical metal band that blends elements of doom, death, black and progressive metal into what they refer to as simply Epic Metal.
For the band, every song in an incantation, every live performance is a Summoning, and everything they do is tied intrinsically to the mythology, or lore, they have created. The lore tells the story of the band's origins, battles of divine conquest and showcases their creativity and vision, which sets the stage for a very entertaining live performance where bigger is better, and Epic is always the standard.
The Summoners released their first EP, entitled First Summoning, in late 2015. This was followed in 2016 by the single, Become None, and its B-side, Minotaur, both of which are included on their debut full-length release entitled Tome, which was released in June of 2018.
In May of 2019, Tome was repackaged and released as Become None via the Pavement Entertainment label.
In the spring of 2019, Summoner's Circle joined Children of Bodom , Swallow the Sun and Wolfheart as part of Bodom's Hexed North American Tour , gaining many new fans and excellent reviews.
In June of 2019, the Six signed a worldwide management deal with Extreme Management Group, Inc . who also manages Suffocation , Cattle Decapitation , Misery Index and many others.
Summoner's Circle's second full-length album Chaos Vector released in 2021 is accompanied by a Lovecraft-style cosmic horror short story written by the band. Each song is a chapter in the story. 
"Summoners' Circle have the whole package. Their songs are original and memorable, beautifully written, and hook the listener after the first listening. They have a great stage presence, and the theatricality and imagery of their live performances keep the fans talking about their experience way beyond the day of the show. I am honored to work on the production of their upcoming album." - Yanic Bercier, Ph.D | Endorser of Yamaha Drums, Sabian, Vic Firth, Evans, AKG, RME, True-Systems, Engl, Ddrum
"Hooked the first time I saw this band play! No two shows are the same and I'm always left wanting more.  It's what music and show should be!" - Lee Abney | Pentagram/Place of Skulls
"These guys are serious about what they do and the costumes and imagery match the grandiose sound they produce." No Clean Singing
"SUMMONER'S CIRCLE's full-length debut gets near the 75-minute mark, and yet it succeeds in balancing complexity, heaviness, catchiness, mystery and melodrama to make sure its duration does not become overwhelming. an almost perfect record ...especially its flawless production and its tight, inventive songwriting." - Metal Temple
"Summoner's Circle is the kind of band you go your whole life hoping to hear and when you finally do it's even better than you expected. They are the culmination of a lifetime spent listening to music and finally finding something that fits where nothing else has. Plus, brutality aside, they're just a fantastic group of otherworldly beings." - Josh Martin 94.3 WNFZ
Follow the band at these links:
https://www.summonerscircle.com/
https://www.facebook.com/summonerscircle
https://twitter.com/summoners13
https://www.instagram.com/summonerscircle/
https://linktr.ee/SummonersCircle
https://music.apple.com/us/artist/summoners-circle/1074087942
https://open.spotify.com/artist/2BpJrW0RgXSQgDwv9VbU4J?si=c_PwGE8CQzKd5TPVIEA-Ig&dl_branch=1