Release Date: 1st October 2021
FFO: Meshuggah, Fear Factory, Gojira, Lamb of God, Slipknot, Strapping Young Lad, Venom
CD Worldwide Distributor: TOTAL METAL RECORDS 
Digital Distributor: IMusician  
HUMANUFACTURE album is the 4th studio album by Polish industrial groove metal band TORTURE OF HYPOCRISY founded in 2007. The release is an essence of the band's ultra-modern style and sound compiled with mastery of tracks composition. Album is representing the 7-string guitars mastership with groove drumming, concrete bass, challenging growls and screams, and strong vibe of electronic ambience inspired by video games such as Deus Ex series or Cyberpunk. The conceptual layer was to show a metaphorical picture of recreating and reprogramming a human entity in modern society - human which turned to be a battery for GDP fed by fake news and social programs like Chinese "Social credit system". The record features also the unique, almost 10min long industrial masterpiece titled "Body Parts Reproduction Facility". HUMANUFACTURE is the new quality in the meaning of industrial metal, redesigned to be based on atmosphere, heaviness, severity and interesting composition, instead of techno-like music played by thousands of bands in this genre. As always, the band delivers a full top-tracking album with no-throwbacks policy. The official sponsor of this record is Mayor of Braniewo.
Check them out on Spotify and add them to your playlists!
Torture of Hypocrisy stands out by representing holistic and conceptual approach to all aspects of music creation. Each album concept is fluidly matched with lyrics, music, including choose of instruments, artworks, video clips and what is outstanding - the sound color and atmosphere of final master tracks. This aspect is strongly planned and designed to fit all other aspects of the music. The conceptual approach to the issued music forced the band to combine elements of many genres such as groove / death / progressive metal / djent and even ethnic or electronic music. Inherent elements of ToH's music are also ambience appearing in the tracks. ToH style is characterized by a huge dose of groove, the severity of 7-string guitar riffs, intricate composition and English lyrics with diverse topics. As a result ToH developed its own recognizable sound and style stamp, which is a rare thing nowadays where most of progressive or djent bands sounds alike. "
The band TOH deliver some excruciatingly heavy, ultra-modern metal music that builds to a chilling, haunting climax" - Daniel R Warnes - POWEPLAY MAGAZINE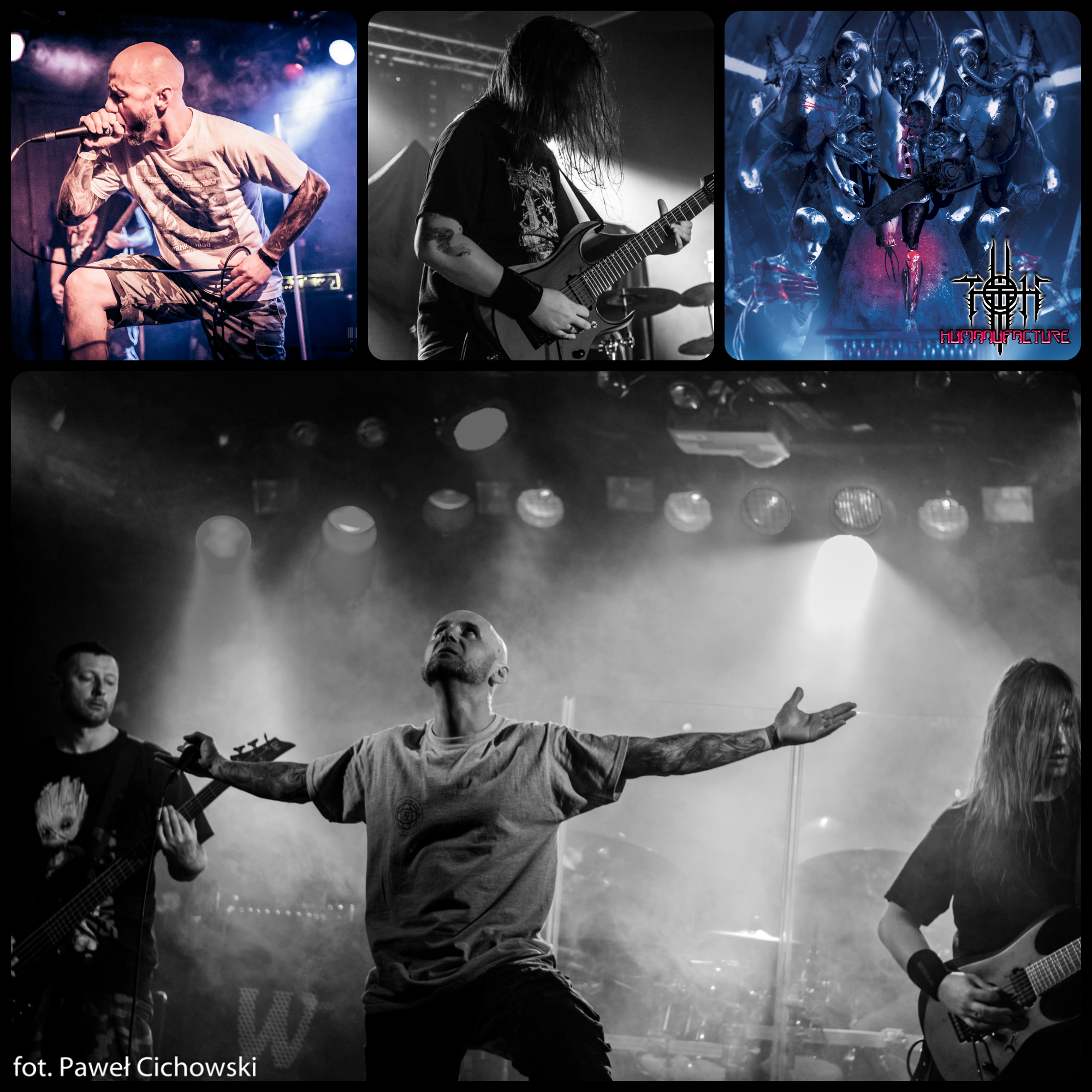 Buy the music at these links:
'HUMANUFACTURE' SPOTIFY PRE-SAVE:
https://save-it.cc/imusician/humanufacture
OFFICIAL MERCH & MUSIC STORE:
tortureofhypocrisy.com\store
'HUMANUFACTURE' CD PRE-ORDERS:
All locations:
https://tortureofhypocrisy.com/buy-music
UK:
https://www.plastichead.com/item.aspx?catno=TMD08CD
JAPAN:
https://www.wowhd.jp/torture-of-hypocrisy-humanufacture/7427257457488
USA:
https://www.walmart.com/ip/Torture-of-Hypocrisy-Humanufacture-CD/845300417
DENMARK:
https://imusic.dk/music/7427257457488/torture-of-hypocrisy-2021-humanufacture-cd
AUSTRALIA:
https://www.wowhd.com.au/torture-of-hypocrisy-humanufacture/7427257457488
HUNGARY:
https://albamusic.hu/termek/torture-of-hypocrisy-humanufacture-cd-2021/
Follow the band at these links:
HOME PAGE: 
https://www.tortureofhypocrisy.com 
OTHER PAGES: 
https://www.facebook.com/tortureofhypocrisy 
https://www.instagram.com/tortureofhypocrisyofficial 
http://www.youtube.com/user/TortureofhypocrisY 
https://tortureofhypocrisy.bandcamp.com/ 
https://open.spotify.com/artist/66NYhqTs1OEpI0H4XGBtP3 
https://tidal.com/browse/artist/19376978 
https://music.amazon.com/artists/B087WYC5GT 
https://www.deezer.com/pl/artist/93164122 
https://music.apple.com/us/artist/torture-of-hypocrisy/1510916752 
https://www.pandora.com/artist/torture-of-hypocrisy/ARnw2f6rbXgpvrc 
https://soundcloud.com/tortureofhypocrisy