DIVINE ANGER - Ghost Dust - Reviewed By ODYMETAL ! Check it out here at this link: https://odymetal.blogspot.com/2021/08/divine-anger-guru-of-hate.html
DIVINE ANGER is an international band founded in 2015 by Barry Ross (bass) and Luke Kräner (guitar), coming to fruition in 2018 and their first EP entitled "Guru Of Hate" is released in a Metal Power register.
The massive moderate tempo "Guru Of Hate" opens the ball in an atmosphere, a heaviness and jerky guitar riffs very inspired FEAR FACTORY even vocally where we will discern some notes of heavier guitars.
We take rhythm with "Behind The Wall" on which we will be treated to a rough thrash song but also a clear song with some tones reminiscent of Kai Hansen. These songs will be alternating and duet at the level of the choruses, which will combine power and melodies on a music where we will feel an influence to the ICED EARTH and IRON MAIDEN. The title ends with a sharp solo.
"Always Now" presents a soft intro while growing in power by having an alternative metal inspiration followed by a rough heavy metal that will take speed. The singer demonstrates a variety of possibilities, powerful and exploring high-pitched tones without difficulty. The solo is well worked, incisive, metal with a drum that hits hard.
A thrashizing side will settle on "D-Day", with the right intro, which will alternate the tonic and moderate tempos interspersed with a large break posed a little long that breaks a little the dynamics of the title, the whole with a song very close to the characteristics of "Behind the Wall". The sung parts are intense.
Rather moderate and classic in the genre with a soft and melodious intro, with a music box feel, "When Angels Sleep" with acoustic guitar, will finish more rhythmic with beautiful vocal parts.
An EP of Metal Power not unpleasant but which, with its variety of directions, will arouse two types of reaction. Either we think that the group has a lot of ideas and that this gives a particular aspect to the whole, or we think that the group is looking for itself, starting in different directions. You only have one thing to do, listen to these five tracks and make your own opinion. The further evolution of the group will undoubtedly provide us with answers.
MONKEYMETAL aka Troll / ODYMETAL / the 05.08.2021. - ODYMETAL
Release Date: August 6, 2021
FFO: Metallica, Helloween, Iced Earth
Pre-Save link: https://show.co/VkzyvKJ
Believe it or not, Divine Anger is a metal band from another dimension. How and why this shift happened is still a riddle to all! One moment, they were playing the biggest gig of their life in Wacken – on their side. Next, they woke up here, in a reality that is home to you but alien to them. Now, the six musicians are on a journey to return home, and their first wish is to play their way into the ears and hearts of metalheads, with their expressive power metal – a style that ranges from melodic to aggressive but is always catchy as hell! Everyone has heroes, and Divine Anger's strongest influences are metal bands like Iced Earth, Helloween, Angel Dust, and Nocturnal Rites. At the same time, all band members enjoy the impact of more aggressive metal genres. So, you will mainly hear clean vocals in their songs, but you will also often hear screams, growls, or blends from these different vocal styles, inspired by subgenres like melodic death metal or alternative metal rather than specific bands.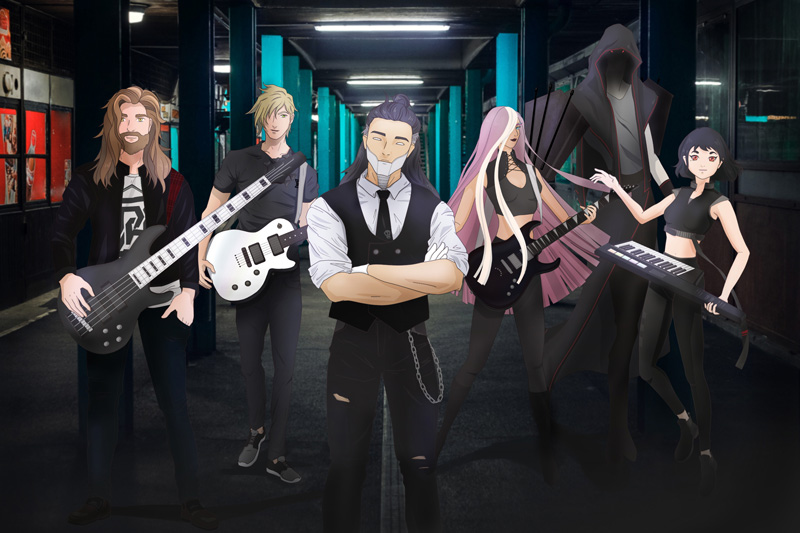 Divine Anger was founded in 2015 by Barry Ross (bass) and Luke Krämer (guitars). The two school friends pushed their project passionately and formed a professional metal band in 2018. With Misaki Hayashi (synthesizers), J.J. (guitars), Damon (drums), and ART3M (vocals), Barry and Luke found irreplaceable comrades-in-arms, and today, they together form the permanent line-up of Divine Anger. The band members come from different countries and are thus an international group. As in their founding year, their life and creative activity are centered in Hamburg (Germany). Although currently completely unknown in the metal scene, Divine Anger has already built up a reputation as a serious newcomer band in their dimension. Indeed, they were just one step away from signing their first record deal, which was to happen right after their gig in Wacken. But then, things changed. On December 1, 2020 Divine Anger released their first single Behind the Wall in our dimension. A second single (Always Now) followed on February 20, 2021, and the third one (Guru of Hate) on May 7, 2021. On August 6, 2021 the band's debut EP will be unleashed on our ears. Find out more about this unusual band and it's out-of-this-world band members here: divine-anger.com.
---
Check them out on Spotify and add them to your playlists!

Divine Anger is very happy about the following media coverage so far:
• Inclusion in the RADIO BOB! Newcomer Stream
• MyTouché Blog: Introducing: Divine Anger
• The Other Side Reviews: A Chat with Divine Anger
• Demon Reports: Divine Anger premieres the official music video for the "Behind The Wall" ...
Follow the band at these links:
https://divine-anger.com/
https://open.spotify.com/artist/3ryv0gcGdjZT5tfgUj9kul
https://www.instagram.com/divineanger_official/
https://www.youtube.com/channel/UC5MPc53TYJlrLyN1gEy8gCA
https://www.facebook.com/DivineAngerOfficial/