LUNARSEA To Play Camunia Sonora Fest On July 25th!
Italian melodic death metallers LUNARSEA have a pleasure to announce that they will play at the 3-days Camunia Sonora Fest in Brescia - Italy, on Sunday, July 25th! 
The band stated:
"FINALLY BACK ON STAGE! We will share the stage with legends as Sodom and SAMAEL at Camunia Sonora on Sunday 25th July."
Tickets avalaible only at www.liveticket.it/camuniasonora
Facebook event page here: https://www.facebook.com/events/2812177992435687.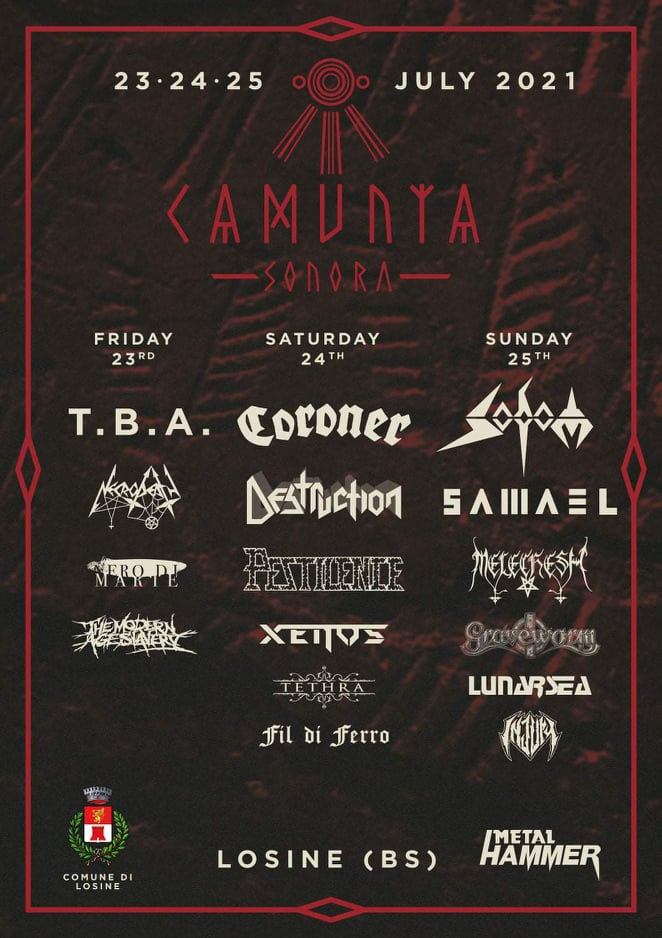 LUNARSEA:
Alessandro Iacobellis - Vocals
Fabiano Romagnoli - Guitars
Leonardo Noschese - Guitars
Erica Berton - Bass
Andrea Miazzetto - Drums
-----------------
LUNARSEA's latest album "Earthling/Terrestre", released in January 2020, is available worldwide. Orders directly from the band store at: https://lunarsea.bandcamp.com and https://lunarsea.bigcartel.com.
Earthling/Terrestre full album streaming:
Watch the videos:
'Humanoid, Mannequinn, Androgyne' lyric video -
'Polar Covalent Bond' drum playthrough -
'Polar Covalent Bond' lyric video -
'Polar Covalent Bond' guitar walkthrough -
'Humanoid, Mannequinn, Androgyne' guitar walkthrough -
'In Expectance' lyric video -
'The Fourth Magnetar' lyric video, feat. Björn "Speed" Strid -
----------------
In 2003, LUNARSEA, arose from the ashes of the power-prog band called HOLLOWEARTH. After two demos the band released their debut full-length "Hydrodynamic Wave", in 2006 via Burning Star Records. The next three albums "Route Code Selector" (2009), "Hundred Light Years" (2013) and "Earthling/Terrestre" (Dicembre 2019) came out on Punishment18records. All albums have been very well welcomed by audience and the media. In these past years LUNARSEA have shared the stage with great acts like DEATH, DARK TRANQUILLITY, RAGE, ORPHANED LAND, IMPALED NAZARENE, FIREWIND, PRIMAL FEAR, PRIMORDIAL, SWALLOW THE SUN, INSOMNIUM, OBSCURA, DARKANE, NARGAROTH, EKTOMORF, SINISTER, LEAVE'S EYES, ABORTED, DARK FUNERAL, ASPHYX, THE HAUNTED, SEPTIC FLESH, just to name a few. Among the band's highlights, so far, is the participation on "Where Death Is Most Alive Tour", where the band won the contest directly organized by Century Media to open the gigs of Bologna and Rome during the tour of Dark Tranquillity and Insomnium in October 2010. Elements such as growling, screaming, clean vocals, blast beat, synths and tipically power-prog riffs are the core and the peculiarity of Lunarsea style and soul.
More information at
BAND: http://www.lunarsea.info | https://www.facebook.com/LunarseaBand
MANAGEMENT: https://www.facebook.com/SplitScreenManagement | http://www.splitscreen-management.com