Florida death/thrash trio INHUMAN CONDITION have announced their first tour supporting their recently-released debut album Rat°God.  The band has teamed up with Nice Guy Booking for an East Coast US run of "Tourantula", kicking off on September 4th in Orlando.  Support on the tour will come from Chicago-based death metal/black metal band CRUSADIST. Tickets will be on sale soon.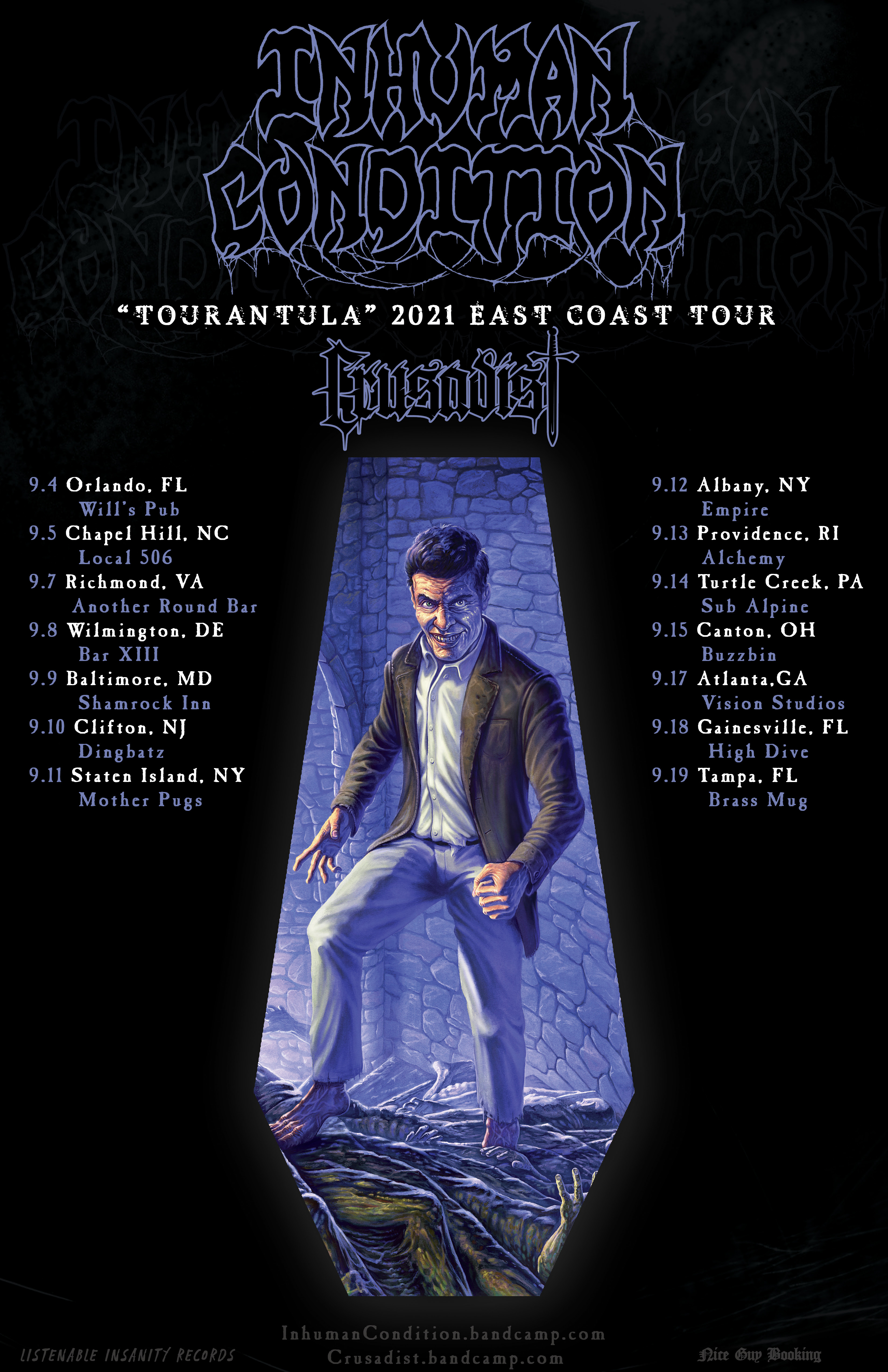 Tourantula 2021 East Coast Tour dates:
Sept 4 - Orlando, FL - Will's Pub
Sept 5 - Chapel Hill, NC - Local 506
Sept 7 - Richmond, VA - Another Round Bar
Sept 8 - Wilmington, DE - Bar XIII
Sept 9 - Baltimore, MD - Shamrock Inn
Sept 10 - Clifton, NJ - Dingbatz
Sept 11 - Staten Island, NY - Mother Pugs
Sept 12 - Albany, NY - Empire
Sept 13 - Providence, RI - Alchemy
Sept 14 - Turtle Creek, PA - Sub Alpine
Sept 15 - Canton, OH - Buzzbin
Sept 17 - Atlanta, GA - Vision Studios
Sept 18 - Gainesville, FL - High Dive
Sept 19 - Tampa, FL - Brass Mug
INHUMAN CONDITION showed up on the scene earlier this year, releasing 4 singles between the end of April and the album's release date on June 4th on Listenable Insanity Records.  The music for Rat°God was written by Taylor Nordberg (Guitars, THE ABSENCE, FORE) and Jeramie Kling (Vocals, Drums - VENOM INC, THE ABSENCE, FORE) in the fall of 2019 for what was to be the new MASSACRE album, whom both were members of.  After their departure from the group the following year they teamed up with fellow former MASSACRE, and current OBITUARY member Terry Butler (Bass) and formed INHUMAN CONDITION.
Rat°God can be purchased or streamed at inhumancondition.bandcamp.com
Band photo by Deidra Kling
Connect with Inhuman Condition:
www.facebook.com/inhumanconditionband
www.instagram.com/inhuman_condition_band