Juha Jyrkäs - Sydämeni Kuusipuulle - Reviewed By Jenny Tate ! Check it out here at this link: https://jennytate.wordpress.com/2021/06/06/juha-jyrkas-sydameni-kuusipulle/
Known as Korpiklanni's former lyricist, Juha Jyrkas now presents his groundbreaking album, 'Sydameni Kuusipulle', the first metal album, worldwide, to feature an electric and bass kantele, in place of electric guitar and bass. The kantele is an ancient Finnish string instrument. Ex-Poropetra and Tevano3, JJ has been a solo artist, ever since, performing live, throughout Europe. His skills also extend to fantasy and horror writing. JJ's lyric video for 'Nuole Mua' features on YouTube.
The emphasis of 'SK' is traditional pagan heavy metal, featuring spiritual, sensual and mythological lyrics. Originally released in 2019, in limited edition MC format, then re-released in 2020, both digitally and then in physical format, during 2021, by Italy's Earth And Sky Productions.
Poimotus – Concrete heavy slab of an intro. Very solidly rhythmic, straight away. Quite a quirky mix of eclectic sounds. Good teaser.
Kymmenen Kyrvan Nimea – Intriguingly percussive opening. Again, it's rhythmic, with a lot of mysticism. Traditional cultural vocals, with an air of native ritual. Quite an echoic sound, blending accompaniments and vocals well. It's fairly bouncy, with plenty of reverb. Certainly fresh and intriguing. Carefully arranged, to create backing vocals, echoing, behind the leads. Ending succinctly and definitively.
Otson Volma – Artfully placed sound effects intro. Then an explosion quashes the air. Deep vocals here, working well with the percussive rhythms. Lifting, skywards, the vocals rise. Visual evocations arise here. The beat's well sustained and central to the track's emphasis. A certain traditional strength emanates from it, throughout.
Hamarasta Aamunkoihin – Heavy melody opens, with a simple, but deeply entrenched beat. Once more, it exudes stark traditional ritual and mystical essence. Combining different vocal styles, it reveals that echo, again. A very strong sound, equating to bass prominence, leading, with depth and a notable mix of effects and hypnotic rhythms.
Manalan Valtikka – Even heavier intro, moving, instantly, into a strong melody. Mystical qualities injecting vocal intrigue. Lifting, again, to showcase their range, the vocals have got this track. Demonstrating skilled higher pitches and once again, the background vocals surrounding the leads. Very atmospheric. Ending on a burst of roared sunshine.
Korpien Kutsu – Leaving a few breaths, before coming in, fully, it's an instant mix of physicality and haunting tones, echoed through mesmeric chants. It's a powerfully rhythmic track, very focused and very olde-worlde. Those feminine vocals entering, past the mid-section, add a touch of enhanced mystery, reinforcing that intrigue value. It's controlled and carried very well, throughout.
Nuole Mua – Now it enters speed metal territory). Fast-paced, galloping rhythms and beats yield to cutting, deep roars and growls, bestial, in nature. That's a sound that might be genuinely scary, if encountered in a natural landscape. There's something almost cannibalistic about it and the whole track's built around that sound, reinforced by the mechanical clanking, surrounding it.
Voimaa – Classic ritual chants intro, then move into huntsman-like sounds. There's a strong Native American streak to it, despite that not being its origin. That sitar-esque inclusion, 3/4 in adds further to the mystique. Pipes bring it to an end, with a heavy whisper.
Tulisydan – Quickened beats open, onto a joyful, vibrant melody, accompanied by feminine and masculine ritualistic chants and dances, visually evoked. Strongly supported by drum-like beats and various forms of edgy percussion. The blended feminine and masculine vocals create a powerful atmosphere, enhanced by the use of alternative accompaniments and folky arrangements, taking on a thunderous pace, towards the end.
Honkajuurella Asunto – Lower, more contemplative tones enter, adding a slight reflective air, punctuated by the solidity of the beats. Strings just add to the beauty of that haunting sound. Again, masculine and feminine vocals unite, creating a very natural sense of sensuality. Sudden galloping pace increase solidifies that physicality. Intensifying the atmosphere, via aggressive ecstasy, then ending, abruptly, on that same sound.
Juhlapaiva – A more gradual intro, on a breeze, steadily leading into a similar bounciness to the album's intro. Gentler masculine vocals accompany the still mesmeric, but more genteel rhythms. Then 1/4 in, suddenly exploding, into the previous ecstatic aggression. Alternating it with steadier, more controlled lyrics, growing heavier, with the instrumentals. Gradually, returning to solo accompaniments, beating out the final rhythm, fading out, onto echoed shouts.
Overall – A very impressive, consistent showcase of cultural creativity, 'SK' is a very colourful album, with a lot of power and intrigue featured within it. As well produced as it is performed, its biggest strength is its rhythmic and atmospheric delivery. With those two aspects alone, it builds a haunting sense of imagery and the melody follows. A unique album, well worth a spin.
9/10 ********* - Jenny Tate
FFO: Korpiklaani, Moonsorrow, Bathory
Bio: " Juha Jyrkäs" is a Finnish musical pioneer, who has replaced an electric guitar and bass with electric kantele and bass kantele in a metal album, first to do so a in a world. Kantele is an ancient Finnish string-instrument. He is also a talented fantasy and horror writer in Finland . Jyrkäs wrote Finnish lyrics to folk metal band Korpiklaani between the years 2006-2012. His previous bands are Poropetra and Tevana3 . Since the spring 2008, Jyrkäs has played many solo gigs in Finland, Estonia and in Hungary.
Check out this video!
Sydämeni Kuusipuulle is the debut solo album of Jyrkäs. No electric guitars, bass, keyboards or drums used on this album. The result is still the real pagan heavy metal! The lyrics are about Finnish mythology, nature mysticism, occultism, human feelings and sex. It was first published at year 2019 with a limited MC edition, but in the year 2020 Italian label Earth And Sky Productions re-published it first digitally then, at 12.2.2021 as a CD."
Check him out on Spotify and add him to your playlists!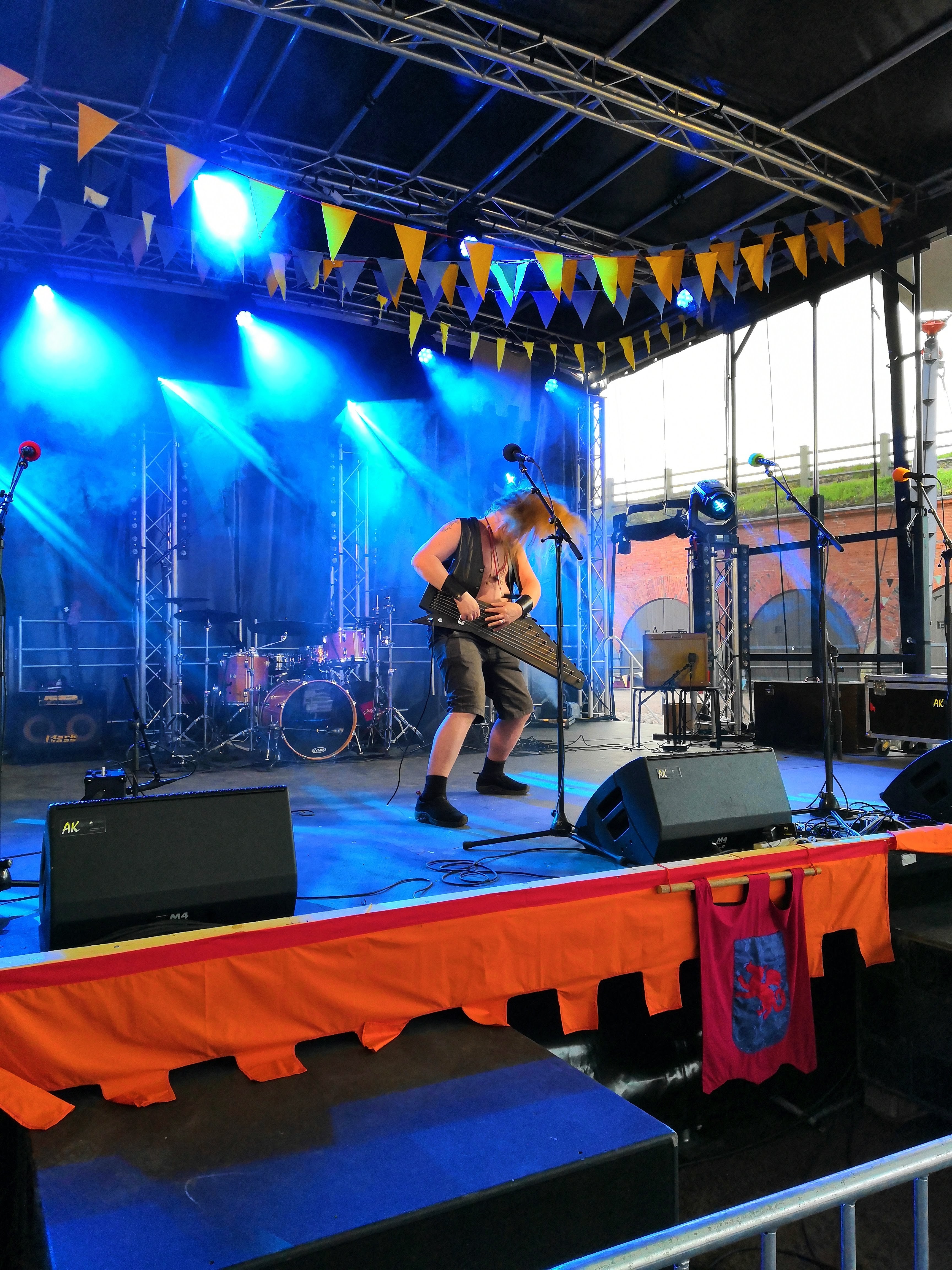 Follow him at these links:
Bandcamp: https://juhajyrkas.bandcamp.com/releases
Spotify: https://open.spotify.com/artist/3VtIyhtoyU57AucJJHfEih?si=31c3da292aec4a42
Instagram: https://www.instagram.com/juhajyrkas/
Facebook: https://www.facebook.com/juhavaltteriilmarijyrkas
Twitter: https://twitter.com/JuhaJyrkas