DCxPC Live Vol 2 Presents: TV Generation & The Sinema - Featured At Arrepio Producoes!
DCxPC Live Vol 2 Presents: TV Generation & The Sinema - Featured At Arrepio Producoes ! Check it out here at this link: https://arrepioproducoes.com.br/noticias/?n=JDWs0pO4iI
DCxPC Live Vol 2 Presents: TV Generation & The Sinema Uncle Lou's Loustream Benefit Orlando, FL
Bands: 
TV Generation
The Sinema
Pre Order Release Date:
5/14/21
Official Release Date:
5/21/21
Label:
DCxPC Live
www.dcxpclive.com
Genre: Hardcore punk for TV Generation
Modern / Thematic Metal for The Sinema
Welcome to the second round of DCxPC Live. The sophomore DCxPC Live release was recorded at legendary Uncle Lou's Entertainment in Orlando, Florida. Originally, a three-way split of The Sinema, TV Generation, and Call in Dead as planned to celebrate two recently granted awards: The Sinema won Orlando's best Metal band, and Call in Dead won Orlando's best Punk band. As Call in Dead vocalist Jaeh had to call in sick on short notice (no pun intended here), the schedule had to be shortened. Hence, here it is: "DCxPC Live Volume 2 Presents: TV Generation & The Sinema Uncle Lou's 'Loustream' Benefit Orlando, FL".
The sympathetic Skate Punk band TV Generation has contributed three songs to this live recording. Their drummer Jorge is well-known in and around Uncle Lou's for his helping hands in promotion, production of merch and more. TV Generation open their show with a cover version of 'Drinking 'bout my Baby' by The Damned. As this classic is more than forty years old, TV Generation explain that they are actually old enough to know this joint. Hence, their band name makes sense being TV Generation instead of Smartphone Generation or something like that. With the following two tracks 'Uncle Lou's' and 'Vatos Locos', the band provides the audience with some kick-ass, fast and intense Skate Punk with a little Hardcore undertone. TV Generation play powerful, aggressive, and somewhat Punk Rock for the mosh pits and the skate parks.
The first track of the B-Side is The Sinema's 'RAID', a song against the networks of people like Steve Bannon, Milos Yiannopoulos, and other Alt Right arseholes. The message of the lyrics should not need further explanation; thus, I agree and repeat the chorus 'Fuck the Alt Right'! The Sinema play modern, intelligent, melodic, and massive Metal. Their sound fits elements of Alternative Metal, Prog Metal, and Modern Metal. Clean melodic parts create impressive soundscapes that lead into brachially distorted attacks accompanied by deep guttural grunts and tense sonic environments. The Sinema really come up to their award as the best Metal band in Orlando, and they prove that they are ready for a lot more. Keep their name in mind, for this could be the future of Metal music. Altogether, the second edition of the DCxPC Live series is another successful output by the label that reminds us of what is important: live music. This 7'' vinyl will look beautiful on your record player, and it friendlily reminds us of the importance of support for artists, venues, and everyone who is involved. A closer look at the first 7'' Split featuring Call in Dead and 2AMature is available too
---
DCxPC Live Presents TV Generation & The Sinema Promo Sheet
So TV Generation has been around since 2006-2008. Members came from various other Orlando bands such as The Jodones, Sudakas, Pop Suicide, Urban Disturbance, Swift Knuckle Solution, and Rushmore,FL. They are a staple of the Orlando scene who draw influences from 1980s southern California bands such as D.I., old CBGBs style punk bands such as The Ramones and the Dead Boys, British hardcore like G.B.H., and oi bands like Last Resort not to mention that they all love Bad Religion. Their music may be aggressive and raw, but they are filled with humor and sarcasm, for instance when asked what influence them, it was hard to get them to give a serious answer, that wasn't a joke: Our influences are Locomia, Celine Dion, cannibal corpse and jimmy swaggart ministries (Elvis gospel) not the country crap, NSNYC, Kenny G, Nickelback and Blue Man Group. They've described their songs in the following way: Uncle Lou's - This song is a tribute to Orlando's CBGB's Uncle Lou's LMGA, Drinkn' About My Baby - -A cover of one of our favorite bands and original punk icons, and Vatos Lokos - A shout out to all of our great friends and memories playing in Orlando punk bands throughout the years - CHEAP TIMES!

The Sinema are a four piece metal band influenced by Dance Gavin Dance, System of a Down and The Refused that puts the emphasis on theatrics with a mix of hardcore, punk, metalcore and numetal. Formed in 2018, the Sinema is cornerstone of the Orlando metal scene and were voted Best Metal Act of 2020 by readers of the Orlando Weekly. They might be a metal band, fellow Orlando hardcore punk band, Call in Dead, immediately recognized The Sinema's punk/hardcore roots would match their own mix of hardcore punk and metal in a way that would allow them to blend the genres/scenes on stage and on vinyl! Their song RAID with its chorus, "Fuck the Alt Right", sets them apart from many other bands by taking a distinct political view point based on their desire to promote diversity, inclusion and equity in the music scene. And they aren't just words, their singer Josh Sin recently founded Brewtal Book which only does benefit shows, and their first show this June is a benefit for the One Pulse Foundation to support victims of the brutal massacre with support from Orlando's LGBTQ Community Center and Latinix!

One of the most important parts of the 7" is that all sales, and I do mean ALL go to Uncle Lou's which is the best DIY venue in Orlando where any band can play their first show or their 1,000th show. This is why the cost is $10, to make sure we help out a venerable venue. During preorder, purchasers will be entered into a raffle to win V.M.L.ive #2 presenting Submachine on 7". There will also be a bundle option to get this album plus DCxPC Live vol. 1 presenting Call in Dead and 2AMature for just $15 with all money still going to Unlce Lou's!! NYC's Best Hardcore Punk Hockey Band: Two-Man Advantage 10" with an 18 year old CBGB show on one side and a recent Punk Rock Bowling on the other. CA's Year of the Fist which bring a mix of hardcore, punk, and grunge to a new level.  C's legendary The Goons Live at the Black Cat! If you are between the ages of 30-50 and are part of DC's hardcore scene, you know and love this band.
DC's infamous The Suspects who owned the stages of DC throughout the 1990's and were the core foundation of the hardcore punk scene that inspired Mr. P of DCxPC Live to even be in a punk band. Local Orlando bands with forthcoming splits include the raucous punk rock of Grave Return & The Hamiltons and Swift Knuckle Solution & Curtains. After that...we shall just have to wait to see, just know that Punks Not Dead, It's Live on Vinyl!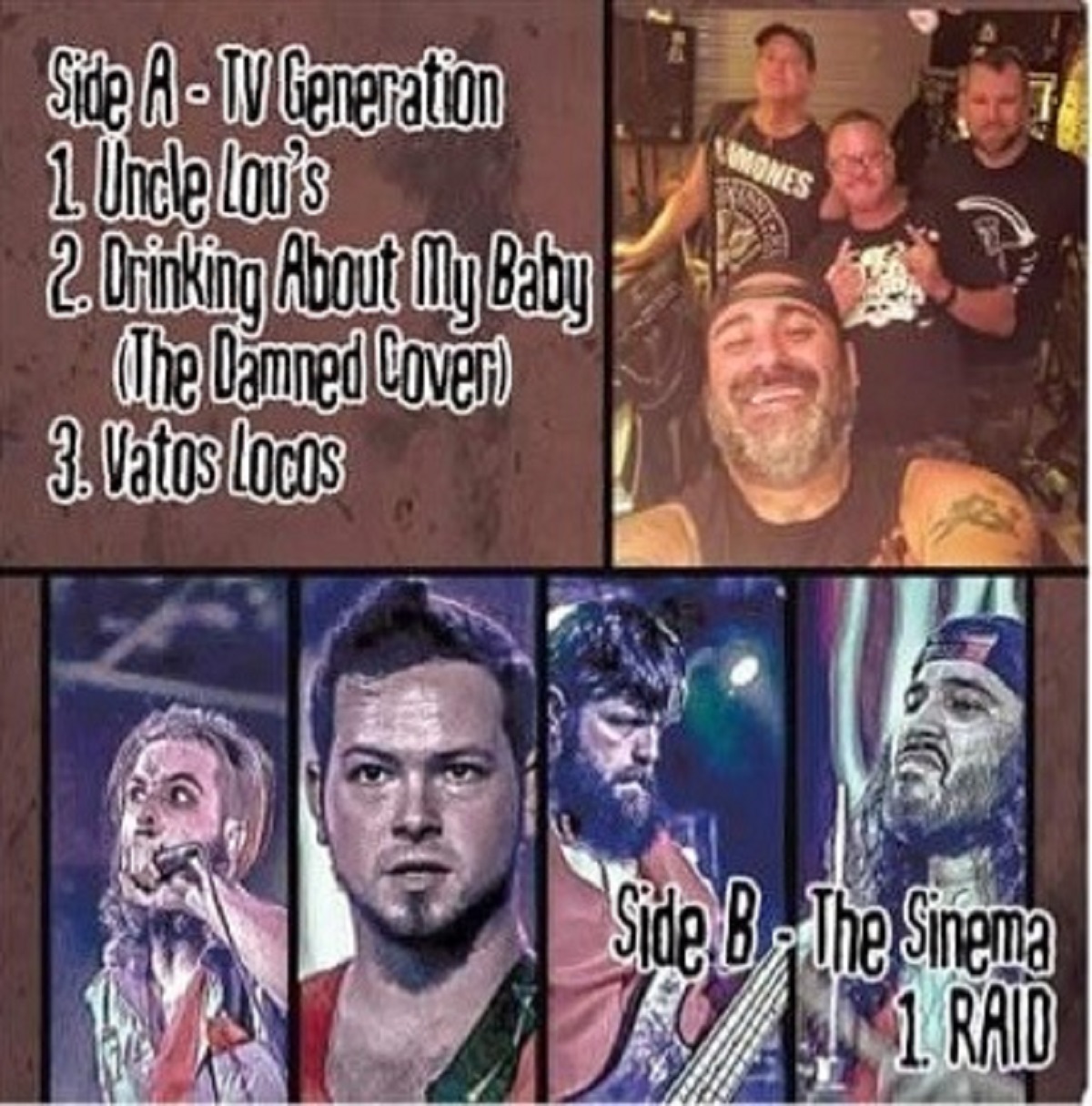 Follow them at these links:
Bandcamp: https://dcxpclive.bandcamp.com/
Twitter: @DcxpcL
TikTok: @dcxpc_live
Instagram: @dcxpc_live
Facebook: https://www.facebook.com/dcxpcbooking
YouTube: https://www.youtube.com/channel/UC8mf5u54v2NrgdlHZ9JyNNg
https://www.facebook.com/welcometothesinema
Instagram: @welcometothesinema
https://thesinema.bandcamp.com/
https://www.facebook.com/TVGORLANDO
Instagram: @t.v.generation
https://tvgeneration1.bandcamp.com/releases
https://soundcloud.com/user-941083297/sets/dcxpc-live-vol-2-presents-tv/s-hR3i7IoeQoA