Myronath – Djevelkraft - Reviewed By Sentinel Daily ! Check it out here at this link: https://sentineldaily.com.au/myronath-djevelkraft-hellstain-productions/
Swedes Myronath are perhaps most notable because they number amongst their legion former Amon Amarth/Therion/A Canorous Quintet drummer Fredrik Andersson; Djevelkraft is their second full length (although their debut didn't feature Andersson), and sees the band honing their decidedly cold, hate-filled black metal chops to a razor-sharp, deadly point.
In short, if names like Dark Funeral, Dissection and Necrophobic get your black heart pumping just a little faster, then there's nothing on this raging, ranting beast of an album that your ears won't derive some sort of misanthropic joy from. The band are still finding their feet in terms of originality and the ability to write music with real staying power – you'll enjoy all the songs 'in the moment', but the hooks and earworms generally aren't strong enough to stay in the brain at this point – but there's enough meat on the bones to justify getting stuck in repeatedly.
She Who Dwells In Flames is a ripsnorter of a track, but standout cut for this reviewer is the excellent The Sword of Satan; here the band mix things up just enough by way of acoustic intros and outros to pique the interest; as ever, when the electric guitars and drums come to full fruition you get just that little bit more impact to them thanks to the 'quiet' beginning.
Draugûl alumnus Hellcommander Vargblod – possibly the best name in the entire metal universe at the moment – contributes some fine bass work to compliment his broken glass gargle/nail through the foot shriek style of vocalising, and you know you can rely on Andersson to keep up his end of the bargain, drum wise; guitarists Bjarkan and Myrkheim offer solidity in excelsis in the six string department, meaning that everything, even an epic stomper like Evigt Mörker, is delivered with the kind of grim-face professionalism you'd expect from scene vetErans such as the ones assembled here. If that sounds a bit 'more perspiration than inspiration' you wouldn't be too far off the mark, but the fact of the matter is that, after two albums this band has now carved it's niche and defined it's sound – I have no doubt that album number three will be, as we say in the industry, a real humdinger… - Sentinel Daily
Hellstain Productions
Release-date: 4 June 2021
Swedish Black Metal for fans of Dark Funeral, Necrophobic, Marduk…
56 minutes of powerful black metal and dark melodic passages across 11 tracks with Fredrik Andersson (ex-Amon Amarth) on drums! 
"Ritualistic, Agressive and Dynamic"
- Metal Hammer PT
Here are some words from the band about "Djevelkraft" from an upcoming interview in Metalized Magazine Denmark: "We are all very satisfied with the final result. The sound is exactly as we imagined! Kudos to Devo Andersson (ex Marduk) at Endarker Studio for his work on this one! He is a very talented person and his experience in Black Metal really shows, and immediately understood what we needed. Musicwise, all songs offer different emotions and we hope that these emotions will also reach our listeners the way we intended!" - Hellcommander Vargblod
Check out these videos!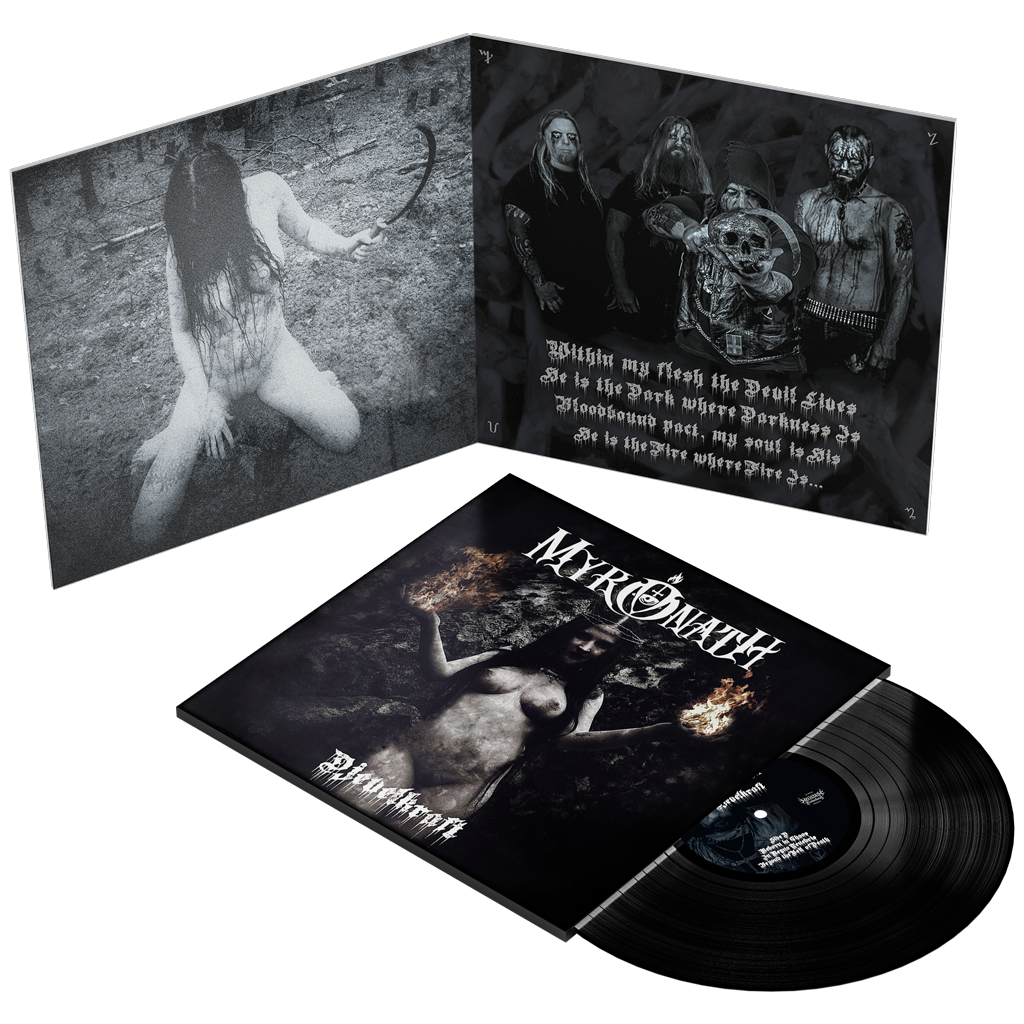 Tracklist:
1. Evil Unchained
2. She Who Dwells In Flames
3. Radix Diaboli
4. Effigy of Malediction 
5. Till Aska
6. The Sword of Satan
7. Evigt Mörker 
8. To Walk the Paths of the Dead
9. Reborn In Chaos
10. In Regno Tenebris
11. Beyond the veil of Death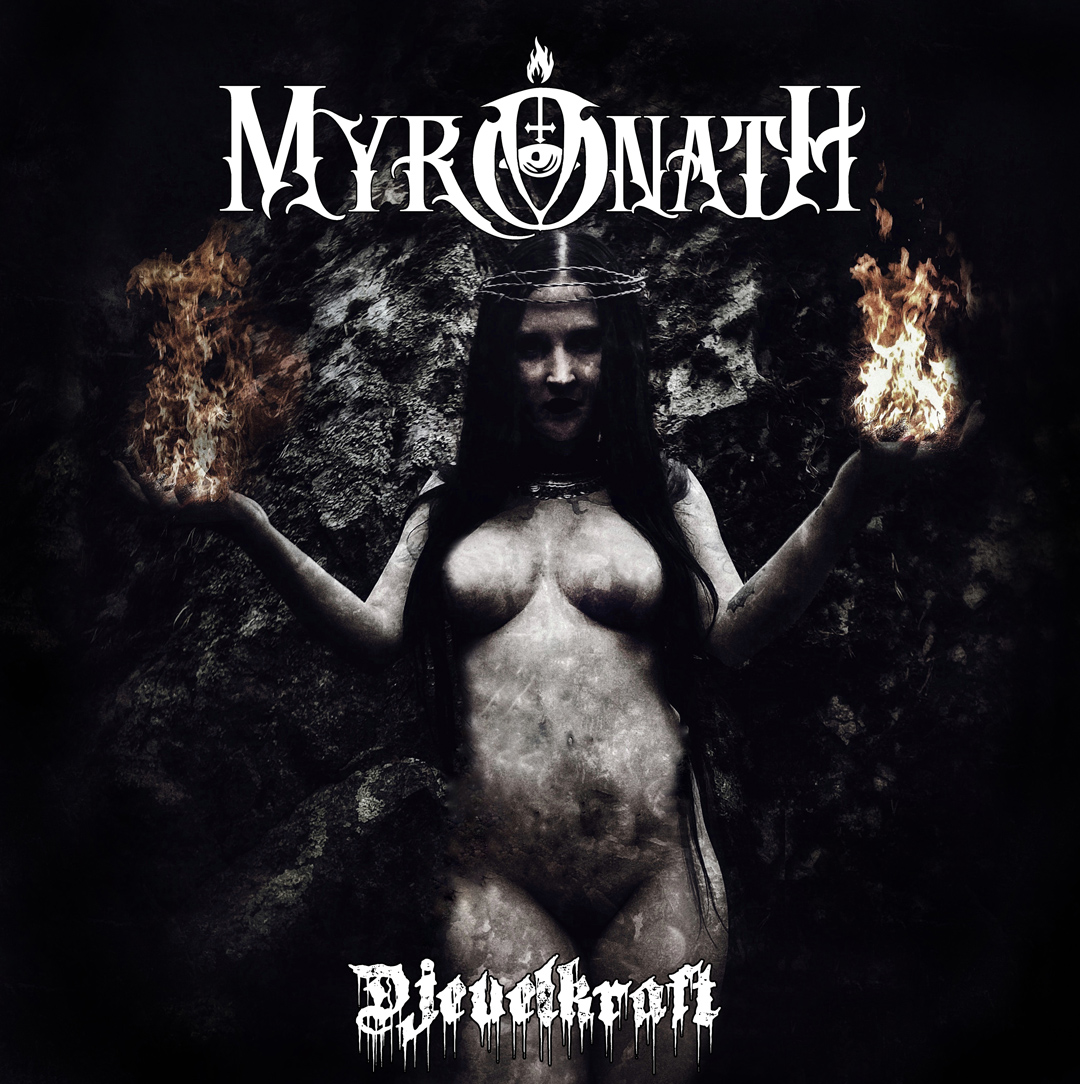 BIOGRAPHY
Myronath started out as a side project of Hellcommander Vargblod (H.V), sole member of Khaospath and Draugûl – together with Bjarkan who also plays in various other bands; Ragnarok, Throne of Heresy, Kala, Blood of Serpents amongst others.
The band took a quick turn to be a serious one and the two members started writing material directly for their first release. H.V (bass and vocals) and Bjarkan (guitars) were shortly after joined by none other than Lars Broddesson on session studio and live drums, who people certainly know from Marduk. Then Myrkheim (from Serpesta) joined as a live session guitarist for Myronath.
In late spring 2019 Myronath entered the studio and recorded their first full length "Into the Qliphoth". It consists of 8 tracks solely dedicated and in veneration to the members' creed and practices. The album was mixed by Lars Broddesson at Twisting Serpent Studios, and was later mastered by Devo Andersson (ex-Marduk) at Endarker Studio, Sweden.
Summer 2019 Myronath signed with Dutch record label Non Serviam Records for one album, and "Into the Qliphoth" was released early September 2019. This was during the band's very first live performance at the "Mörkaste Småland Festival" in Hultsfred, Sweden – alongside bands such as Gra and Svartidaudi.
December 2019 saw Myronath playing live again at the December Darkness festival, alongside Marduk, Avslut and others.
Due to personal reasons Lars Broddesson could unfortunately not continue as drummer of Myronath at this point, but without delay the band recruited none other than Fredrik Andersson (ex-Amon Amarth, Netherbird) to replace Lars behind the battery.
Myrkheim was by now also a full member of the band, and Myronath started working with new material for the band's second release. The album was recorded at Endarker Studio autumn 2020 under the hands of Devo Andersson (ex-Marduk).
Myronath was now looking for new partnership to release their second album and develop the band further. Early 2021 they inked a deal with Hellstain Productions, and together they soon after released "Effigy of Malediction" as the first single from the upcoming album, together with an official video for the song.
The second album is entitled "Djevelkraft" and is set for release 4th of June 2021 on CD and Gatefold double vinyl together with official merchandise. The second single "Evigt Mörker" is also out now, including a lyric video.
The journey into the Abyss continues…
LINE-UP:
Hellcommander Vargblod – Bass and Vocals
Bjarkan – Guitars
Myrkheim – Guitars
Fredrik Andersson – Drums
MYRONATH FACTS:
Country of orign: Sweden
Formed in year: 2019
Style/genre: black metal
Follow the band at these links:
https://www.facebook.com/myronath/
https://open.spotify.com/artist/1Oc25qGAiSUWAjXvk5oadx?si=qt-S5wMQRjCm_Z0FM8AqTg
Check them out on Spotify and add them to your playlists!
Follow Hellstain Productions : https://linktr.ee/hellstain