Today, Iron Bonehead Productions sets March 9th, 2018 as the international release date for a special mini-album from Germany's Horn, entitled Retrograd, on CD and 12" vinyl formats.
Riding high on the critical acclaim afforded its seventh album, Turm Am Hang - released in early 2017 on vinyl LP by Iron Bonehead - the one-man Horn returns with a six-song/27-minute strike of pure pagan epicness. Since 2002, mainman Nerrath has been steadily perfecting a classicist, almost-medieval style of black metal bound to pagan roots. Staunchly solitary to the present day, the initial drive behind Horn was to create nature-themed black metal, focusing on the relation of man and nature in a regional context. The band's old material, being mainly concerned with detailed descriptions of nature and incorporating rather upbeat, folk-influenced riffing, has made way for more sinister themes and soundscapes over the years. What has remained throughout the course of seven studio albums is the distinct "Horn sound," featuring siren-like lead guitars, classic black metal-styled vocals as well as clean chorals, and a serious folkloristic approach far from the jolly drunken Viking tunes celebrated these days.
But, with the momentous release of Turm Am Hang, Horn entered a new, intensely poignant period, where the Feldpost material was carried ever forward by with clean and harsh vocals taking turns in conveying largely mid-tempo songs that stirred both raging bloodlust solemn pride. In many ways, the brand-new Retrograd mini-album serves as an ancillary chapter to Turm Am Hang, stylistically set within the same, uniquely Horn landscape and expanding upon the thematics and textures of that towering album. Although comparatively shorter in length, Retrograd is no less vast and no less epic, emitting a widescreen, wanderlusting splendor that's especially magical given its tight 'n' truncated runtime. It's Horn through and through, mightier and more majestic than ever, and once again breathes fresh air into the ancient spirit of the '90s, and likewise further cements Iron Bonehead's grounding in (and continued support of) black metal's distant past, whether it be Nocternity, Kawir, Front Beast, Disharmony, Blood Tyrant, Runespell, Ithaqua, Naudiz, or the almighty Moonblood. Taste the German steel of Horn's Retrograd!
Swords drawn, feel the first slash 'n' parry of Retrograd with its title track HERE at Iron Bonehead's Soundcloud.
Cover and tracklisting are as follows: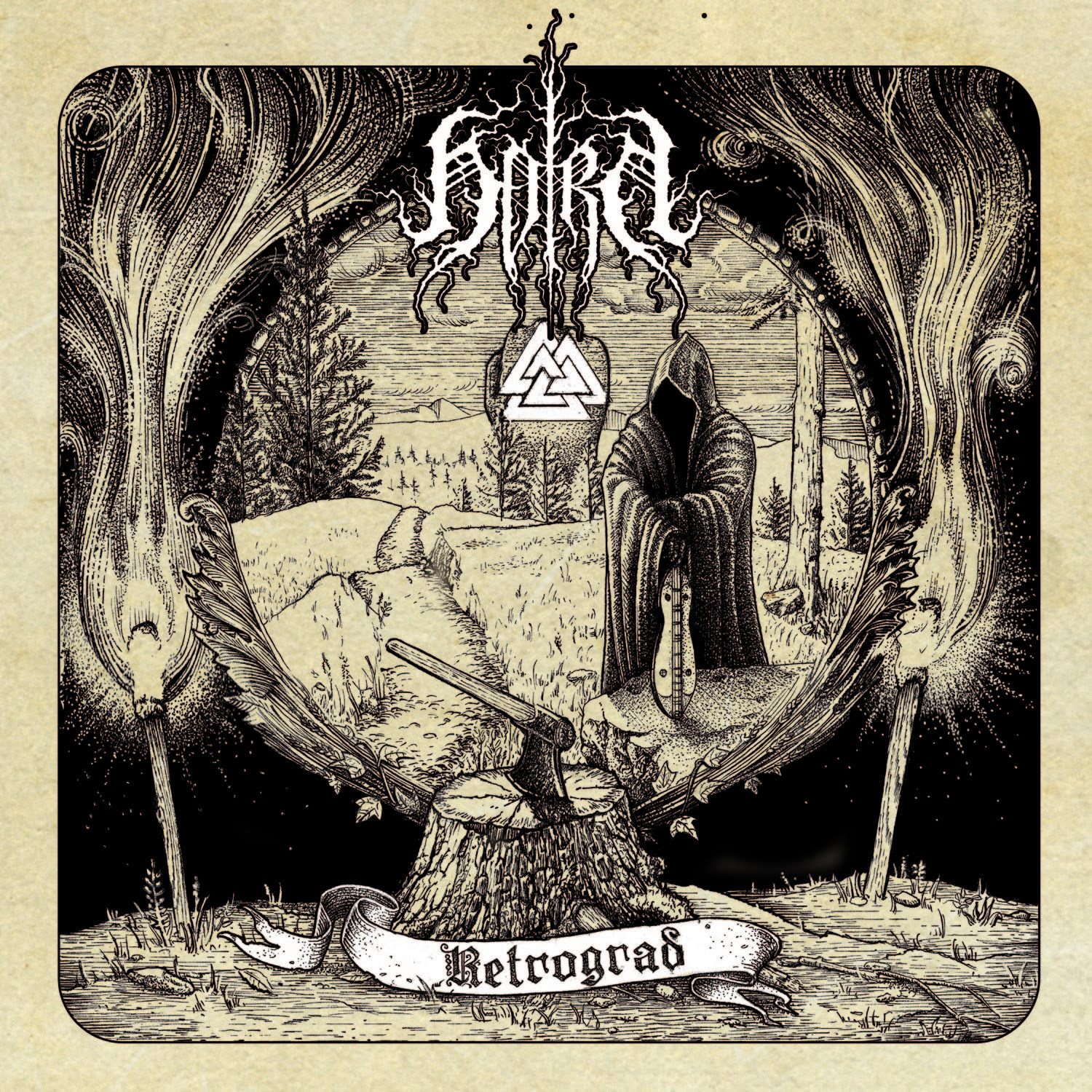 Tracklisting for Horn (Germany)'s Retrograd
1. Retrograd - Einleitung
2. Retrograd
3. Bocksfuß - Einleitung
4. Bocksfuß
5. Garant
6. De Einder