Empyrean Fire – Deliverance - Reviewed By Heavy Music HQ ! Check it out here at this link: http://www.heavymusichq.com/within-the-abyss-january-2021/
Deliverance is the debut album by Portland, Oregon's  Empyrean Fire . The album is a concept record based on the epic poems Paradise Lost and Paradise Regain by John Milton. Frontwoman Tricia Myers spent years piecing together this concept in a symphonic black metal package similar to Emperor and Dimmu Borgir.
Although the album is the brainchild of Myers, her vocals are a secondary device. Her witchy voice combines with shrieks and growls to form a dark, diverse vocal trio. What listeners will take away most from this album is the mystical keys. There is a dark light that shines on the rise and fall of the keys. Although there are moments of tremolo picking, the guitar tones are quite warm for black metal. There is even a hint of groove on "Gathering Storm." "Perdition" is a personal favorite. The keys and vocals harmonize well here to create a powerful hook.
Rating: 3.5 - Heavy Music HQ
The concept behind "Deliverance" was ruminated upon for years by front woman, Tricia Myers, after reading Milton's "Paradise Lost" and "Paradise Regained."
Deliverance is a sinister take on Milton's work, reshaping it with harrowing twists and malevolent revelations, each chapter a battle in the dragon's ascent to gain command over Hell on Earth. Will you bow down in battle, sunken before the spear?
Pre Order Here! https://empyreanfire666.bandcamp.com/album/deliverance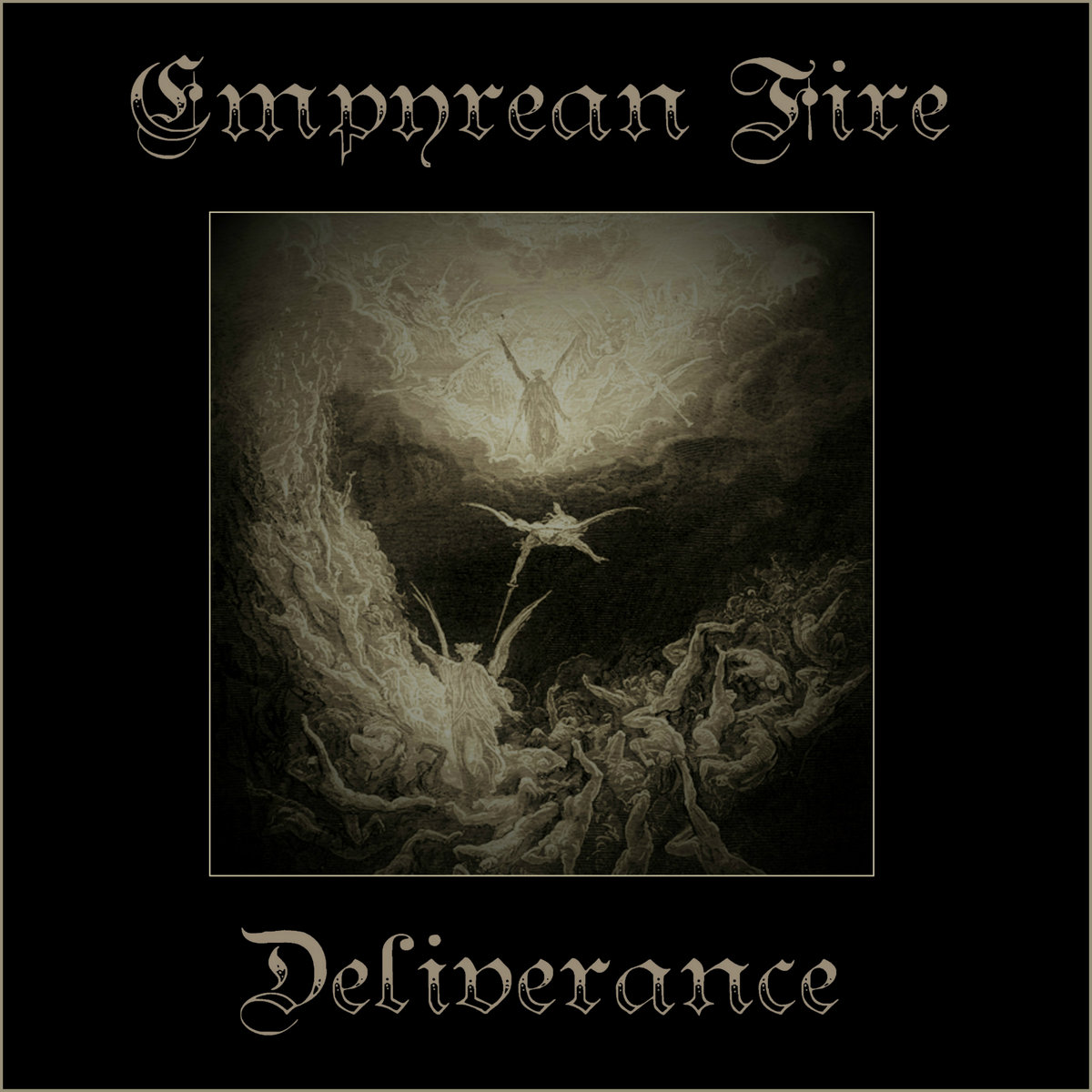 Releases December 26, 2020
1. Proclamation
2. Gathering Storm
3. Descent
4. Perdition
5. Corruption
6. The Siege
7. Final Battle
Tricia Myers - Vocals, Lyrics
Jason Yorke - Vocals, Guitar, Bass, Programming
Brian Rush - Vocals, Synths
Production & Concept by Tricia Myers
Mixed & Mastered by Jason Yorke
Album cover original painting by Gustav Dore'
Empyrean Fire sigil by Viktoria Polikarpova
Band photos by Jesse Lanier
Album layout by Empyrean Fire
Forthcoming Blasts: Michael Thompson
Released by Heavy Gloom Productions
© 2020
Follow the band on Social Media!
https://www.youtube.com/channel/UCya0242W32bKGm4WrC2K4ew
https://www.instagram.com/empyreanfire666/
https://www.facebook.com/empyreanfire666
https://empyreanfire666.bandcamp.com/album/deliverance