It started with a tweet. On 12 April last year, Tom Morello was watching CNN when he saw the news: "Trump rages against the GOP machine." Rage Against the Machine, the pioneering LA rap-metal band that Morello formed in 1991, may have been the most radically leftwing group ever to headline arenas but a name that catchy is bound to be commandeered for other kinds of rage against different machines. Morello took a screenshot and tweeted it with the words: "This isn't exactly what we were thinking."
Clearly the gods of protest music were telling him to do something. Less than two months later, Morello had formed the supergroup Prophets of Rage, a kind of rap-rock Avengers featuring Brad Wilk and Tim Commerford from Rage, Chuck D and DJ Lord from Public Enemy and B-Real from Cypress Hill. "This was a five-alarm fire," Morello says. "Raise your hand if you want to save the country!"
Rage Against the Machine, Chuck D and B-Real form supergroup
Read more
The band's three main members are sitting around a table in London shortly after the UK general election produced a result that confounds even this politically savvy trio. "Does anybody know what's going on?" Morello asks. "Did she lose? Did she win?"
Is this how you scheduled your tour? "Right," Morello laughs. "Where's our controversial election? Book it!"
The situation is pretty volatile back home as well. Do they think Trump will last the full four years?
"Nothing surprises me with this guy," B-Real drawls. "He's got a fucking rabbit's foot or four-leaf clover in his pocket."
"I've got a crazy theory," Chuck offers, grinning. "I think Melania is his way out. Because she hates that position. 'I was a billionaire's wife. I could go anywhere I wanted without anybody looking at me. I don't give a fuck about this president shit. You do this shit, I'm outta here!'"
They all rumble with laughter. Together, these burly, battle-hardened veterans (B-Real is 47, Morello 53 and Chuck 57) project boisterous good humour rather than rage. They've known each other since the early 90s, when Public Enemy and Rage defined protest music for a generation: fierce, relentless, uncompromising. Cypress Hill were fellow travellers musically, if not politically. Their top policy priority, in which they took a close personal interest, was marijuana legalisation. "When you're younger, you're distracted by the life," B-Real explains. "As I got older I got less tolerant of the bullshit."
Just this week, the group "took a knee" to show solidarity with American football players who have silently knelt during the national anthem to protest against racial injustice – a protest that has had Trump's Twitter finger itching, with the president calling for an NFL boycott. "It's instructive to note that when athletes take a knee to protest racism, that act is viewed by some as 'un-American'," Morello wrote to me this week. "Why? Because racism is as American as baseball or apple pie. To some, the American flag is a symbol of an evolving but imperfect democracy. But that flag is emblazoned on every US jet that destroys a civilian hospital in Afghanistan and on the uniform of every cop that murders an innocent black person in a US city. That flag also appears on the lapel of Donald Trump."
Unlike B-Real, Morello has been an activist from day one. As comfortable playing acoustic protest songs at rallies and sit-ins as he is headlining sports venues with Rage, Audioslave and the E Street Band, he's one of very few musicians with the charisma and intellectual stamina to make a good politician. He once jokingly described Barack Obama as his "doppelganger" – born three years apart, they both have fathers who were active in Kenyan politics, white American mothers and Harvard degrees – and there's an Obamaesque quality to his unflappable eloquence and smooth, commanding baritone.
"My north star has remained the same since I was 16 years old," he says. "And that is that the world is run by people who don't deserve to run it and the grotesque gap of social and economic equality is one that deserves all of one's attention until it's made right."
The first person he called last April was Chuck. "I thought my plate was already full," the rapper says. "But Tom was insistent, and then my father passed and I couldn't get far enough off this planet. I thought it was time for a life challenge." But he didn't want to be a frontman again, so he agreed only when Morello suggested asking B-Real, too. "I was like, 'Yeeeeesss!' I had my fingers crossed."
"It's much like football," says B-Real, who signed up instantly. "You've got your regional teams and then they ask the best players to come and play for the national team – the all-stars. That's what this is. We still play for Public Enemy and Cypress Hill, but when it's time to go for the world championship it's Prophets of Rage."
Because the two MCs would be performing several Rage songs, they sought the approval of Zack de la Rocha, who quit Rage in 2000 to make a solo album that still hasn't materialised. When the band reunited for sporadic live dates between 2007 and 2011, they didn't release a note of new music. "Artists work at their own pace," Morello says diplomatically. "We only made three studio albums of original material. Outside of Rage Against the Machine I've made 13. It was important to get Zack's blessing and he was lovely to say, 'Go get 'em.'"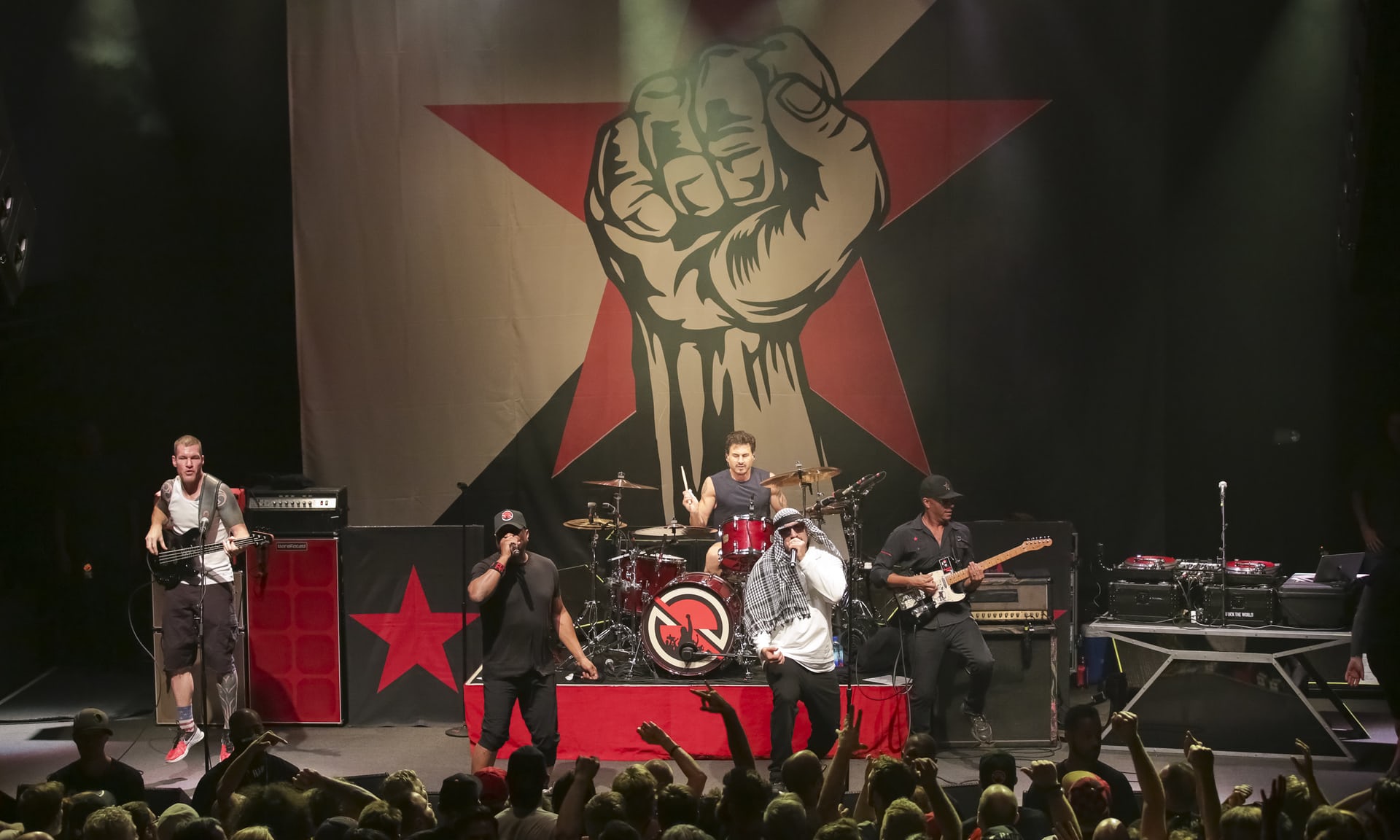 Prophets of Rage (named after a 1988 Public Enemy track) debuted with a few Make America Rage Again shows last summer, including two in Cleveland during the Republican National Convention, reconfiguring highlights from their three back catalogues. "We wanted to make sure that what we saw on paper actually worked," says B-Real. Their chemistry extended to songwriting, leading to an explosive self-titled album produced by Brendan O'Brien. They have coalesced because of Trump but they insist that they'd still be together even if Hillary Clinton was in the White House.
"We don't want catastrophe to happen just so we can be a group," says Chuck. "There's plenty of shit to talk about."
"I would suggest that the struggle for human liberation, both at home and abroad, preceded Trump and will be going on after Trump," Morello says. "There's plenty of fodder for Prophets to rage against."
Nonetheless, the president makes for a great lightning rod. On 20 January, the band played an Anti-Inaugural Ball in Los Angeles, where Chris Cornell joined them to perform some Audioslave songs for the first time in 12 years. It was the last time they saw each other before Cornell's suicide in May.
"There's no silver lining to his passing but I feel better that we were able to share the stage again," Morello says. "He was a good friend: 'If it's important to you to play Cuba, let's go and play Cuba. If you're playing a show to raise the minimum wage, I'd love to play some songs with you.' He responded to the call."
Another old friend, Michael Moore, directed the video for Prophets of Rage's single Unfuck the World. Moore's video for Rage's 2000 single Sleep Now in the Fire has proved strangely prophetic in one respect. In one frame a Wall Street type holds a placard reading: "Donald J Trump for President." Morello raises an eyebrow. "The joke became reality."
You would expect Morello to bond with Moore. Less so with Ted Nugent, the arch-conservative rocker who recently dined with Trump at the White House and was once investigated by the secret service for making threatening comments about President Obama. How on earth does that friendship work?
"Ted Nugent's a good friend to me. We have very similar views on freedom of speech," he says with a shrug. "His libertarian edge and my anarchist edge overlap considerably. Sometimes, if he says something outrageous that will fire up his racist base, I'll text him to say, 'Dude. What are you on about?' We're able to talk about it as friends as opposed to people on the opposite sides of the barricade."
Prophets of Rage are accustomed to controversy. In the early 90s, when Bill Clinton was denouncing Public Enemy associate Sister Souljah and George HW Bush was joining the campaign to ban Ice-T's Cop Killer, they were all embroiled in media storms. By comparison, criticism of Prophets of Rage has been minimal, apart from rightwing conspiracy theory factory Infowars decrying them as "commie rockers". "That's not inaccurate," Morello says mildly.
"People like Infowars can kiss my balls all day," B-Real declares. "Spreaders of misinformation and whatnot. News outlets have become like social media. They're not telling the whole story. They're telling the story they wanna tell, and sometimes it's complete bullshit. And when you've got a president who's exacerbating this by putting out false information, and then claiming that the allegations against him were false, it's just a circle of fuckery. There is a need for this music. As Tom always says, change doesn't make itself, you have to fight for it, and we're here to inspire that."
He pauses for clarification. "But in a peaceful manner. Not any type of violent shit that would get people hospitalised or killed."
"There's an important lesson to be learned from this rainbow of disinformation," Morello says. "It was always there but now it's more obvious. No story tells the whole truth. Nothing is fair and balanced. Nothing is the full picture. The advantage music has is it's a language that predates speech. When you get the right combination of rhythm and rhyme, it feels like the truth the way that nothing else does." That's where Prophets of Rage come in. "The resistance needs a soundtrack. That's the job we're auditioning for."
A few days later, they headline Brixton Academy with a hair-raising display of what the president might describe as "fire and fury". Songs written during the first Bush administration, such as Fight the Power and Killing in the Name, have lost none of their power to inflame a crowd.
At the hotel Morello told me that he was suspicious of the word "supergroup" but Chuck had no such reservations. "I love it," he said, grinning. "When people are sceptical there's only one job to do and that's be super. With Prophets of Rage there's not a lot of kumbaya songs. This is brutality."
• Prophets of Rage is out now on Caroline International. Via The Gaurdian