Fumigation - New E.P. "R0 5.7" - Reviewed By Necromance!
MDPR Clients: Fumigation - New E.P. "R0 5.7" - Reviewed By Necromance ! Check it out here at this link: http://necromance.eu/fumigation-can-r0-5-7-ep/
Before being signed by CDN Records, the Death metalheads FUMIGATION released on July 31, 2020 independently and digitally their new EP "R0 5.7". For our part, what else could we do than offer you their respective review? Come on, make yourself comfortable that we are about to begin.
The group's lineup is: Chris Humeniuk (bass), Matt MacIvor (guitar), Vitto0o0o0oh (guitar), Tom Hansen (drums), Dan Rogers (vocals).
I have already written a thousand times a sentence similar to what you are going to read, but I just can't help it. Something has Canada. The bands that come out of there are usually unique and of course the one that I am commenting on today is no exception. The proposal of the aforementioned quintet is devastating. When the occasion requires it, they exhibit a freshness that enriches their proposal, making the whole thing rise with a bang. Furthermore, both the production and the artwork are up to the task.
The six strings, perpetually stark, are a whole wrecking ball. Watch out for the extra originality moments that I mentioned a little above. In addition, there is no shortage of sharp harmonics or double harmonies, while tremolo picking is used in a measured way. Regarding the solos, you will only taste the lead guitar in «News Feed Inbreed». Oh I almost forgot, if you like Slam, dare to give us a little in "Signal the Swarm". With vocal registers there is no startle. Feast of growls left and right. We don't need more, don't you think? Getting into percussion, I had the feeling that the mid tempos have more space than the purely fast parts.
I recommend the aforementioned "News Feed Inbreed" and "Signal the Swarm". I guarantee they'll blow your brains out. Take my advice and stay away from today's group.
Fumigation "Your Death Metal Pest Control Specialists" from Ottawa, ON, Canada have officially released the "r0 5.7" EP as a digital only product. This is a DIY independent release and the 3rd official release from the band.
Get your FREE / PAY WHAT YOU WANT download:
https://fumigationmetal.bandcamp.com/album/r0-57-ep
Watch the full EP video:

Read a Review:
https://www.metalcrypt.com/pages/review.php?revid=12028
Audio streaming available on all major streaming services.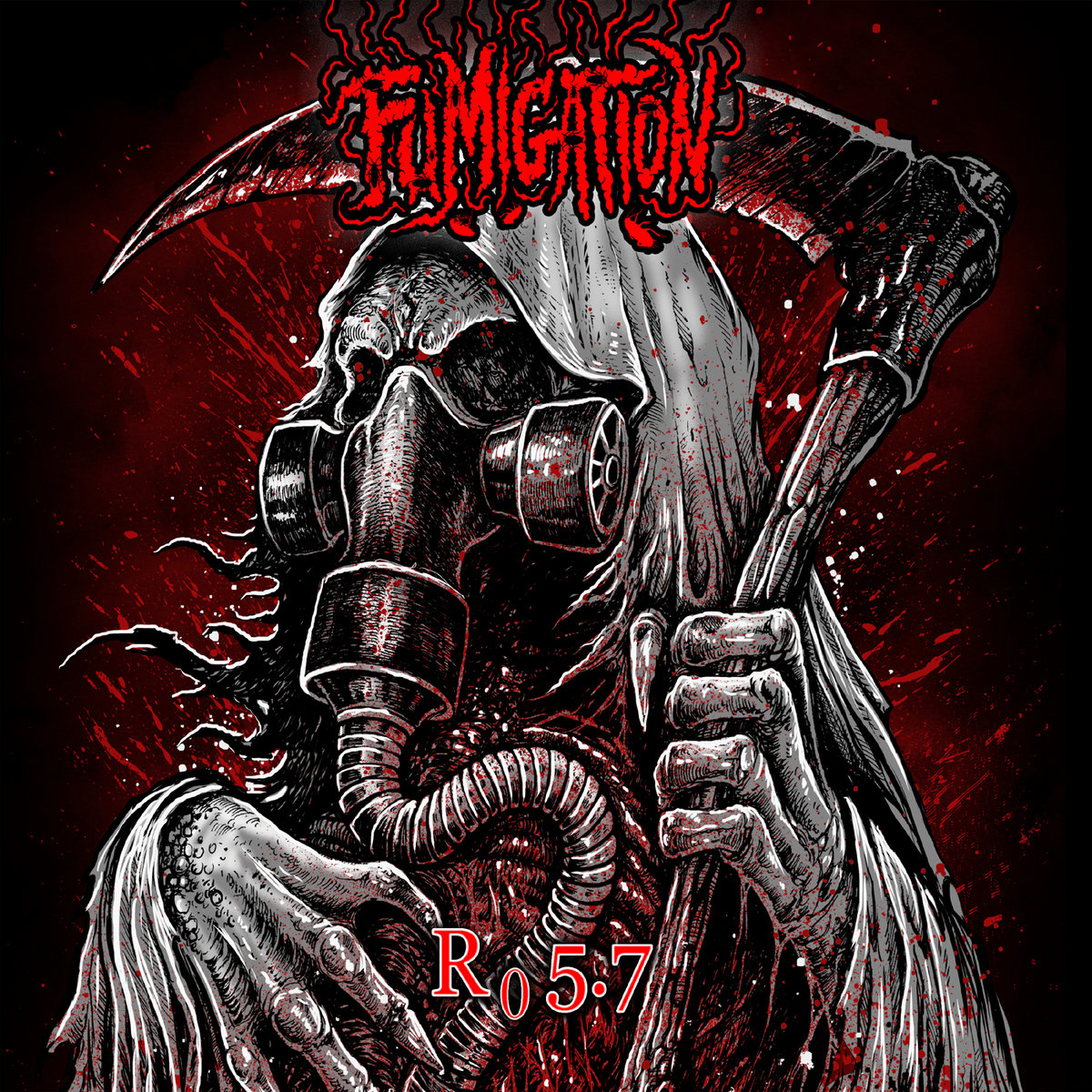 Tracklisting:
01. Pandemicaholic
02. News Feed Inbreed
03. Signal the Swarm
04. Non Essestial Service
Moving forward Fumigation will focus on recording a full length for long time label CDN Records.
BIO:
Exterminating since 2008, FUMIGATION is a 5 piece death metal band from Ottawa, ON, Canada. Signed to CDN Records.
Today's metal scene lacks bands with a constant theme, or at least an interesting one. Through this void enters FUMIGATION "Your Death Metal Pest Control Specialists". The theme of insects, rodents and chemicals is
entertaining, insightful, and humorous all at the same time. From phobias to infestations, harbourages to feeding habits, FUMIGATION will dissect the situation and select the best method of control. This method usually comes in the form of groove laden death metal.
The current lineup features members that have all been part of the Ottawa metal scene in several bands for a long time, including Deformatory, Whispers in the Maze, Norilsk, Signs of Chaos, etc. Fans have come to expect and appreciate an excellent stage presence and the right themed-look at live events and do not leave disappointed.
FUMIGATION released the full length CD "Integrated Pest Management" in 2013, the "Invasion" Split CD in 2017, and the "r0 5.7" EP in 2020.
The band has also been featured on various Canadian and international compilations, Canadian and internet radio stations, blogs, mobile game apps, print magazines, and more.
Fumigation has been playing shows since 2009 supporting large underground metal acts such as Vital Remains, Napalm Death, Malignancy, Revocation, Dehumanized, Incantation, Immolation, etc. and have toured Quebec & Ontario including participation in several festivals.
FOR FANS OF - Cephalic Carnage, Immolation, Severed Savior, Visceral Disgorge, Crowbar, Skinless, Bloodbath.
Check out this older video as well from a previous release!
LINKS:
OFFICIAL FUMIGATION SITES:
http://www.fumigationmetal.com
https://www.facebook.com/fumigationmetal
https://www.instagram.com/fumigationmetal
http://soundcloud.com/fumigation
http://www.reverbnation.com/fumigation
http://fumigationmetal.bandcamp.com
http://fumigation.bigcartel.com
CDN RECORDS:
http://www.cdnrecords.com